Fuzz and I just returned from New York. Despite the snowy weather, we had a good time and our flight cancellation gave us an extra day to fit in a Broadway show. We enjoyed ourselves, but it was too quick of a trip and we didn't get to do any bakery hopping. To make up for it, I came home and made Valrhona Caraibe Chocolate Chunk Cookies.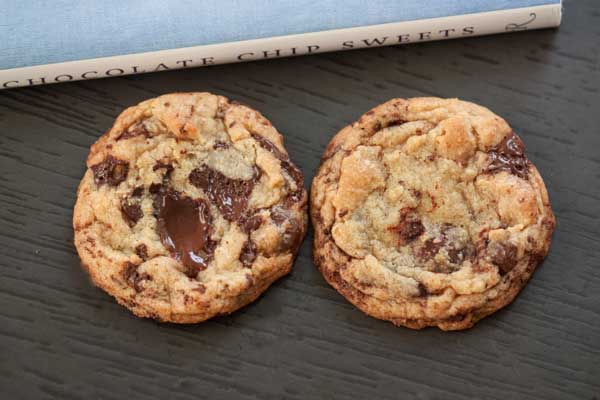 Chef Sean Considine and Tracy Zabar
This recipe is adapted from Chocolate Chip Sweets: Celebrated Chefs Share Favorite Recipes
by Tracy Zabar. Zabar's books are a lot of fun because her recipes are ones given to her by NYC chefs.  This chocolate chunk cookie recipe is from Chef Sean Considine of ABC Kitchen.
Some Surprise Ingredients
These appear to be of the usual chocolate chip/chocolate chunk ilk, but the recipe has some unusual elements. There's a lower ratio of egg and brown sugar, and there's an interesting addition of crème fraîche and honey. And then there's the chocolate. Chef Considine uses 14 ounces of Valrhona Caraibe, a chocolate people describe as "fruity, dusty, smoky and not-too-sweet". I thought it would be difficult to find, but Sur la Table had it in their baking section.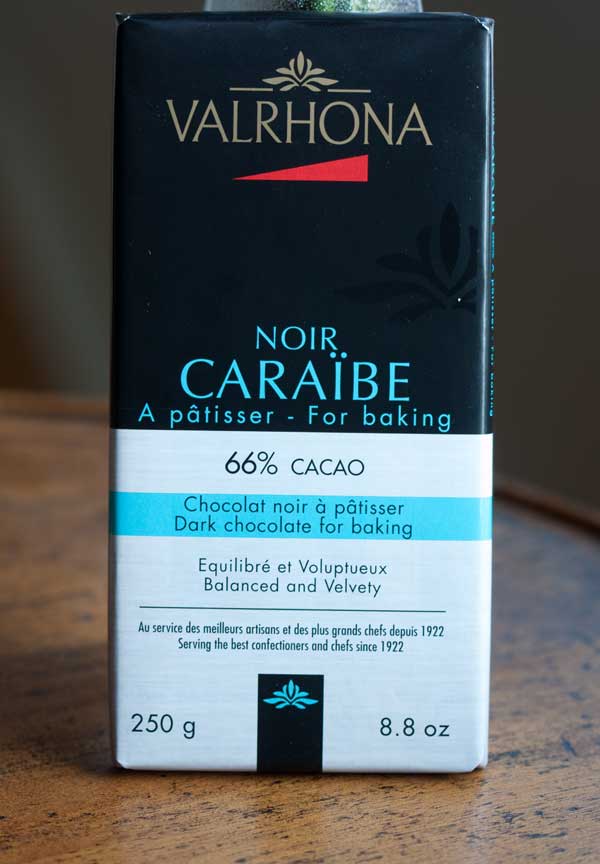 As good as Valrhona is, feel free to use a different chocolate between 55 and 66 percent. I made some of the cookies with Valrhona and some others with Chocolove Dark Chocolate Almond Cherry. It was interesting to see how the different brands of chocolate affected the spread of the cookie, with the Valrhona causing a little more spread than the Chocolove (pictured below).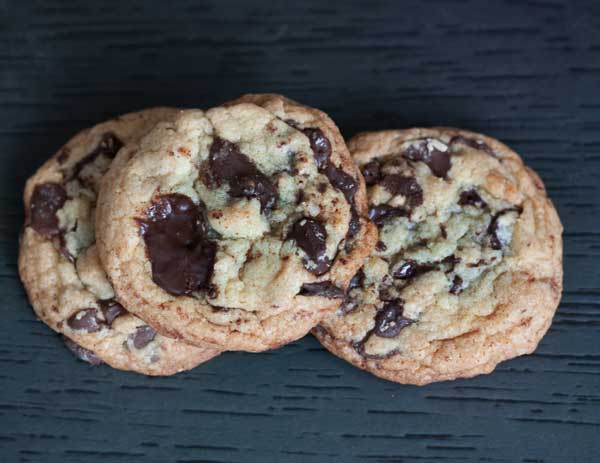 Whatever chocolate you use, stick with the good stuff.  The dough is excellent and has a wonderful flavor, but it's also on the lean side (not too buttery or greasy) and is perfect for supporting a high end chocolate. If all you have on hand are regular chocolate chips, you might want to use a different recipe.
Recipe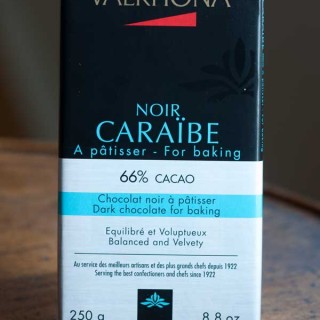 Valrhona Caraibe Chocolate Chunk Cookies
Valrhona Caraibe Chocolate Chunk Cookies are adapted from a recipe by Chef Sean Considine of ABC Kitchen and Tracy Zabar. They're large cookies packed with melted Valrhona.
Ingredients 
3 ¾

cups

all-purpose flour

1

teaspoon

baking soda

1

teaspoon

salt

10

ounces

2 ½ sticks unsalted butter, room temperature

1 ½

cups

granulated sugar

⅔

cup

light brown sugar

1

large egg

1

teaspoon

vanilla

original called for ½

1

tablespoon

honey

3

tablespoons

sour cream or crème fraîche

14

ounces

Valrhona Caraibe 66 percent chocolate

chopped or in small pieces
Instructions 
Preheat the oven to 350 degrees F. Line three baking sheets with parchment paper.

Sift together the flour, baking soda and salt and set aside.

In a mixing bowl (preferably a stand mixer with a paddle attached), beat the butter and both sugars on medium speed until light and fluffy. Add the egg. Add the vanilla, honey and crème fraîche and mix well, then add the dry ingredients and mix just until incorporated. With a silicone spatula, fold in the chocolate.

Using a #30 scoop or 2 heaping tablespoons, shape the dough into 30 mounds. At this point you can bake the mounds or chill them and bake as needed.

To bake, arrange on baking sheets spacing about 3 inches apart. Bake for 10 to 14 minutes (mine took 14) or until lightly browned around the edges. Remove from the oven and transfer to wire racks and let cool completely. If you've used the fancy chocolate, they'll be be melt-y at this point. I personally like to let them cool completely before serving, but if you like melt-y, hot, cookies then serve immediately.