There are lots of ways to hide zucchini, and putting it in brownies is one of the best. That would explain why there are so many recipes for Zucchini Brownies. This one's a little different. Orignally from King Arthur Baking, the zucchini in this recipe is not grated, but rather chopped and pureed with the eggs and butter. If you have a food processor, you can make the whole recipe in the food processor container. If you don't, you can puree the first three ingredients in a blender and mix in a bowl.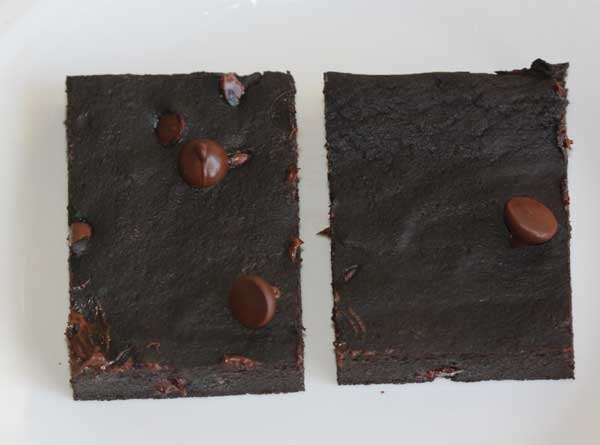 Lower in Fat and Sugar
These Zucchini Brownies call for only 2 tablespoons of butter and ½ cup of sugar to an 8 inch pan. Wanting to decrease the sugar even more, at one point I tried using ½ cup Swerve in place of sugar. The brownies were very good. I can't use artificial sweeteners anymore, so now I just make them with regular sugar. They're better with sugar than with Swerve, but no matter what sweetener you use be prepared for a different texture.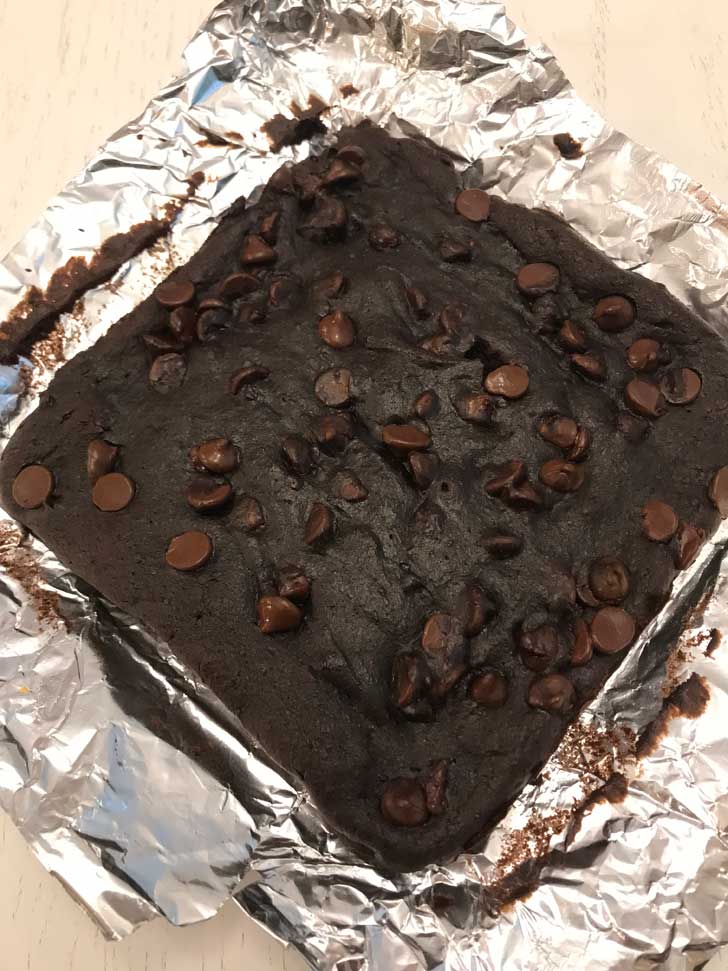 Low Fat Texture
These are extremely chocolatey, but you can tell they are low fat. They are super dense and firm. I tested with gluten-free flour and the texture was even stranger -- yet overall the brownies were not bad. But they are different, for sure.
Weight of Zucchini
Here's a picture of 6 oz or 170 grams of chopped zucchini. I didn't bother chopping it neatly because it was all going to get pureed anyway. But this gives you an idea of how much to use if you don't have a scale. But for best results, a scale is the way to go.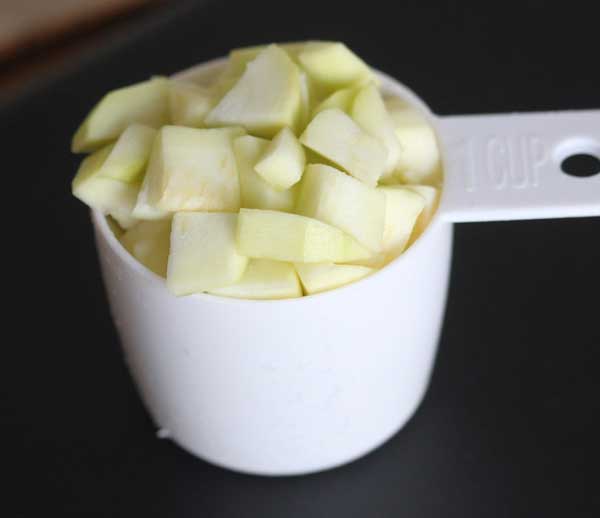 Here's a link to the original 9 inch pan recipe if you want to check out the reviews. I scaled mine down to fit an 8 inch pan.
Recipe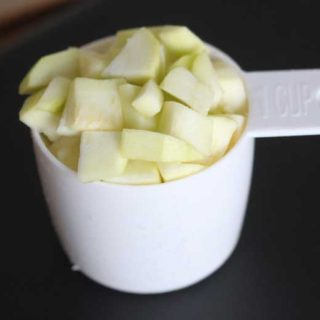 Dark Chocolate Zucchini Brownies
Dark Chocolate Zucchini Brownies can me made even healthier by using whole wheat or whole wheat pastry flour and an alternative sweetener. You can also make them with 1:1 gluten-free flour, but it will change the texture, depending on what blend you use.
Ingredients 
1

cup

chopped zucchini

(170 grams)

2

tablespoons

unsalted butter, melted or very soft

(28 grams)

2

large

large eggs

1

teaspoon

vanilla extract

½

cup

sugar

(100 grams)

½

cup

unsweetened cocoa powder

(Dutch process)

¼

teaspoon

espresso powder

optional

¼

teaspoon

baking powder

¼

teaspoon

salt

⅓

cup

all-purpose flour or whole wheat pastry flour or a gluten-free blend

(42 grams)

½

cup

dark chocolate chips
Instructions 
Preheat the oven to 350°F. Line an 8 inch metal pan with foil and spray bottom.

Puree the zucchini, butter, eggs, and vanilla in a food processor or blender.

Add the sugar (or alternative sweetener), cocoa powder, espresso powder, baking powder and salt and process until very smooth. Add flour and process until blended.

Pour the batter (it will be fairly loose) into the pan and sprinkle chocolate chips on top. Swirl the batter a bit to cover most of the chips.

Bake the brownies for 25 minutes or, until a toothpick inserted into the center comes out clean, or with a few moist crumbs clinging to it.

Remove from the oven. Sprinkle a few more chocolate chips on top if desired, then let cool completely at room temperature. These are only good when completely cool, so don't try to cut them while warm.

When completely cool, lift from the pan and cut into 12 brownies.