I generally avoid people trying to hand me things on the street, but not when they're handing out cookies! It doesn't happen every day, but sometimes companies do promotions on street corners and give out some pretty fine samples. My favorites thus far have been free Glade candles and Pocky, and now I can add Chips Ahoy to the list. Our family accumulated several bags of Chips Ahoy just walking around Chicago, so I had enough cookies to make this awesome Chips Ahoy Icebox Cake.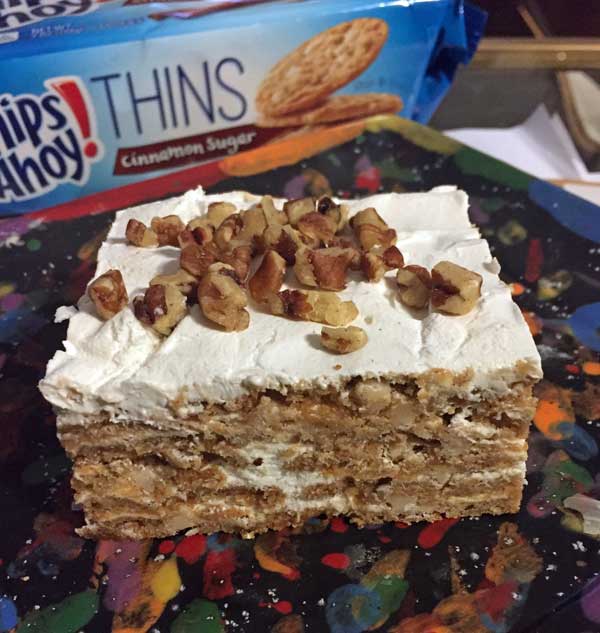 Chips Ahoy Icebox Cake with Cinnamon Thins
The Chips Ahoy we used were actually the Chips Ahoy! Cinnamon Sugar Thins . I didn't know that cinnamon flavored Chips Ahoy existed, but they're pretty darn good -- like Snickerdoodles, but better. So our icebox cake is not Chocolate Chip, but rather Cinnamon. It's pretty easy to make, but I recommend doing so when cookies are on sale, because you'll need two bags. You'll have enough for the cake with a few leftover for sampling.
Recipe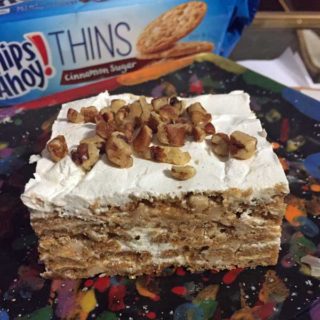 Chips Ahoy Icebox Cake
This Chips Ahoy Icebox Cake can be made with Chips Ahoy Cinnamon Thins or regular Chips Ahoy. I used the Thins, so if you use thicker cookies you may need fewer.
Ingredients 
45

Chips Ahoy Thins

buy 2 bags

2

cups

whipping cream

6

tablespoons

of powdered sugar

plus more if desired

1 ½

teaspoons

vanilla extract

Some chopped nuts

any kind for topping
Instructions 
Have ready a 2 quart 8 inch square baking dish.

Whip the cream, gradually adding the sugar and vanilla.

Spread a very thin layer of whipped cream across the bottom of the dish, then line up 9 cookies.

Top with a layer of whipped cream (about a cup -- but this is an estimate) and then keep layering with more cookies and whipped cream to make 5 layers of 9. Spread whipped cream across top.

Cover and chill for 4 to 6 hours. Regular size Chips Ahoy will take 6 hours to soften, but the Thins will probably be soft in 4.

Sprinkle your favorite type of nuts over the top.
Notes
If you want to cut neat squares, line the pan with plastic wrap, leaving a large overhang on each side. Assemble and chill as directed. After the cookies have softened (about 4 hours), bring the plastic wrap up and over the cake and freeze until firm. Lift from pan and cut into squares.