Pretzel Madness continues! The family was so happy with the beer flavored homemade pretzels, that I created a new flavor – Soft Pumpernickel Pretzels.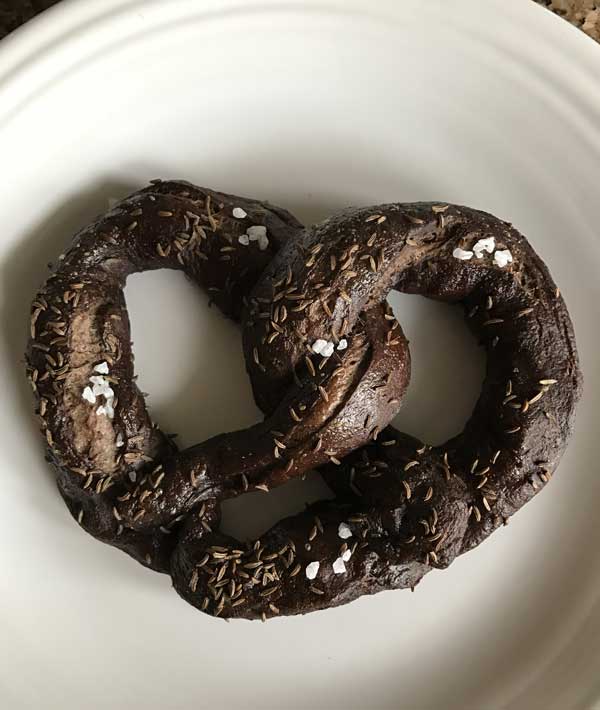 I used the same basic ratios in this recipe, but incorporated a blend of flours, some molasses, cocoa powder, brown sugar and caraway seeds. I also halved the recipe to yield 5 large pumpernickel pretzels instead of 10.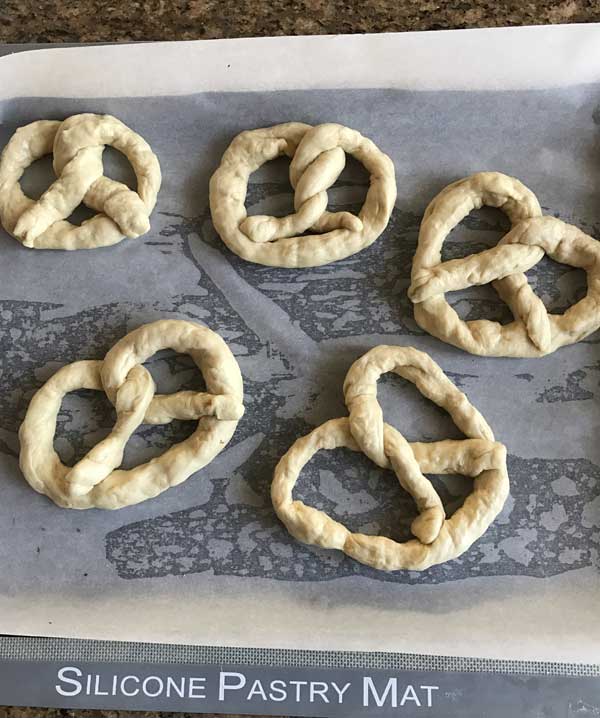 Soft Pumpernickel Pretzels Dough
As with the other recipe, the dough is extremely easy to work with and doesn't snap back too much when you form the 24 inch strands. This may be due to less gluten in the AP flour, rye and wheat. While I typically love using bread flour for things, it seems to make pretzel dough too "snappy" and hard to work with. This dough is easy, and the pretzels still bake up nice and chewy. Don't skip the baking soda boil!
Where Does the Name Pumpernickel Come From?
I was reading this and it occurred to me I'd never looked up the origin of the word pumpernickel. It turns out it comes from an old Bavarian word meaning "hard". That's funny since I named these Soft Pumpernickel Pretzels.
Recipe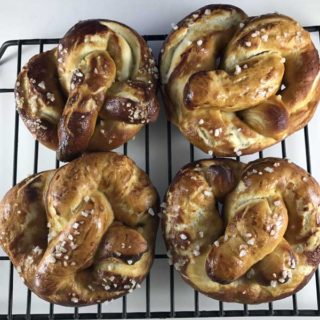 Soft Pumpernickel Pretzels
This is a pumpernickel version of my other favorite soft pretzel recipe. The dough is very easy to work with. For best results, weigh your flour. I used a mix of 3 oz each of rye and wheat and 5 oz all-purpose
Ingredients 
1

cup

all-purpose flour

5 oz

3/4

cup

plus 2 tablespoons rye flour

3 oz

3/4

cup

plus 2 tablespoons whole wheat flour

3 oz

1 1/8

teaspoon

quick rising yeast

1/2 packet

3/4

teaspoon

salt

1 1/2

tablespoons

dark cocoa powder

such as Hershey's Dark

1/2

tablespoon

light brown sugar

1

tablespoon

molasses

2

tablespoons

softened unsalted butter

1/2

tablespoon

caraway seeds

plus more for garnishing

2/3 to 3/4

cups

water

warmed to 130 degrees F.
Boiling Mixture
1/3

cup

baking soda

5

cups

water

1

egg yolk mixed with a tablespoons of water

Some coarse salt
Instructions 
In the bowl of a stand mixer, combine all 3 flours (11 oz weight total), yeast, salt, cocoa powder, sugar, molasses, butter and caraway seeds.

Add the hot water gradually, stirring until well blended. Dough should not be too sticky.

Attach the dough hook, put the bowl on the stand and knead for about 8 minutes. If dough is too dry as it kneads, add a tiny bit of water. If it is too wet, add a little flour. Dough should feel pretty firm, smooth, and elastic once kneaded.

Transfer dough to a oiled bowl and turn so that dough is lightly coated with oil. Cover and let rise for one hour.

After dough has risen, divide it into 5 chunks.

Preheat the oven to 450 degrees F. Have a parchment lined heavy duty baking sheet ready to go.

Bring the water and baking soda to a boil in a large saucepan.

Shape each piece of dough into a 24-inch rope and form into a pretzel shape.

Working one piece at a time, put the shaped pretzels in the boiling water for 30 seconds, then lift it out with a slotted spatula and put on a parchment lined baking sheet.

When all pretzels are formed, brush with the egg yolk mixture and sprinkle with coarse salt OR caraway seeds

Bake for about 12-14 minutes at 450 degrees F. Transfer to a wire rack and let cool or serve warm.
If you try these homemade soft pretzels, let me know.