My original plan was to make a strawberry pie, but then I remembered I hadn't made this tart in a while, and that I'd never shared the recipe. It's called Strawberry-Almond Cream Tart, and in my opinion it is one of the greatest Cooking Light recipes of all time. It's my personal reminder that light desserts really can be good.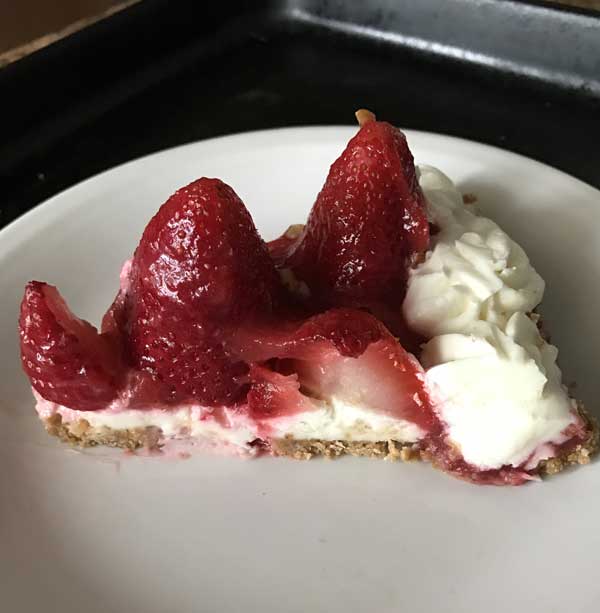 Strawberry-Almond Cream Tart Filling
Originally from Cooking Light, it gets is name from the fact it has almonds as garnish and almond extract in the cream cheese filling. I always use the almond extract because we love it, but I also tend to use pecans instead of almonds for the garnish. Also, the recipe calls for light or reduced fat cream cheese. It's great with light, but if you're not too worried about a little extra fat you can use regular. I wouldn't bother using fat free cream cheese here.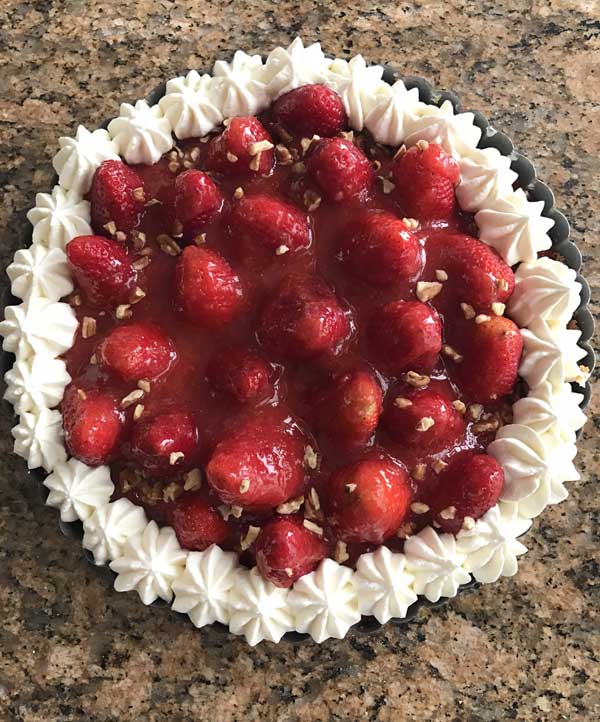 Food Processor
This recipe requires a food processor. First, you use the processor to make the crumbs. You can always crush the crumbs with a rolling pin if needed, but with a lower fat, lower sugar crust it's best to use a processor so that you can get a really fine grind. Also, you're going to need the processor anyway to make the strawberry puree. In this recipe, you puree 1 cups of the strawberries, cook them with a little sugar and cornstarch, then pour over your assembled Strawberry-Almond Cream Tart. So you will need a food processor or at least a blender to get the job done.
Since posting this, there has been a proliferation of handy food processing gadgets, so you don't really have to spend $200 on a food processor. I will say that I did spend that much on a Cuisinart and I've had it for over 20 years. I've had to replace the food shoot and broken top once or twice, but the motor is going strong.
Recipe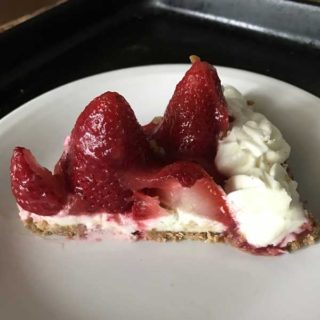 Strawberry Almond Tart
Originally from Cooking Light Magazine, this fresh strawberry tart is perfect for spring.
Ingredients 
18

square

honey graham crackers (1 sleeve or 1 ¼ cups crumbs

(137 grams)

2

tablespoons

sugar

(25 grams)

2

tablespoons

butter, melted

(28 grams)

4

teaspoons

water
Filling:
⅔

cup

regular or light cream cheese

softened

¼

cup

sugar

½

teaspoon

vanilla extract

¼

teaspoon

almond extract
Topping:
5

cups

small fresh strawberries

divided

⅓

cup

sugar

½

tablespoon

cornstarch

1

tablespoon

fresh lemon juice

2

tablespoons

sliced almonds

toasted

Garnish: 2 cups freshly whipped cream or whipped topping
Instructions 
Preheat oven to 350°. Grease or spray a 9 inch removable bottom tart pan. A 9 inch springform pan will also work.

Process grahams into fine crumbs. Add the 2 tablespoons sugar, melted butter, and water and pulse to mix, then press mixture into the bottom and about ¾ inch up the sides of the prepared pan. Bake at 350° for 10 minutes or until lightly browned. Let cool completely on a wire rack.

Filling: Mix together the softened cream cheese, ¼ cup sugar, and extracts. Spread mixture evenly over bottom of tart shell.

Topping: place 1 cup strawberries in food processor; process until pureed. Combine strawberry puree, ⅓ cup sugar, and cornstarch in a small saucepan over medium heat, stirring with a whisk. Bring to a boil, stirring constantly. Reduce heat to low; cook 1 minute. Remove glaze from heat, and let cool to room temperature, stirring occasionally.

Toss 4 cups of the best looking, similar-in-size strawberries with lemon juice, then arrange berries, bottoms up, in a circular pattern over filling. Spoon glaze evenly over berries. Sprinkle nuts around edge or sprinkle over the top.

Pipe light whipped topping or freshly whipped and sweetened cream around the edges.

Cover and chill 3 hours.