I'm of the belief that almost any quick bread is better with a swirl of cheesecake running through it, but I don't always take the time (or have the cream cheese) to make that happen. As luck would have it, I had an odd amount of cream cheese in the refrigerator and my usual overload of overly ripe bananas.  This Cream Cheese Swirl Banana Bread worked out on the very first try!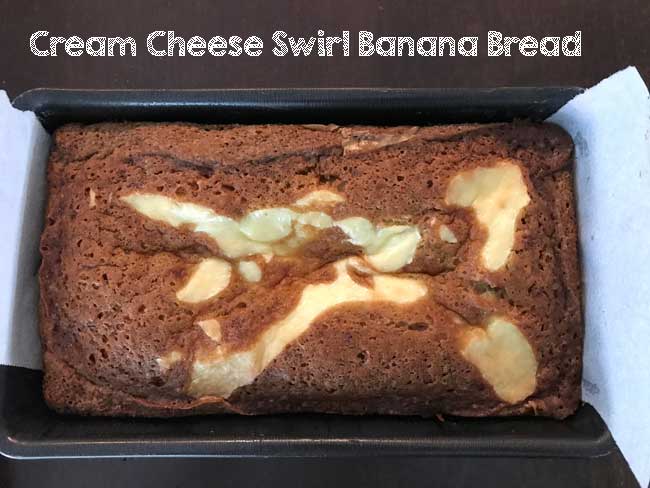 Or at least I think it did. It sank a bit as it cooled, but it still tasted great and had an interesting appearance. The proportions of cream cheese, sugar egg and vanilla worked quite nicely and I thought the level of sweetness of the cheesecake was a good match for the banana bread.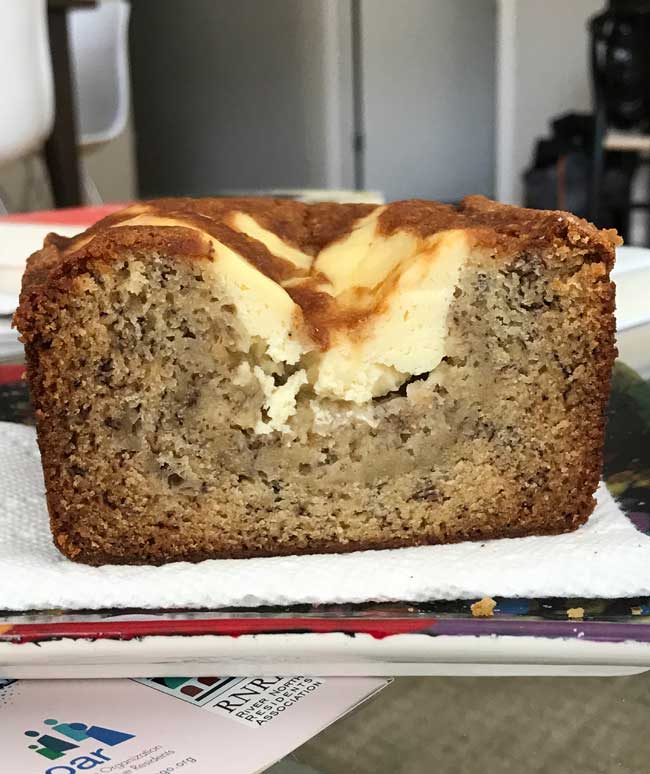 For the bread, I used a really dense and sweet recipe called Best Ever Banana Bread and felt like the density of the cheesecake mixture matched the density of the banana bread. Still, I can't promise I won't try putting the "Swirl" (which is really more of a marble or a ribbon) in some of my other banana bread recipes.  Also, make sure you fully cook the banana bread!  If you look at the center of mine, it's a tad underbaked -- still edible, but I baked that for 60 minutes and it could have gone for 75.
UPDATE: I made a batch this week using two 8x4 inch (4 cup capacity each) pans. The bake time for the small pans was about 50 minutes.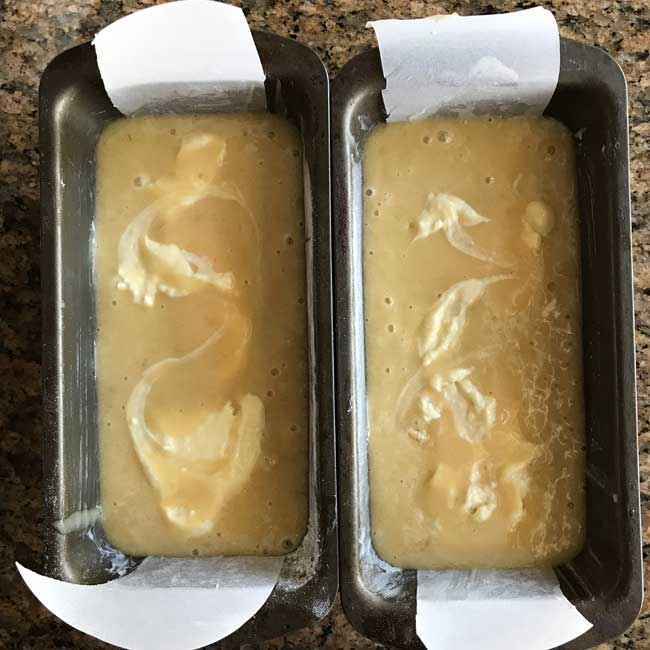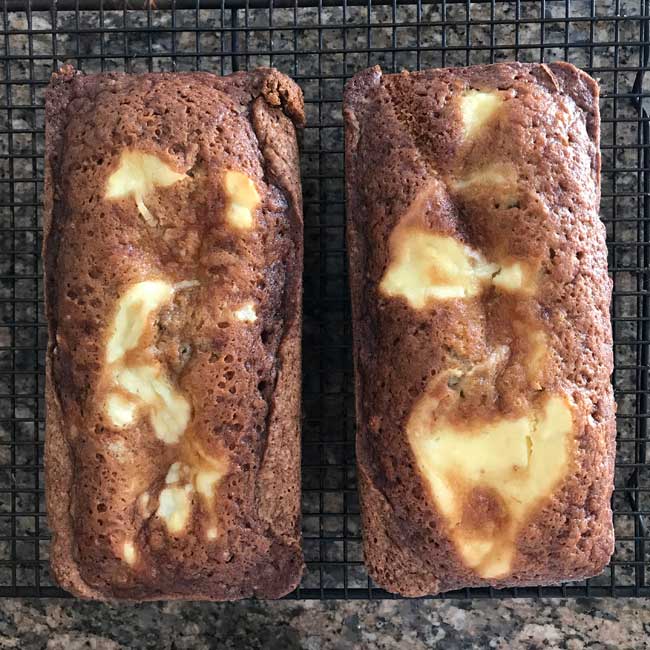 Recipe
Cream Cheese Swirl Banana Bread
Cream Cheese Swirl Banana Bread is a dense, sweet banana bread with a ribbon of cream cheese swirled through the top.
Ingredients 
Cream Cheese Swirl
3

oz

cream cheese

softened (84 grams)

5

teaspoons

sugar

2

tablespoons

lightly beaten egg

½

teaspoon

vanilla extract
Bread
1 ¾

cups

all-purpose flour

230 grams

1

teaspoon

baking soda

½

teaspoon

salt

1 ½

cups

sugar

300 grams

2

medium size bananas

very ripe (8 oz/240 grams)

2

large eggs

½

cup

canola oil

¼

cup

plus 1 tablespoon buttermilk

2 ½ oz

1

teaspoon

vanilla extract
Instructions 
Preheat oven to 325 degrees F. Grease a a 9x5 inch loaf pan, line with a strip of parchment, grease again and dust with flour.

In a small mixing bowl, beat the softened cream cheese and sugar until smooth. Stir in the egg and vanilla. Set aside.

In a large bowl, whisk together flour, baking soda, salt and sugar. For best results, whisk for at least a minute to ensure all of the ingredients are thoroughly blended.

In a mixing bowl, mash the bananas, then add the eggs, oil, buttermilk and vanilla and stir until blended.

Add flour mixture to banana mixture and stir until combined.

Pour all but about 2 tablespoons of batter in the loaf pan. Spoon cream cheese mixture on top of batter, then spoon remaining 2 tablespoons of banana bread batter over so it has a marbled look.

Bake in the lower third of the oven for 60-70 minutes or until a toothpick inserted near the center comes out clean.

Let cool for 15 minutes. Loosen sides of loaves with a knife, then carefully turn from pan and let cool completely before slicing. If you want, chill slightly before serving so that the cream cheese mixture will be cool rather than room temperature.