Mocha Fudge Pie is an old dessert recipe from Cooking Light Magazine. I used to make it fairly often, then at some point it fell off the radar. I was probably trying to do more scratch baking back then, and this pie is all about packaged products and convenience. That's my mood for the week.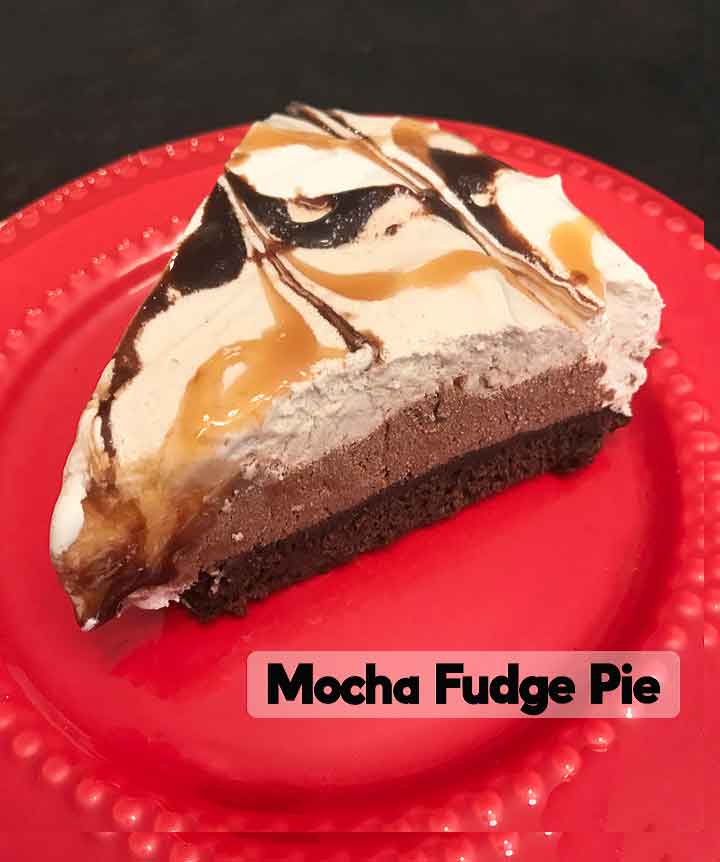 You start with half a box of brownie mix which you bake in a pie dish.
A mixture of milk, pudding, Kahlua and whipped topping goes on the brownie crust, and then Mocha Fudge Pie is topped with Kahlua enhanced whipped cream.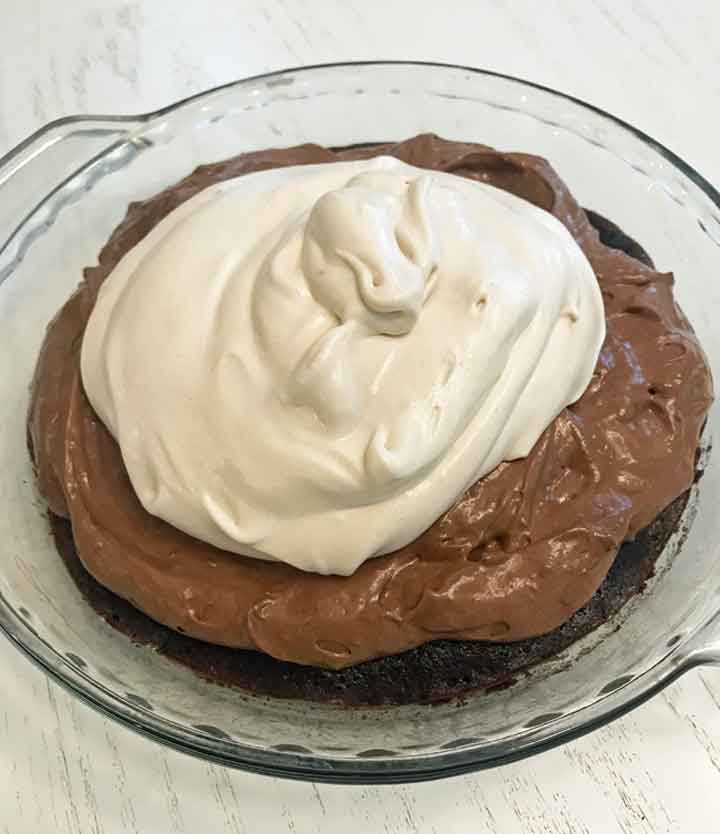 You can then garnish the pie however you want. I double downed on the convenience factor and went with packaged caramel and chocolate syrup.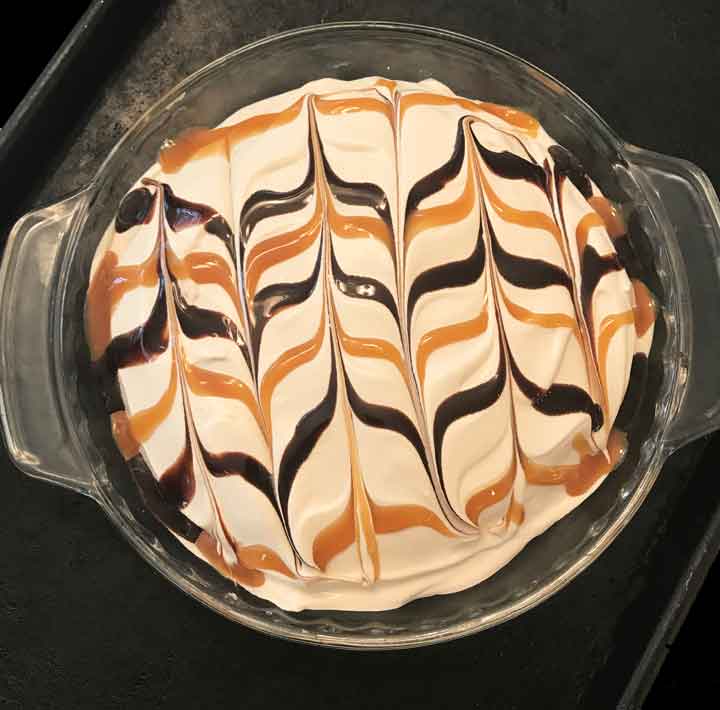 Things have changed a bit since Mocha Fudge Pie was first published. Brownie mix now comes in 18.5 oz boxes, not 19.5. This doesn't change the recipe much because half a box is still right around 2 cups.
Instant coffee granules seem more expensive than in the past, but you can still buy the individual packets of instant coffee for a little over a dollar. Anyone who's ever watched a jar of instant coffee grow stale over the years should find this handy.
Mocha Fudge Pie calls for Kahlua, but If you don't want to use alcohol you can just use 3 extra tablespoons of milk.
Pudding mix still comes in the usual 3.9 oz box, and the size of a container of frozen whipped topping is still the same too.
Hmm, that's all I have to say about ingredients.  The list is pretty straightforward.  It's a fun pie and an added benefit is you can, if needed, use sugar free whipped topping and sugar free pudding mix.  Plus it freezes well!
Recipe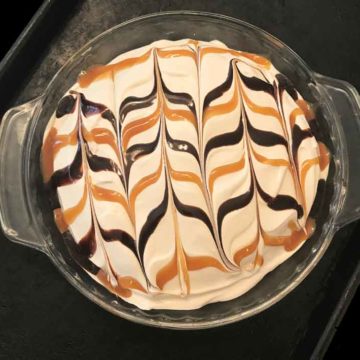 Mocha Fudge Pie
An easy and fun to put together mocha pie from Cooking Light.
Ingredients 
⅓

cup

hot water

4

teaspoon

instant coffee granules

divided use

½

box

18.5-ounce box light fudge brownie mix (about 2 cups)

I used Duncan Hines Dark Chocolate Fudge

2

teaspoon

vanilla extract

divided use

2

large egg whites

¾

cup

milk

1% or more use

3

tablespoon

coffee-flavored liqueur

divided

1

3.9 oz

package chocolate-flavored instant pudding mix

sugar free type okay

3

cups

whipped topping, lite

thawed and divided
Instructions 
Preheat oven to 325°. Coat a 9 inch pie dish with cooking spray.

In a mixing bowl,combine hot water and 2 teaspoons coffee granules. Stir well, then add 2 cups of the brownie mix, 1 teaspoon of the vanilla and the two egg whites. Stir until blended. There may be a few small lumps.

Transfer batter to the pie dish and bake at 325 for 22 minutes. Let cool completely on a cooling rack.

Clean out the bowl you used for the brownie mix (or grab a new one) and add milk, 2 tablespoons Kahlúa, 1 teaspoon coffee granules (or half a packet), 1 teaspoon vanilla, and pudding mix.

Beat by hand with a scraper for about 100 strokes or use an electric mixer for 30 seconds -- just enough to blend and work out any lumps. Gently fold in 1 ½ cups whipped topping. Spoon pudding mixture over the brownie crust and spread evenly.

Combine 1 tablespoon Kahlúa and 1 teaspoon coffee granules (½ packet) in a bowl; stir well. Gently fold in remaining 1 ½ cups whipped topping. Spread whipped topping mixture evenly over pudding mixture. Garnish with chocolate curls, if desired. Serve immediately or store loosely covered in refrigerator.

Note: Nonalcoholic Mocha Version: When making the pudding mixture, substitute 2 tablespoons 1% low-fat milk for the Kahlúa. In the topping omit the Kahlua and dissolve the instant coffee granules in 1 tablespoon water.
Notes
Note: Store remaining brownie mix in a heavy-duty, zip-top plastic bag in refrigerator; use mix to make another pie or a small pan of brownies. To make brownies, combine about 2 cups mix, ¼ cup water, and 1 lightly beaten egg white in a bowl. Stir just until combined. Spread in an 8-inch square pan coated with cooking spray. Bake at 350° for 23 to 25 minutes.