Chess Bars are a bar cookie version of the Southern classic, Chess Pie. Also known as Chess Squares, they are cream cheese bar cookies with a crust often made of cake mix. I love Chess Bars made with cake mix, (also called Neiman Marcus Bars) but recently made some great scratch Chess Bars with self rising flour.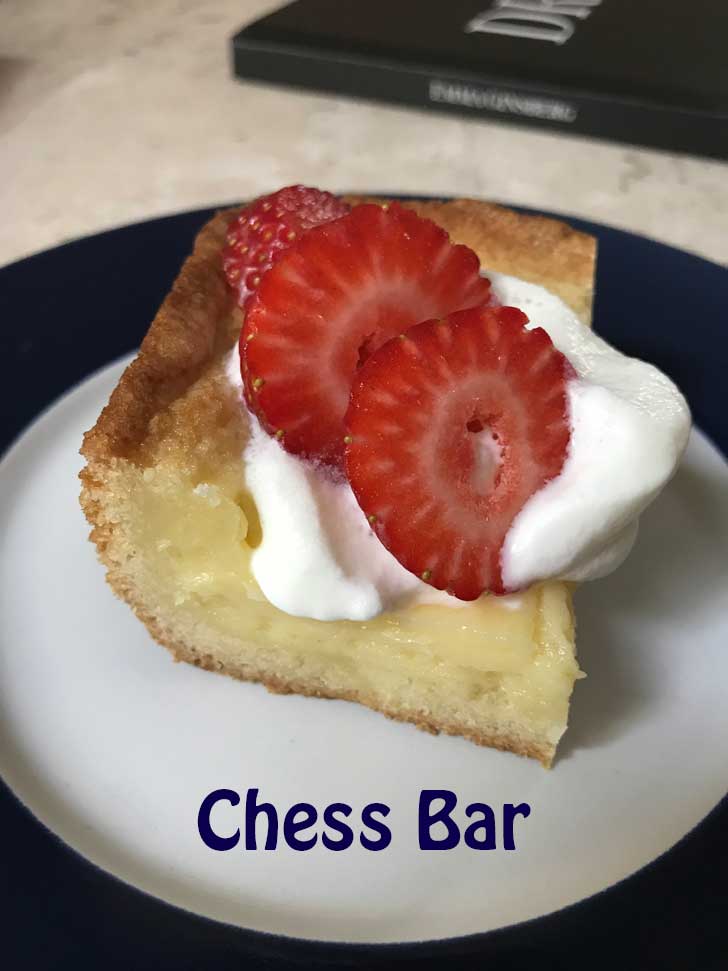 Scratch Chess Bars with Self-Rising Flour
Self-rising flour is more popular here in North Carolina than in Texas, and we have several brands to choose from. I've always been partial to White Lily, which is made with a softer wheat and gives baked goods a softer crumb. White Lily doesn't measure exactly the same as all-purpose, so I've included the gram amounts for each cup. It also tends to clump, so it doesn't hurt to sift it or whisk it really well after you weigh it. And finally, self-rising flour contains salt, so you don't have to worry about adding salt to the dry mixture.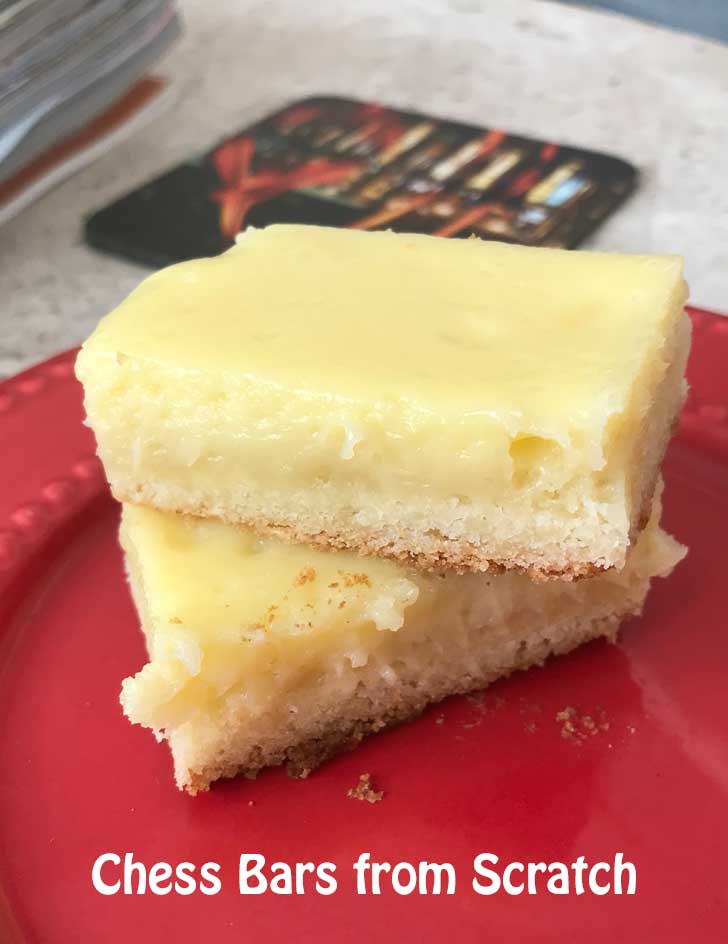 Glass Dish Chess Bars
Since I'm really into things with thick, chewy, edges these days, I chose to make this batch in a glass dish. As for the edges, I definitely got my wish! If you don't want such pronounced and chewy edges, use a metal pan. I should also mention I wanted my bars thicker, and the glass dish helped with that since it measures around 8 ½ by 12 ½. Bars made in a standard 9x13 inch metal pan should be a little thinner.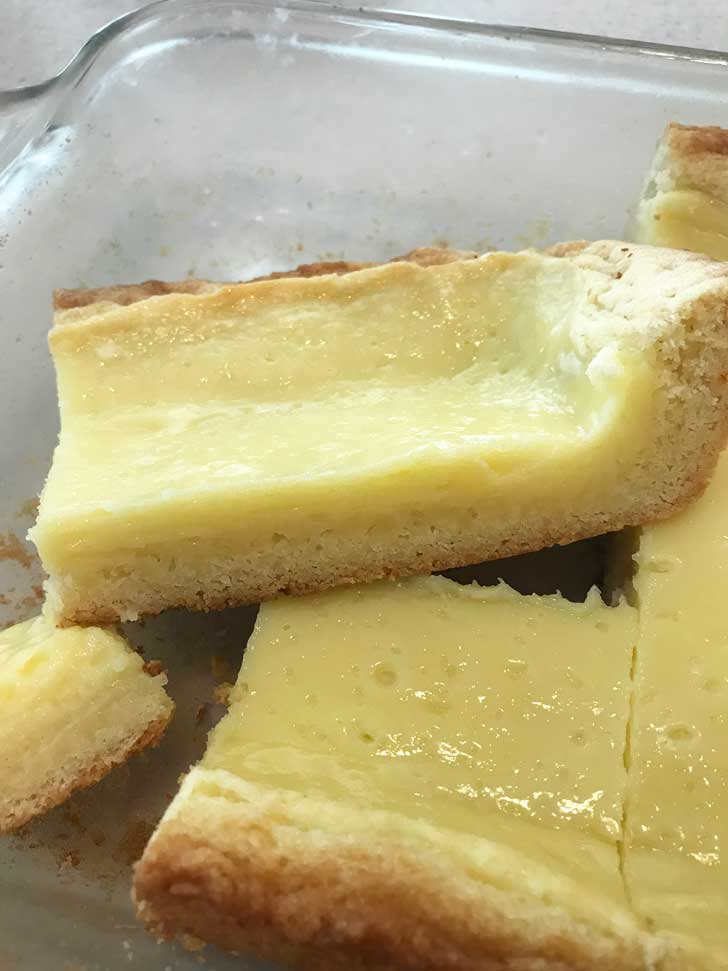 Texture and Flavor
Sometimes Chess Bars and their cream cheese bar friends are on the sweet side. These are sweet, but not overly so. Some recipes have 3 cups or even up to a pound of confectioners' sugar in the topping, but this one only calls for 2 cups. So the topping is sweet, but not overly so, and it is very smooth and creamy. The texture of the crust is kind of chewy, which I'm into these days. If you are cutting these and serving them with a fork (like the first photo), your eaters might find the crust hard to fork into. We solve that problem here by picking it up.
Recipe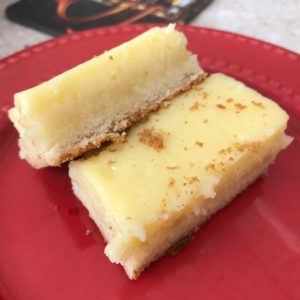 Self-Rising Flour Chess Bars
Chess Bars or Chess Squares made with self-rising flour.
Ingredients 
8

tablespoons

unsalted butter, softened plus 1 T for pan or dish

(120 grams) plus another 14 grams for dish

1

cup

sugar

(200 grams)

1

large

egg

(48 grams

2

cups

self-rising flour (White Lily)

(250 grams)

8

oz

cream cheese, softened

(230 grams)

2

cups

confectioners sugar

(240 grams)

2

large

eggs, room temperature, beaten in a separate dish**

(95 grams)

1 ½

teaspoons

vanilla
Instructions 
Preheat oven to 350 degrees F.

Rub a 9x13 inch metal or an 8 ½ by 12 ½ inch glass dish with softened butter.

With an electric mixer, beat the butter and sugar until creamy. Add the egg and beat until smooth, then reduce speed to low and stir in the self rising flour. Scrape sides of bowl and blend until smooth.

Drop mixture in clumps evenly over the greased dish, then dampen hands and press to make an even layer.

Wipe out the mixing bowl and add the softened cream cheese. Beat until smooth, then beat in the sugar and vanilla.

Drizzle in the beaten eggs, beating on low to medium until blended. Scrape sides of bowl. Mixture should be pretty smooth.

Pour cream cheese mixture over the crust.

Bake for 30 to 35 minutes or until top appears set and center rises a bit (it will fall back down). My glass dish version takes 35 minutes, but a slightly larger metal pan might take 30 since the bars are shallower. Let cool completely at room temperature, then chill for 2 hours or so. Cut into bars.
Notes
My eggs have been all different sizes lately.  Some of the large ones are 48 grams and others are 54 all weighed without shell.  For this batch, I cracked the eggs separately, beat with a fork and added about 95-100 grams gradually to the cheese mixture.  I doubt an extra 10-15 grams of egg would have hurt, but I'd probably crack and weigh again because the topping was just the right level of creaminess.