What happens when someone tells the Publix marketing department to create a Super Bowl recipe with brownie mix, sandwich cookies and red wine? Red Wine Cookie Brownies! This recipe is from their current flyer. I don't know who comes up with their recipes, but they really do publish some fun ones. But there's a catch to this recipe.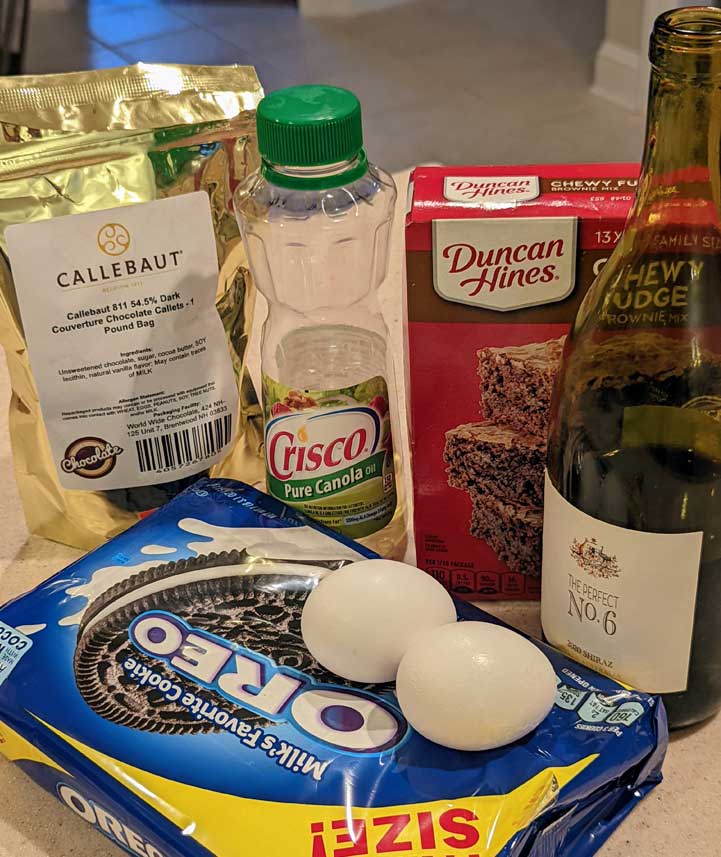 And the catch is you have to have 1 ½ cups of (drinkable) wine you are willing to boil down and put in brownie batter. The alternative is pomegranate juice, but I'm not sure what the point of that would be when there are so many other good things to do with brownie mix and Oreos. This recipe is about the novelty of putting wine in the brownies.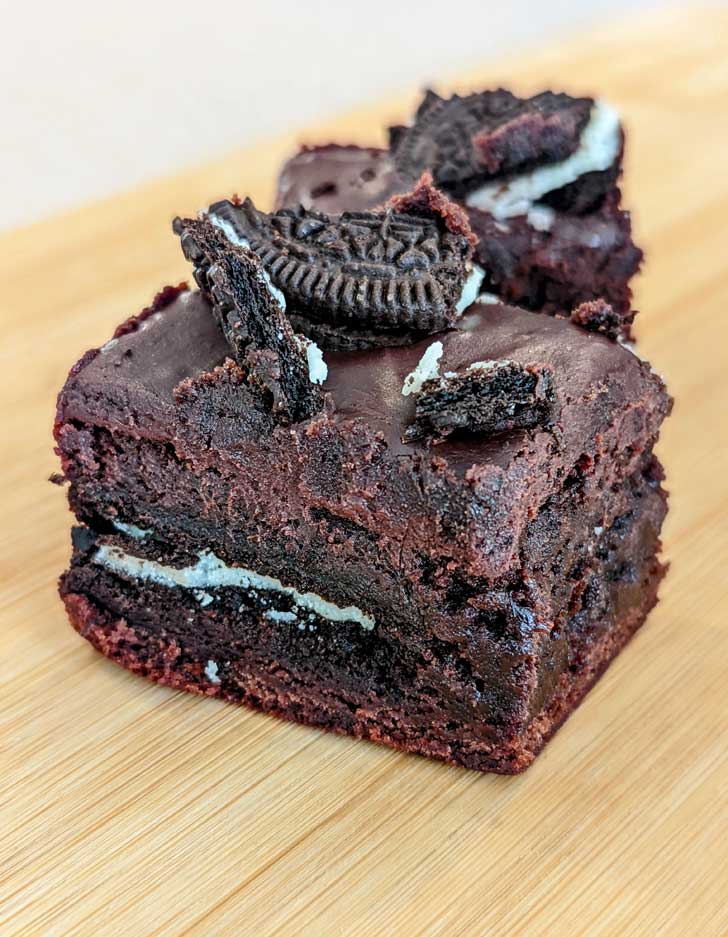 Red Wine Reduction
So what does the red wine do to the brownies? It adds background notes of fruitiness, a little bitterness and a long finish. I am pretty sure the type of wine will influence the end flavor of the brownies. A Shiraz with 15% alcohol (which is what I used) might be a little different from brownies made with a 12% alcohol Bordeaux. The ideal wine for this is probably something like one of Barefoot reds or Two Buck Chuck -- something you'd drink while reducing the rest. I only used the Shiraz because a wine club sent it to me and I don't care for wines that high in alcohol.
Back to the Brownies
The Red Wine Cookie Brownies are pretty good. I will probably freeze them, because I ended up going to the store for more brownie mix and making a second batch with Kahlua (which I did not reduce). Those were even better! So if you are not up for red wine brownies, try the recipe with Kahlua or maybe bourbon.
Red Wine Cookie Brownies Alternatives
If you like the idea of using red wine in brownies but don't want to use brownie mis, here's a recipe for Red Wine Brownie Bars as well as an old recipe for Drunk Cake from my friend Sonia in Sicily.
Recipe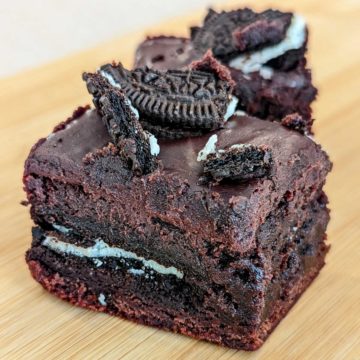 Red Wine Cookie Brownies
A fun way to use up red wine.
Ingredients 
1 ½

cups

red wine OR ¼ cup plus 2 T. Kahlua

(Kahlua does not need to be reduced)

1

package chocolate brownie mix (18 to 18.4 oz)

I used Duncan Hines Chewy

⅔

cup

canola oil

2

large

eggs

12

Oreos or other chocolate sandwich cookies
Ganache Topping
⅓

cup

heavy whipping cream

1

cup

dark or semisweet morsels

3

more

Oreos
Instructions 
Preheat oven to 350°F. Line an 8 inch square pan with foil and spray bottom only with cooking spray.

Put the wine in a medium saucepan and bring to a simmer. Simmer until it is reduced to about ½ cup. Time will vary as to how long this takes -- probably 8 to 10 minutes. Let the reduction cool for 10 minutes. If using Kahlua, skip the reduction step.

Combine the brownie mix with the ⅔ cup oil, 2 eggs and only ¼ cup of the wine reduction (or ¼ cup of Kahlua). Beat with a heavy duty scraper or large spoon until blended. You could also do this with a stand mixer and paddle or hand held electric mixer on low to medium.

Spread approximately one-fourth batter evenly into baking pan. Place 12 cookies in rows over batter, then spread remaining batter evenly over cookies.

Bake for about 30 minutes until top is crisp and center is set. Let cool 30 minutes in pan.

Pour cream into a microwave-safe bowl or a 2 cup Pyrex measure. Microwave just until hot and steamy -- about 40 seconds or up to a minute depending on the wattage of your microwave. Add chocolate and let stand 5 minutes. Add 2 to 4 tablespoons of the wine reduction (or 2 T. Kahlua) and whisk until smooth. Pour ganache evenly over brownies. Note: I used only 2 T and think 4 would have been too much.

Crush or just break up the last 3 cookies and sprinkle over the ganache. Chill 10 minutes or until set; cut into bars and serve.