This Cherry Cobbler recipe is from The Food Allergy Baking Book, a cookbook for people who love baking, but need to avoid dairy, eggs, and/or nuts. The cobbler is one of the book's many easy recipes, and I chose it because we have a big bag of frozen cherries and all of the other ingredients are pantry staples. Also, it's an 8 inch pan size cobbler, so it's perfect for an easy weeknight dessert.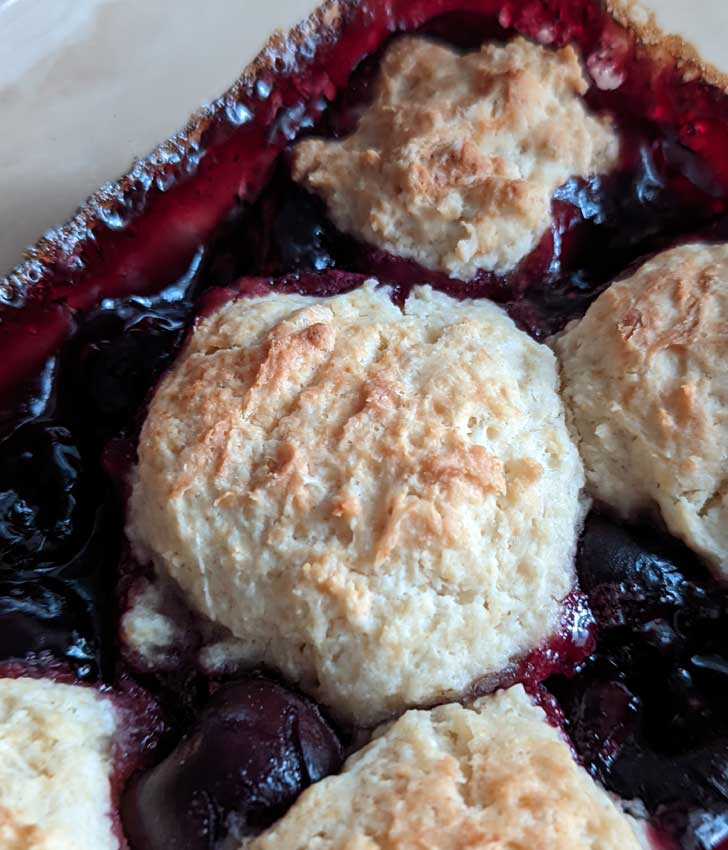 The Food Allergy Baking Book
Based on the Cherry Cobbler, plus my preview of the book, I'd recommend The Food Allergy Baking Book to anyone interested in egg-free, dairy-free, nut-free baking. Written by Kelly Woyan, who has years of experience dealing with her children's serious food allergies, the book includes safe versions of classic cookies, pies, cakes, quick breads, muffins and crumbly fruit desserts. The recipes are clear, concise and appealing, and I honestly had a difficult time picking which one to try first because they all looked so good. But like I said -- we had cherries in the freezer.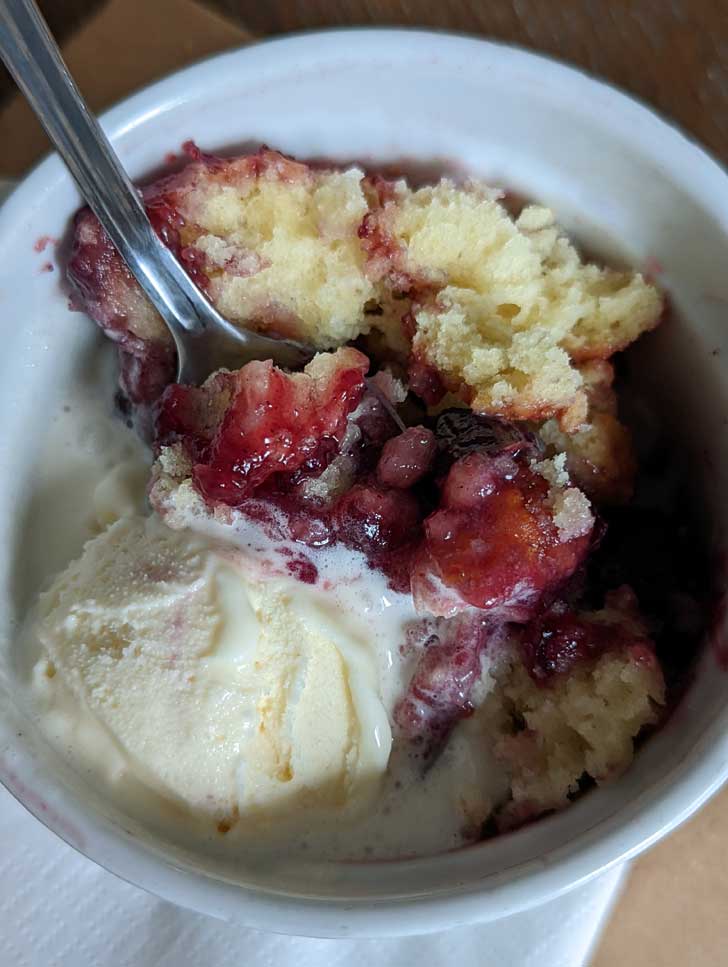 Cherry Cobbler
The Cherry Cobbler recipe below is the 8 inch pan version from the book. Out of necessity, I made some minor adjustments and have listed them below. The biggest change was that I halved the recipe and baked it in a 9x5 inch glass loaf pan. It was really fun to put together and very simple. I especially enjoyed scooping the cobbler biscuit topping on with a cookie scooper!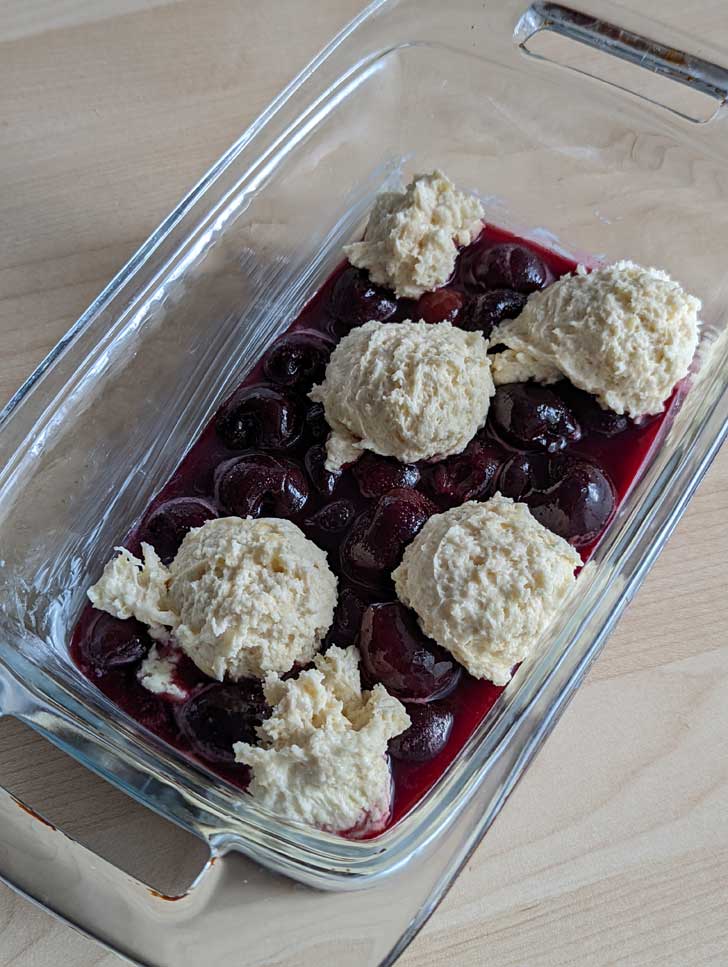 Cherry Cobbler Notes
Cherries -- It's late September, so I used two heaping cups (about 320 grams) of dark sweet frozen cherries. Because they were frozen, the cherry filling took a bit longer than 2 minutes -- more like 8. The only thing about using dark sweet cherries is that the cobbler will be slightly sweeter. If you can find the tart ones, it will be even better. I have a hard time finding tart cherries in Raleigh.
Flour -- I tested with all-purpose flour, but a gluten-free blend should be fine. You are basically making little drop biscuits and plopping them on the cherry filling.
Sugar -- Again, the cherry mixture is pretty sweet with the dark cherries, but not overly so. Still, if you want to cut down the sugar a little it would probably be okay to remove a tablespoon or two.
Shortening -- I used Nutiva brand. It's yellow, so the dough has a golden hue to it. The book recommends any non-dairy shortening.
Scoops of Dough -- The original recipe calls for six scoops of dough going across an 8 inch square pan. For my loaf pan cherry cobbler, I used a medium size cookie scoop and did 3 big scoops and some little blobs.
This recipe is pretty much a no-brainer and super fun to make and serve. In the introduction, Kelly suggests substituting other fruits for the cherries, and I intend to do so! As much as I love my other cobbler recipes, this is the first one I've ever made with the drop biscuit topping.
Recipe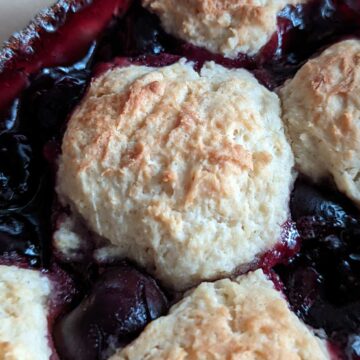 Cherry Cobbler
You could omit the frozen tart cherries here and use other fruits instead-perhaps blackberries and nectarines, or peaches and raspberries.
Ingredients 
1

cup

granulated sugar

(200 grams)

3

tablespoons

cornstarch

¾

teaspoon

cinnamon

4

cups

tart cherries or frozen sweet cherries

can sub frozen sweet

¼

teaspoon

vanilla

1

cup

all-purpose flour or gluten-free 1:1 blend

1

tablespoon

sugar

1 ½

teaspoons

baking powder

⅛

teaspoon

salt

3

tablespoons

dairy-free shortening

½

cup

dairy free milk

Dairy-free ice cream for serving
Instructions 
Preheat oven to 425°F, and lightly spray an 8-inch square glass baking dish.

In a medium saucepan, combine the 1 cup sugar, cornstarch, cinnamon, cherries, and vanilla over medium-low heat until the sugar is dissolved and the mixture is thickened and bubbling, about 2 minutes. Pour the cherry mixture into the prepared casserole dish, and set aside.

In a separate medium bowl, combine the flour, the 1 tablespoon sugar, baking powder, and salt with a wire whisk. Cut in the cold shortening with a pastry blender or your fingers until the mixture is crumbly. Stir in the dairy-free milk, mixing until just combined.

Using a cookie scooper, scoop out 6 even portions of the flour mixture and drop them onto the hot fruit mixture.

Put the dish in the oven and bake for about 30 minutes, or until the biscuit topping is light golden brown and the fruit is bubbling. Serve warm, with the dairy-free ice cream.