If you like Black Magic Cake, you can make Black Magic Cupcakes! This is a recipe I use when I want one that's easy (which is most days) and doesn't call for a lot of expensive ingredients. I usually frost these with Favorite Chocolate Frosting, but I've also used this Chocolate Mousse as a topping. It's a recipe I originally got from an interesting source -- Hungry Jack.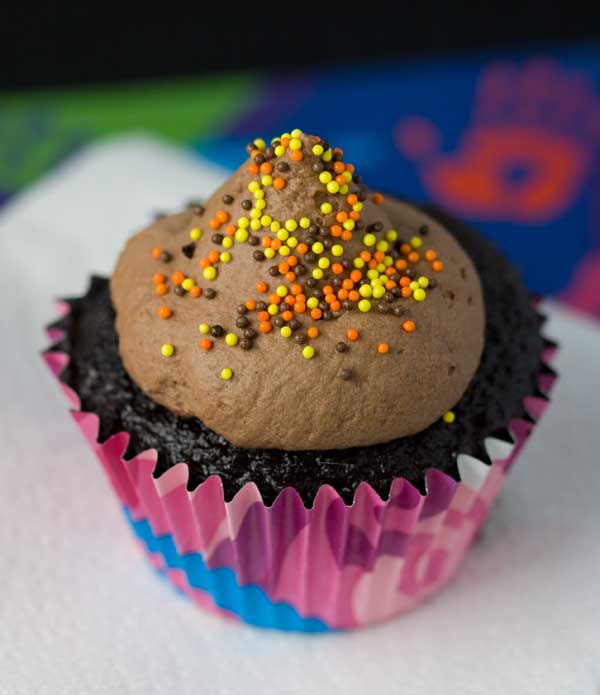 I just wish I had some Halloween themed cupcake papers to match the sprinkles.
The ones I'm serving tonight aren't very Halloweenish, but they'll do.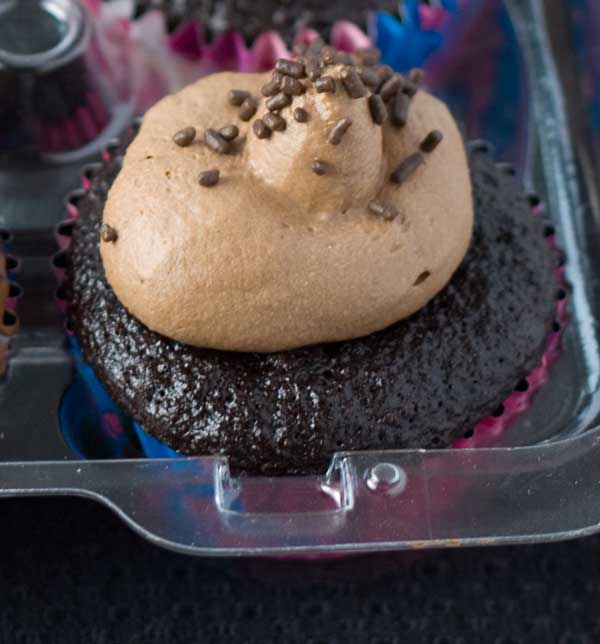 This is a large batch recipe that halves well, so if you don't need 32 to 36 cupcakes you can make 16 to 18. I usually halve it, but use the full recipe for the chocolate mousse. Then again, I put a lot of mousse on top! I'm keeping the yield for the mousse the same since this is how much I usually make, and I've not yet tried to double. Plus if you make all of the cupcakes, you may want to vary the frostings and use mousse for some and chocolate, vanilla or peanut butter for the others.
Recipe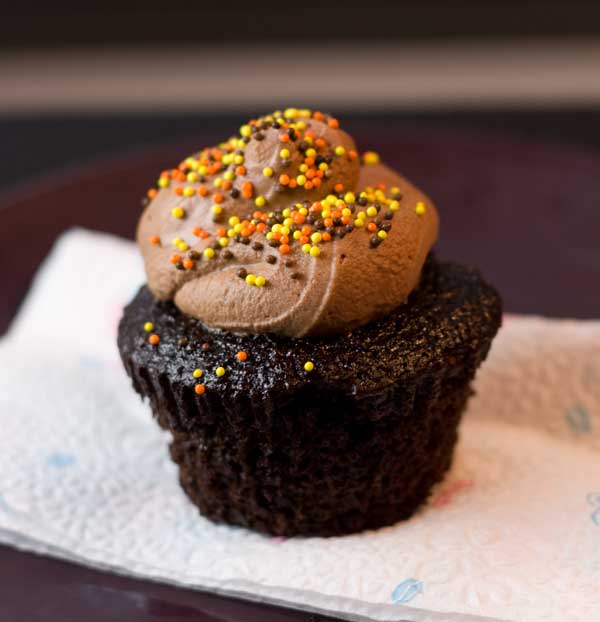 Black Magic Cupcakes with Chocolate Mousse Topping
Chocolate Cupcakes with Chocolate Mousse
Ingredients 
1 ¾

cups

all-purpose flour, stir well and aerate of weigh

(221 grams)

¾

cup

extra dark unsweetened baking cocoa or Dutch processed

(60 to 70 grams)

2

teaspoons

baking soda

1

teaspoon

baking powder

1

teaspoon

salt

2

cups

granulated sugar

(390 grams)

2

large

eggs

1

cup

buttermilk

½

cup

vegetable oil

2

teaspoons

vanilla extract

1

cup

hot brewed coffee
Chocolate Mousse Frosting (make twice)
5

ounces

milk chocolate, chopped

(140 grams)

3

ounces

dark chocolate, chopped (can use chips in a pinch)

(84 grams)

1

tablespoon

pancake syrup or any maple syrup

2

cups

heavy whipping cream

½

teaspoon

vanilla
Instructions 
Preheat oven to 350°F. Line 32 cupcake cups with paper liners.

In a large bowl, stir together flour, cocoa, baking powder, baking soda, salt and sugar. Make a well in the center and add eggs, milk, oil, vanilla and coffee, then stir until mixed. With an electric mixer, beat on medium until smooth.

Fill the cupcake cups about ⅔ full.

Bake cupcakes for about 25 to 28 minutes or until set.
Chocolate Mousse Frosting
In a microwave-safe bowl, melt the two chocolates together using 50% power and stirring every 30 seconds. Add the room temperature pancake syrup and ½ cup of the cream and transfer to a mixing bowl. Let cool to room temperature (about 5 minutes), then gradually add remaining 1 ½ cups of cream and beat with an electric mixer until thick. Beat in vanilla.

Transfer the mousse into a large, heavy duty freezer bag and chill for 10 minutes.

Snip the bottom corner of the bag about ½ inch from the point and squeeze the mousse out onto the top of each cupcake. Keep cupcakes chilled until serving time.
Notes
I usually halve the cupcake recipe, so this mousse recipe makes enough to cover about 16 cupcakes. If you are making the full cupcake recipe and want all the cupcakes topped with mousse, you'll need to make the mousse recipe twice. Also, rather than doubling the mousse recipe and making it all at once, I recommend making it from start to finish as written, then repeating with a second round of ingredients.