I usually buy yeast breads at the store, but Friday was rainy, the girls were engaged in a Pokemon battle, and most of all, I didn't feel like leaving the house to go buy bread. Not serving bread with dinner, especially on a Friday, seemed wrong, so I pulled out my Luby's Cafeteria Cookbook and tried this recipe.
The results were fabulous! The rolls turned out bigger than expected, which was a good thing. Fuzz, who must be tired of the usual baguettes, loved these.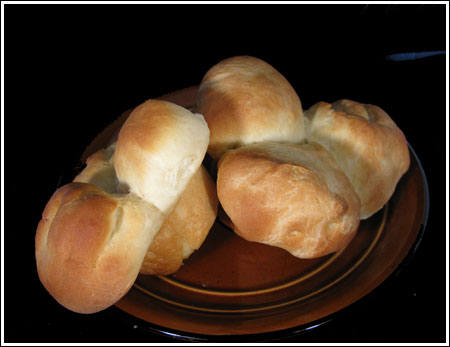 Cloverleaf Rolls
1 ounce active dry yeast
1 1/3 cups warm water (110°F)
5 1/2 tablespoons melted butter
1/2 cup granulated sugar
3 extra large eggs
1/3 cup nonfat dry milk powder
1/2 teaspoon salt
5 cups all-purpose flour
In a large mixing bowl, dissolve yeast in warm water. Add melted butter, sugar and eggs. Using dough hook of electric mixer, beat on medium speed until well blended. Add dry milk, and salt; mix well. Add flour, 1 cup at a time, mixing until dough begins to pull away from side of bowl.
Lightly grease top of dough with oil. Cover loosely and let rise in warm place 1 hour or until doubled in size. (I transferred my dough to a big glass bowl greased with olive oil).
Lightly grease 12 medium muffin cups (sprayed).
Punch dough down. Divide dough evenly into 12 pieces. Divide each piece into 3 balls and place in muffin cup. (This part was fun, which meant I got the dough right. It wasn't too sticky nor too dry).
Let rise in warm place 1 hour. Before baking, you may want to brush tops with some extra butter – not necessary, but it looks nice and adds a little more flavor.
Preheat oven to 350°F Bake 15 to 20 minutes or until golden brown.
Serves 12
Related posts: