Last year a friend asked if I'd auction off a kind of "Cookie of the Month" service for our school's silent auction. The highest bidder would get freshly made cookies dropped off at their house once a month. I was worried Todd would end up having to bid on me, but someone beat him to it and for the past few months I've been taking cookies to a sweet family who are open minded about the arrangement and have happily accepted whatever I've felt like making. This month's cookies were pretty basic, and included a batch of my favorite sugar cookies.
UPDATE:  Link no longer works, but recipe can be found in this book.
Carole Walter's Super Sugar Sparkles
These can be made two ways. I usually make them as per CW's directions, but have also been known to make them with white whole grain flour and ground up evaporated cane juice crystals. I prefer the whole grain cane juice cookies because they have kind of a wheaty caramel flavor, but you do have to make some adjustments to the dough. It's dryer, so it takes more milk and the cookies don't spread as much.
When making the cookies as directed, I've had the best results when using a light hand with the flour. That is, 340 grams for 3 cups of flour, which is only about 4 oz per cup. So weigh the flour or fluff the flour, spoon it into the cup and level very lightly. As for the cookies, they're flat (like in the picture), have crispy edges and tender centers. I like using vanilla, but I think they'd also be good with a little lemon thrown in or a dash of orange extract. These are definitely my favorite right now, but that could change.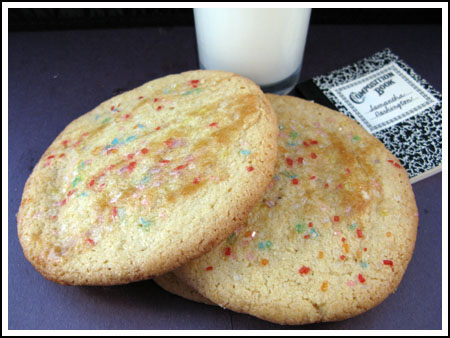 Related posts: