Happy Memorial Day Weekend!
So far we've spent the holiday shopping for furniture, which is quite stressful as I have a terrible time visualizing how spaces should look before they're furnished. What I've learned is that it helps to have a personal style or some sort of theme in mind. We weren't sure what that was so we took a battery of psychological decorating tests to find we are "American Traditional".  What a shock.  But sticking to a theme does seem to help things flow better and we've managed to pull together furniture for a couple of rooms in the new house.  I'll post pictures soon!  That is, when we have an actual house.
In other news, Friday was Fuzz's piano recital and she did a wonderful job playing Memory from Cats. Here's a picture of her in the dress I mentioned the other day within the context of why I got stuck making Fast Rising Breadsticks.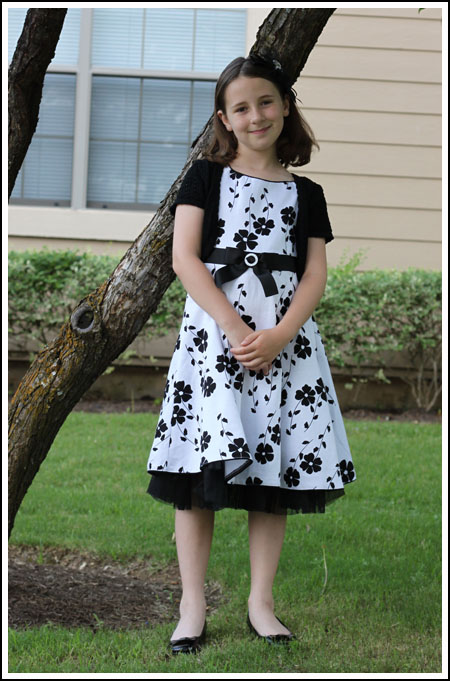 Which brings me to today's recipe, which happened to be another fast bread — biscuits!  The perfect companion to fried chicken. 
This recipe was awesome. The dough was strange – light, but lumpy and sticky.  Still, the biscuits cut just fine. Next time I'll cut them a little fatter so they'll rise higher. As far as flavor and texture, they were just about perfect. The original biscuit recipe is from Alton Brown, but I cut it in half and added a little sugar. The sugar doesn't make the biscuits sweet, but I think it enhances the other flavors and rounds everything out.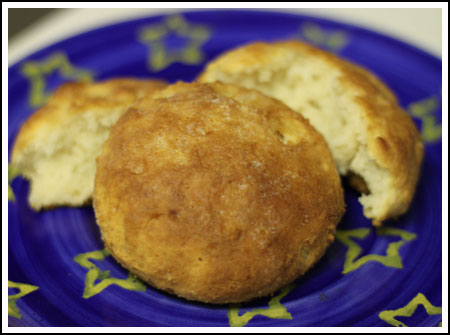 Small Batch Buttermilk Biscuits
1 cup all purpose flour
2 teaspoons baking powder
1/8 teaspoon baking soda
3/8 teaspoon salt
1 1/4 teaspoon sugar
1 tablespoon cold unsalted butter, chopped up
1 tablespoon shortening
1/2 cup cold buttermilk
Preheat oven to 450 degrees.
Combine flour, baking powder, baking soda, salt and sugar in a large bowl and stir very well. Using your fingertips, rub butter and shortening into dry ingredients until mixture is coarse. Make a well in the center and pour in the buttermilk. Stir just until the dough comes together. The dough will be very sticky.
Turn dough onto floured surface, dust top with flour and gently fold dough over on itself 5 or 6 times. Press into a 1-inch thick round. Cut out biscuits with a 2-inch cutter (or rim of a glass — I always use my McDonaldland glasses for this task). Place biscuits on baking sheet. Reform scrap dough, working it as little as possible and continue cutting.
Bake until biscuits are golden– 15 to 20 minutes. Mine took a full 20 minutes and I managed to get 5 good sized biscuits out of this. Next time I might make them larger and yield 4.
Related posts: