I have a lot of good oatmeal cookie recipes. In fact, I can't pick a "best" because my favorites vary given my mood. But for those of you looking for a reliable and tasty recipe for oatmeal cookies, this is a good one. The recipe is called Oatmeal Cookies, but I made the recipe title more exciting. Now they are Reliable Oatmeal Cookies. It's not the snappiest name for an oatmeal cookie recipe, but it's appropriate. Or at least until someone finds it unreliable.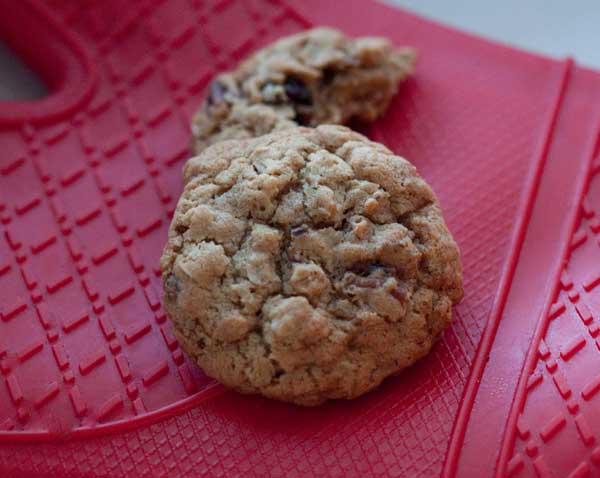 Part of what makes these oatmeal cookies so good is a combination of shortening and butter rather than just butter. If you're not a fan of regular shortening, the new non-hydrogenated types such as Nutiva work really well.
If you take the cookies out at 10 minutes (they'll seem underbaked inside) and let them sit for a while, they have a very soft, dense middle. If you cook them for 12 minutes, they're more uniform throughout. The ones in the picture were baked for 12 minutes.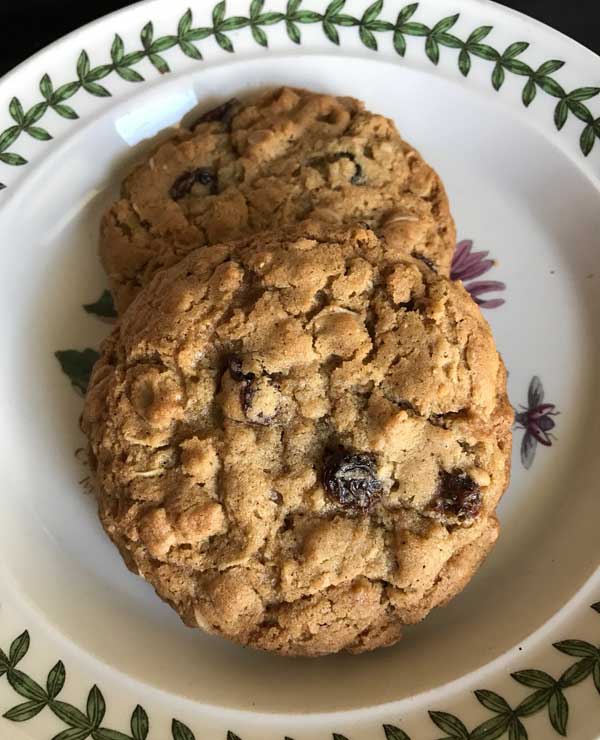 Recipe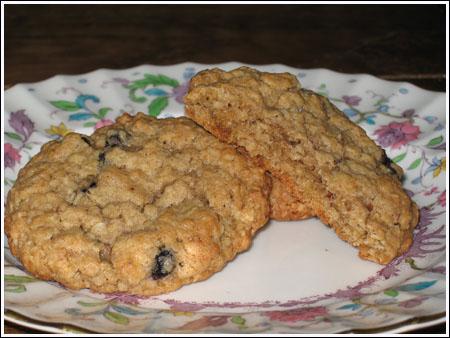 Reliable Oatmeal Cookies
Chewy oatmeal cookies adapted from Crescent Dragonwagon's recipe. I always make these with raisins.
Ingredients 
1/2

cup

shortening

3.5 oz — you can use the non-hydrogenated type like Nutiva

1/2

cup

unsalted butter

4 oz

1

cup

dark brown sugar

7.5 oz

1

cup

granulated sugar

7 oz

2

large eggs

1

teaspoon

vanilla extract

1

teaspoon

cinnamon

1

teaspoon

baking soda

1/2

teaspoon

baking powder

3/4

teaspoon

salt

2

cups

about 10 oz flour

3

cups

oats

1

cup

raisins

plump in boiling water then drain

1

cup

toasted and chopped pecans

optional
Instructions 
Preheat oven to 375 degrees F. Have ready two parchment or foil lined baking sheets.

If you haven't already done so, put the raisins in boiling water and let them soak for a few minutes. Drain and pat dry.

In the bowl of a stand mixer with the paddle attached, beat the shortening, butter and both sugars until creamy. Add the eggs one at a time and beat just until incorporated. Beat in the vanilla and spices, then add the soda, baking powder and salt, mixing well so that all leavening agents are evenly dispersed.

Add the flour and stir until blended, then add the oats, drained plumped raisins and toasted nuts.

Using a generously heaping tablespoon (which will be more like 2 tablespoons), shape dough into balls. You should get about 40. put the dough balls in heavy duty zipper bags and chill until ready to bake or bake immediately.

To bake the cookies, arrange dough balls about 2 1/2 inches apart and bake for 12-15 minutes. Let cool for 3 minute on baking sheets, then transfer to wire racks.
Notes
Dried cranberries can stand in for the raisins if you prefer.