This is a recipe for granola without oil.  I like it a lot because it's very hard, crunchy and sweet.  This is not the loose type of granola that you sprinkle over yogurt, but rather eat-by-the handful granola. Is it low fat? No, because it has a ton of nut. But I like to think the nuts are providing healthier fats. Leaving out the oil just makes the granola more crunchy than light and crispy.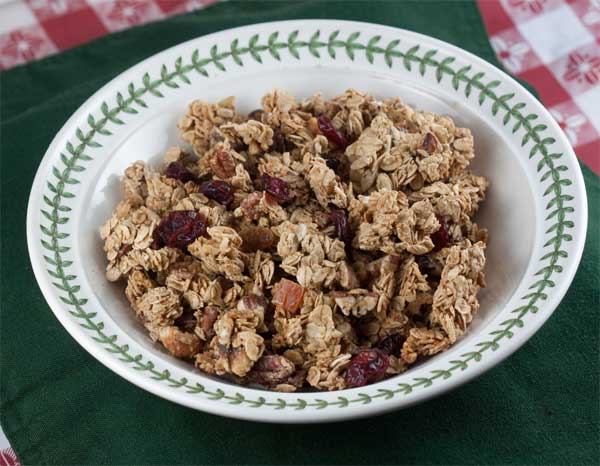 Adding Flax and Oats for Bigger Clumps
At one point I decided it would be a good idea to complicate the recipe by grinding up part of the oats with the flax.  The ground flax and oats act as a binder and help give you more big clumps.  If you have the grinder out it's worth trying, but if you skip the grinding completely the granola is still pretty clumpy. Being granola without oil, it is inherently clumpy, as oil tends to make granola loose, light and flaky.
No or Very Little Stirring
Another thing that makes granola clumpy is not stirring, and if you bake this at a low and slow 275 you can get away without stirring. To be safe, I recommend covering with foil for half the the baking time so that the unstirred granola won't get too brown. Also, you CAN incorporate a tiny bit of oil. Even though I call this recipe Granola Without Oil, these days I usually rub some oil on the bottom of the baking sheet. But you totally do not have to if you use parchment paper.
Recipe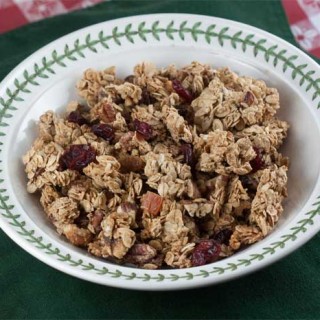 Clumpy Granola Without Oil
Clumpy Granola Without Oil
Ingredients 
3 ½

cups

oats

2

tablespoons

golden flaxseeds

optional

2

tablespoons

raw sunflower seeds

optional

½

teaspoon

salt

1 ⅓

cups

mixed nuts

I use pecans, walnuts and hazelnuts

¾

cup

brown sugar

¼

cup

water

2

teaspoons

vanilla extract

1

cup

your favorite dried fruit
Instructions 
Preheat oven to 275 degrees F. Line a 12x17 inch rimmed baking sheet with parchment paper.

Put 3 cups of the oats in a large bowl. Grind the remaining half cup of oats and the flax in a mini processor or old coffee mill. Add the ground mixture to the oats. Add the seeds and salt and stir well, then stir in all the nuts.

Put the brown sugar and water in a large microwave-safe measuring cup and heat on high just until it begins to boil. Stir to dissolve the sugar, then stir in the vanilla. Pour the mixture over the oats and stir until well blended.

Empty the mixture onto the baking sheet and press it down flat as if you were making a giant granola bar. Bake for 45 minutes, checking after 20 minutes or so to make sure granola is cooking slowly and edges aren't burning. During the 20 minute check, Use a spatula or scraper to lift and flip the granola from the edges and push it towards the center. In other words, break it up a little, but leave it in big chunks.

Check granola at 45 minutes and if it appears to have browned somewhat, go ahead and take it out. If not, leave it in for another 10-15 minutes. Granola will not be crunchy until it is completely cool, so let it cool on the baking sheet. Once cool and crisp, toss with the dried fruit.
Notes
You can skip the step of grinding the oats and/or flax completely, but you will probably get fewer clumps. I've found I get more large clumps if I incorporate some sort of ground meal (the oats and/or flax) into the mix. Also, this granola is pretty hard and crunchy. If you want to trade some of the hardness for crispness, incorporate a bit of oil. Two tablespoons of oil makes the granola lighter and less hard.