Back in 1956, this recipe made it to the finals of the Pillsbury Bake-Off.  I guess back in the fifties oversize cookies were innovative, and the fact that this cookie had malted milk powder in the dough and frosting made it even more unique.  The cookie didn't win a cash prize,  but it must be well-loved because Pillsbury included it in their 'Best of the Bake-Off" collection.    As for texture and taste, the cookies are very tender, but sturdy and dense like a packaged cookies. The cookie's flavor is a not too sweet brown sugar-vanilla and it makes a great base for the icing which tastes like brown sugar and malt.  For me, the icing is what made the cookie.
The recipe below is supposed to yield 18 cookies. I halved it and got 8 cookies.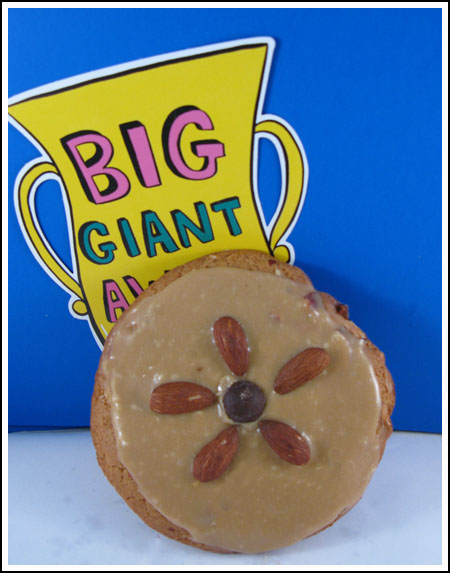 Malted Big Wheels
4 cups all purpose unbleached flour (540 grams)
¾ cup plain malted milk powder (Carnation)
2 teaspoons baking powder
½ teaspoon baking soda
½ teaspoon salt
8 oz (230 grams) salted butter
2 cups packed light brown sugar
2 large eggs
⅓ cup sour cream
2 teaspoons vanilla
1 cup chopped almonds ( roasted) – recipe says peanuts are okay too
Icing:
4 tablespoons salted butter
¼ cup half & half
½ cup brown sugar
⅓ cup malt powder
½ teaspoon vanilla
2 cups powdered sugar (Can use up to 2 ½ cups), sifted
Garnish:
90 whole almonds for garnish (optional)
Chocolate chips for garnish (optional)
Stir the flour, malted milk powder, baking powder, baking soda and salt together in a bowl. Set aside.
Cream the butter with the brown sugar in a large mixing bowl until light and fluffy. Beat in the eggs and vanilla and stir in the sour cream. By hand or using lowest speed of mixer, stir in the flour mixture in 3 parts. Stir in the almonds. Chill dough for about 4 hours.
Preheat oven to 375 degrees F. Roll out half of the dough and using about a 5 inch round (I used the top of an oatmeal canister but the original recipe suggests you use a coffee can), punch out big ¼ inch thick circles. Lift with a spatula and arrange, spacing 3 inches apart, on ungreased cookie sheets. Bake for 10-14 minutes. Mine took 14.
Cool cookies, then make icing. You'll need to use the icing as soon as it's made, so don't make it ahead of time.
Cook and stir butter, half & half and brown sugar in a small saucepan over medium heat until brown sugar is melted. Remove from heat and stir in the malt powder, vanilla and powdered sugar. For the powdered sugar, stir it in ½ cup at a time. Spoon the frosting over the cooled cookies.
Decorate cookies by arranging 5 whole almonds in a spoke pattern and putting a chocolate chip in the center.
Makes about 18 cookies