Gee, your house smells delicious! That's what everyone will say when you make this gingerbread biscotti. Or that's what I hope they say. This recipe is one of many I've been testing. From Fine Cooking Magazine, this biscotti is darker and crunchier than the Easy Biscotti I mentioned the other day. Plus the Fine Cooking Gingerbread Biscotti has an interesting mix of flavors and textures. In addition to the ginger, it has pecans, apricots and orange. Not that the other was one dimensional. It wasn't. I just liked this one better because it has more depth to it.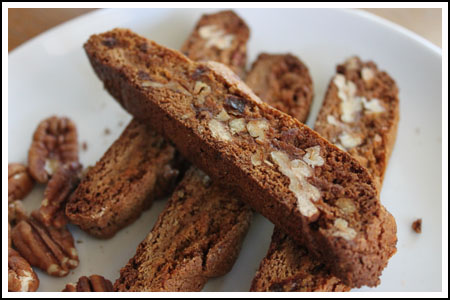 Where to Find Fine Cooking Gingerbread Biscotti
The recipe is on the Fine Cooking site where you will also find other reviews. It is by Abby Johnson Dodge. If the link moves or you click over and the recipe is not there, please let me know.
Joe at Culinary in the Country also liked it. He managed to incorporate some whole wheat pastry flour, which was a smart addition.
Recipes That Are Somehow Related