Today's recipe was inspired by a fabulous baker named Minnie Mouse. Did you know she has her own bakeshop? She does, and she's hired some capable help. Minnie's cookies are produced by a company called Selma's, and I can't help but wonder if Selma ever imagined Minnie Mouse would be baking her cookies and selling them all over Disney Parks. The ones at Goofy's Candy Company in Downtown Disney always seem the freshest, but you can also find them at various gift shops in a multitude of flavors. My favorites are the chocolate chip, which brings me to today's cookie. This was my attempt to make a cookie similar to Minnie's (or Selma's).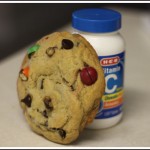 Print Recipe
Minnie's Bakeshop Cookie Copy Cats
Gigantic Chocolate Chip Cookies like the Minnie's Bake Shop ones sold at Disney World (formerly Selma's).
Ingredients
1

stick

4 ounces/114 grams softened unsalted butter, cool room temp and cut up

1/2

cup

light brown sugar

packed firmly (100 grams)

6

tablespoons

powdered sugar

2

tablespoons

beaten egg

1

tablespoon

water

1/4

teaspoon

vanilla extract

6

oz

all purpose flour

1 1/3 cup

1/2

scant teaspoon salt

1/4

teaspoon

baking soda

Small handful of chocolate chips or 1 ½ oz chopped chocolate plus a handful of M&Ms if desired
Instructions
Don't preheat oven yet because dough requires chilling.

Cream the butter and both sugars using high speed of an electric mixer. Scrape bowl.

In a second bowl, stir together the egg, water and vanilla. Add the egg mixture to the sugar mixture and beat just until blended. Scrape sides of bowl again. Thoroughly stir together the salt, baking soda and flour. Add to the dough and stir until it's almost mixed in. Add the chips and candy and continue stirring until flour mixture disappears.

Scoop the dough into 4 large scoops. Chill the scoops for several hours on a plate.

Preheat oven to 400 degrees F.

Bake the cookies. Stack two cookie sheets on top of each other. Set the cookies a few inches apart on the top sheet. Put the cookies in the oven, reduce heat to 350 degrees F and bake for 15 minutes. Pull sheet from oven. Using a spatula, push the cookies inward to make them fatter (taller, less wide). Return to oven and bake for another 3-5 minutes or until cookies appear just set. Don't overcook! Remove from oven and let cool for several hours at room temperature. Transfer to freezer and freezer for at least an hour or until ready to serve. Thaw and serve.
Notes
Baking Notes:
-- One thing you should know is that Minnie uses margarine in some of her cookies. I bought a pack of Blue Bonnet to play around with and I'm embarrassed to say I loved the texture of the margarine cookies. If for some reason you are into margarine, email me and I'll send you that recipe. However, I know a lot people like baking with butter so I re-tooled the recipe and used butter. The surprising thing was that the cookies made with butter rose even higher than the ones made with margarine.
-- Scoop with a standard size ice cream scoop.
-- Bake cookies on stacked cookie sheets so that the bottom doesn't get too hot.
-- Use plenty of add-ins.
--Start at a high heat, but turn the oven down so that the cookies get a blast of hot air that I suspect, locks in the shell, but cook slowly in the center
-- Chill the dough. The dough that I chilled overnight made the biggest, fattest cookies.
UPDATE : Here's a picture of the cookies made with melted margarine. That recipe is in the comment section.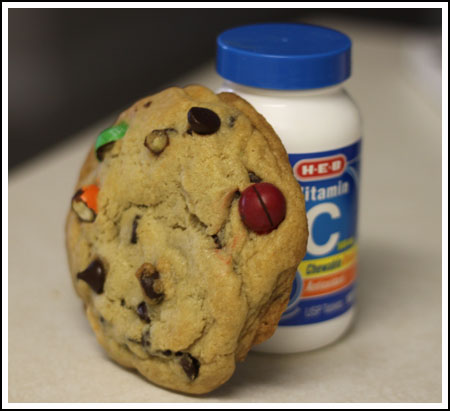 The recipe is really simple to whip up. I kept the batch size small and recommend you try making it this size before scaling upwards. If you like this one, you can play around with the add-ins and flavorings. I made these with dark chocolate chips and the new pretzel M&Ms. I haven't tried using any high cocoa butter candy (regular chocolate as opposed to chips) because I worry it might melt into the cookie too much and cause spreading.  I may try that later.
What's special about these is the texture. The outside looks kind of dry, but the inside is dense, moist, and clings together when you pinch the inside. Getting the bake time just right is key, and I think the little trick at the end of freezing the baked cookie does something too. Or maybe it's my imagination. At least it keeps them fresh until you find someone wiling to eat a ¼ pound cookie.
More notes after the cookie.