I'm not sure if they are still available, but back around 2009 Disney Parks sold Minnie's Bakeshop Chocolate Chip Cookies.  Prior to that, the Disney cookies were called Selma's, but it seems Disney put their stamp on the cookies so Minnie could get the credit.  Whatever the story, I loved those cookies and tried to make similar ones at home.  I posted this copycat in 2010, and while I don't think it's really that much like Minnie's Bakeshop, people seem to like the cookies.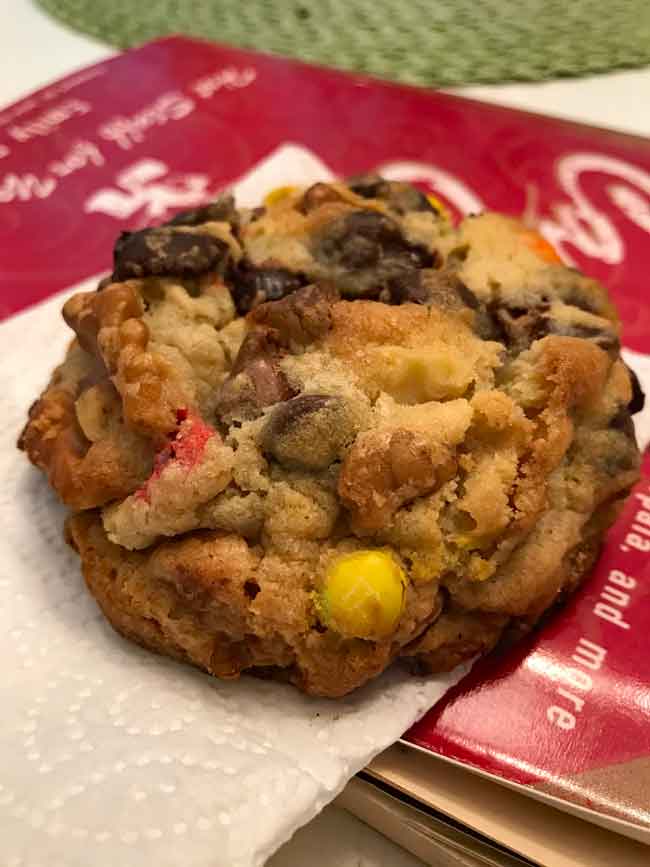 The cookies are large.  Each ball of dough should weigh a little over 4 ½ oz.  I almost always chill the dough, but if you don't have time you don't have to. Using a ton of chocolate chips and nuts will give you thicker cookies. I use almost 2 cups of candy per 6 cookies, so basically these are candy with dough wrapped around.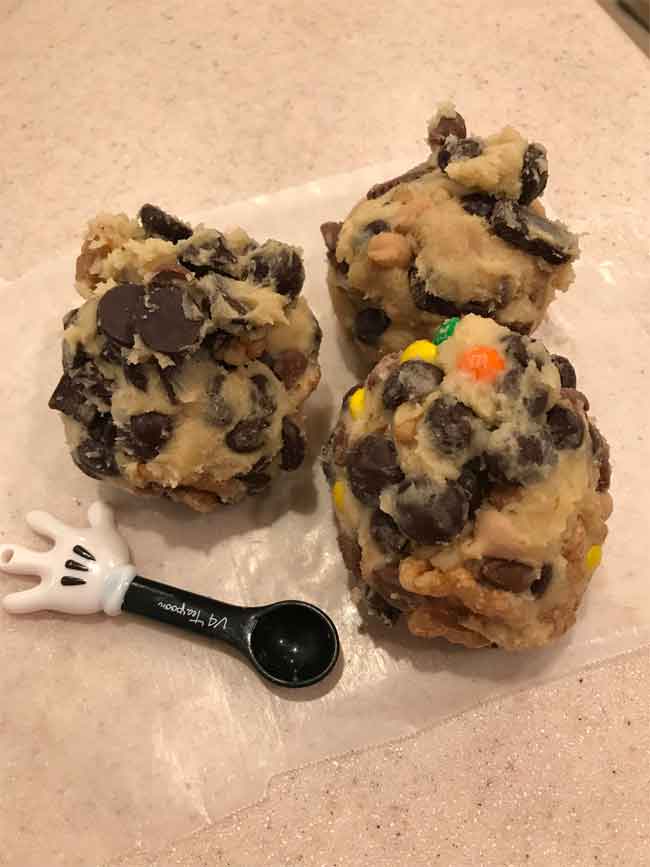 Update: In 2017 Disney Parks posted a similar cookie recipe, though the cookies are smaller and thinner and not really anything like the old Selma's or Minnie's Bakeshop.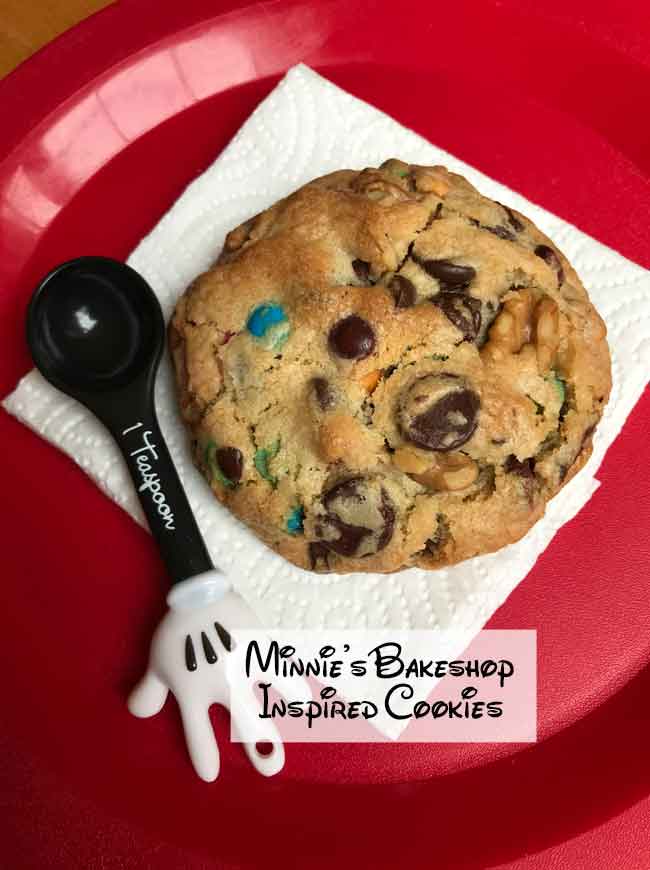 If you are not satisfied with how thick these are, here's another big fat cookie recipe you can play with.
Recipe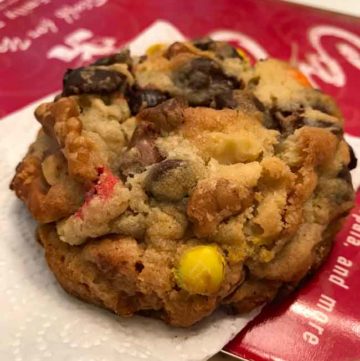 Minnie's Bakeshop Cookie Copy Cats
Gigantic Chocolate Chip Cookies like the Minnie's Bake Shop ones sold at Disney World (formerly Selma's).
Ingredients 
1

stick

cold butter

114 grams, cut into chunks, try Plugra

½

cup

light brown sugar

100 grams

6

tbsp

powdered sugar

40 gram

2

tbs

lightly beaten egg

25 grams total**

1

T.

water

½

teaspoon

vanilla extract

1 ⅓

cups

all purpose flour

6 oz/170 grams

½

scant teaspoon salt

¼

teaspoon

baking soda

1

cup

walnuts

broken up but practically whole

2

cups

assorted chips like semisweet, bittersweet, white, butterscotch, M&Ms

Seems like a lot, but works.
Instructions 
Cream the butter and both sugars using high speed of an electric mixer. Scrape bowl.

Crack the egg into a bowl and beat with a fork. Measure out 2 tablespoons of egg.

Add the 2 tablespoons egg, the water and the vanilla to the sugar mixture and beat just until blended. Scrape sides of bowl again. Thoroughly stir together the salt, baking soda and flour. Add to the dough and stir until it's almost mixed in. Add the chips and candy and continue stirring until flour mixture disappears.

Scoop the dough into 6 large scoops. If you want more rounded looking cookies, make the scoops/balls very compact. If you want scraggly cookies, don't shape the balls as tight. Chill the scoops for several hours on a plate.

Preheat oven to 375 degrees F.

Bake the cookies in a well-preheated 375 degree oven for about 18 minutes. Pull sheet from oven. Using a spatula, push the cookies inward to make them fatter (taller, less wide). ! Let cool on the baking sheet until they are just slightly warm, then transfer to the freezer and freeze until ready to serve. Thaw and serve.
Notes
Baking Notes:
The egg measurement is what you'd get if you halved an egg. If you double the recipe you would use 1 extra large egg. 
The original cookies are probably not made with European style butter, but Plugra will give you taller, thicker, more rounded cookies.  The ones in the photo were made with Land o Lakes, so they are pretty tall too.
Baking the cookies can be tricky.  In a regular oven, 375 for about 18 minutes seems to work.  Make sure to let the cookies cool COMPLETELY.  I recommend cooling then freezing then thawing, as it changes the texture somewhat in a good way.