This afternoon Todd and I drove back to the Hill Country and picked Fuzz up from Girl Scout camp. It was pouring rain. The campers were huddled under a porch while the soaking wet counselors very efficiently checked IDs and loaded each girl and her luggage into a car. On the ride home Fuzz told us all about her adventures, including falling off a horse. She has a big sore on her leg and a bump on her forehead, but she's already perusing the camp catalog and trying to decide what session to take next year. Oh, and she's eating one of these cookies. They're "Welcome Home" plus "Fourth of July" cookies rolled into one.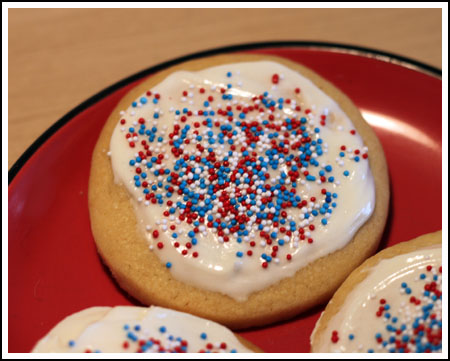 You may recognize this recipe from the old Betty Crocker Cookie Cookbook. Mine is in storage, but I know the recipe by heart which will come in handy if I ever find myself on Top Chef and they do a quick fire sugar cookie challenge. I'm still recovering from that quick fire pie challenge they showed the other night.   Did you see it?
But back to this cookie, I hadn't used this recipe in a while because I'd been on the hunt for recipes that hold their shape better when cut with cutters. These taste great, aren't too sweet and have a light and sandy texture, but they do puff a bit, so if you are making something like Christmas trees, the branches will be slightly rounded.     If you're okay with circular cookies, frosting and sprinkles, you can't go wrong with this recipe.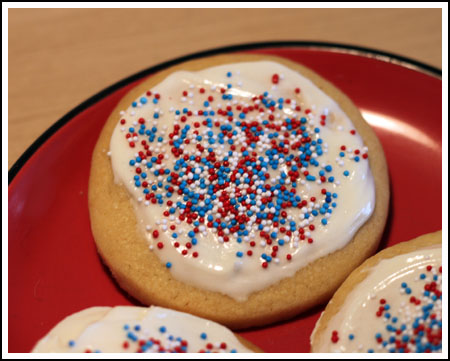 Welcome Home Betty Crocker Sugar Cookies
A classic relatively soft sugar cookie recipe. Not cakey — just soft, dense and crumbly.
Ingredients 
2

sticks unsalted butter

cool room temperature

1/4

teaspoon

plus a pinch of salt

omit if using salted butter

1 1/2

cups

powdered sugar

1

large egg

room temperature

1 ½

teaspoons

vanilla

1/2

teaspoon

almond extract

1

teaspoon

baking soda

1

teaspoon

cream of tartar

2 1/2

cups

all purpose unbleached flour – fluff up very well, scoop, level or just weigh it

(315 grams)
Instructions 
In bowl of stand mixer fitted with a paddle, beat the cool butter until creamy. Add the salt (if using) and powdered sugar and beat until light. Beat in the vanilla and almond extract. Scrape sides of bowl, beat a little more, than lower speed of mixer and beat in the egg. Scrape sides of bowl. With mixer on medium low, add the baking soda and cream of tartar. By hand or using lowest speed of mixer, gradually add the flour.

Remove dough from pan and divide into two big balls. At this point, I like to roll or press each ball out onto a sheet of non-stick foil or parchment. Press to a thickness of around ¼ inch. Lay dough flat on a cookie sheet and chill the flattened dough until it's firm enough to cut. You can cut it with cutters or just use a round glass.

Arrange cut cookies on a foil or parchment lined cookie sheet and bake at 375 for 10 minutes or until edges are nicely browned.

Makes about 2 dozen depending on how big you cut your cookies