This is an old post from 2010 where I originally shared a story about Fuzz falling off a horse at girl scout camp and how I'd made these sugar cookies for her on her return home. That's why they are called Welcome Home Betty Crocker Sugar Cookies. The recipe is an old cut-out cookie recipe from the Betty Crocker Cookie Cookbook. It's an easy one to recognize because it's for sugar cookies that call for both confectioners' sugar and cream of tartar. I've added a few more notes along with another frosting called Easy Creamy Frosting where you just stir together confectioners' sugar, liquid and vanilla.
Jump to Recipe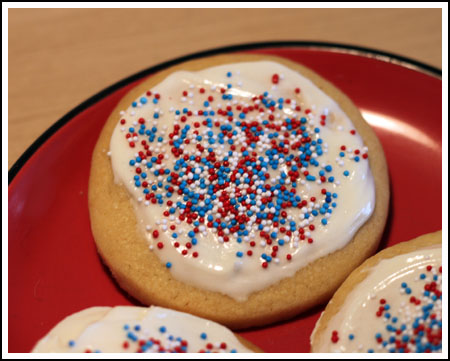 Flavor and Texture
I hadn't used the recipe in a while because I'd been on the hunt for recipes that hold their shape better when cut with cutters. These puff a little more than I'd like. This is sad, because even though they don't hold their shape as well, they're really good cookies. People used to always ask for the recipe. They have some flavor from the extracts. They're aren't too sweet and have a light and sandy texture. But as mentioned they do puff a bit, so if you are making something like Christmas trees, the branches will be slightly rounded.  If you're okay with circular cookies, frosting and sprinkles, you can't go wrong with this recipe.
Sugar Cookie Frosting
I've added a basic cookie frosting recipe to the recipe card. The frosting I prefer is basically more like a sweet American buttercream than typical Royal icing. It calls for a little over a stick of butter to 1 box of confectioners' sugar, so it's a little bit sweeter than a typical American style buttercream, but it holds up well and usually crusts over a bit so that you can sort of stack the cookies.
Easy Creamy Frosting
I'm throwing in another frosting recipe I don't use very often for cookies, but which is great if you have small children and just need something they can spread over the cookies to hold the sprinkles. It's called Easy Creamy Frosting and it's also originally from Betty Crocker.
Easy Creamy Frosting: 2 cups flour, 2-4 tablespoons half & half, cream or whole milk, ¼ teaspoon vanilla. To make, sift the flour. All you do is stir the liquid into the sugar mixture gradually, adding vanilla as well, until you have the consistency you like. Half & half works better than milk and cream works well too. Whole milk is okay, but obviously the icing won't be as rich.
Recipe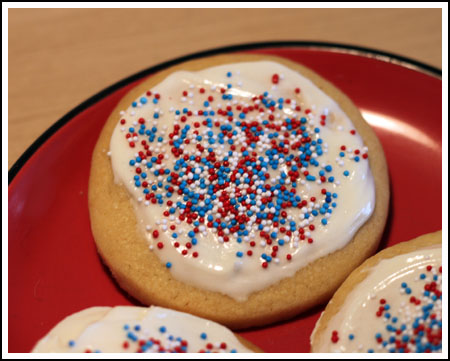 Welcome Home Betty Crocker Sugar Cookies
A classic relatively soft sugar cookie recipe. Not cakey -- just soft, dense and crumbly.
Ingredients 
2

sticks

unsalted butter, at cool room temperature

(228 grams)

¼

teaspoon

plus a pinch of salt

omit if using salted butter

1 ½

cups

powdered sugar

1

large

egg

room temperature

1 ½

teaspoons

vanilla

½

teaspoon

almond extract

1

teaspoon

baking soda

1

teaspoon

cream of tartar

2 ½

cups

all purpose unbleached flour – fluff up very well, scoop, level or just weigh it

(315 grams)
Cookie Frosting
9

tablespoons

unsalted butter, softened

4

cups

confectioners' sugar

1

teaspoon

vanilla extract

3-4

tablespoons

whole milk, cream, or a mixture of the two plus more or less as needed

Salt to taste (start with ⅛ teaspoon)
Easy Creamy Frosting (Option 2)
2

cups

confectioners' sugar

2-4

tablespoons

whole milk, half & half or cream

¼

teaspoon

vanilla
Instructions 
In bowl of stand mixer fitted with a paddle, beat the cool butter until creamy. Add the salt (if using) and powdered sugar and beat until light. Beat in the vanilla and almond extract. Scrape sides of bowl, beat a little more, than lower speed of mixer and beat in the egg. Scrape sides of bowl. With mixer on medium low, add the baking soda and cream of tartar. By hand or using lowest speed of mixer, gradually add the flour.

Remove dough from pan and divide into two big balls. At this point, I like to roll or press each ball out onto a sheet of non-stick foil or parchment. Press to a thickness of around ¼ inch. Lay dough flat on a cookie sheet and chill the flattened dough until it's firm enough to cut. You can cut it with cutters or just use a round glass.

Alternatively, you can roll the dough out on a floured board and cut with cutters. The extra flour that the dough picks up from the board will help them hold their shape better.

Arrange cut cookies on a foil or parchment lined cookie sheet and bake at 375 for 10 minutes or until edges are nicely browned.

Makes about 2 dozen depending on how big you cut your cookies
Cookie Frosting
Beat the butter until creamy. Gradually add the about half of the confectioners' sugar, beating and scraping bowl. Add 2 tablespoons of the milk and the vanilla, then beat, scraping bowl. Add remaining confectioners sugar gradually, then remaining milk. Adjusting milk as needed for a creamy consistency. Add a few pinches of salt to taste.
Easy Creamy Frosting
Sift the powdered sugar and just add liquid to it gradually, stirring until smooth and creamy and the consistency you like. Stir in the flavoring. You can also divide it up and color it.