If this Soft and Fluffy Coconut Milk Bread is bringing on a little deja vu, it might be because you saw last week's post about Coconut Milk Sandwich Bread. Yes, now there are two coconut yeast bread recipes on Cookie Madness. I'm going to have to move on from coconut milk based yeast breads, but I have to tell you about this one because it's such a great way to use canned coconut milk.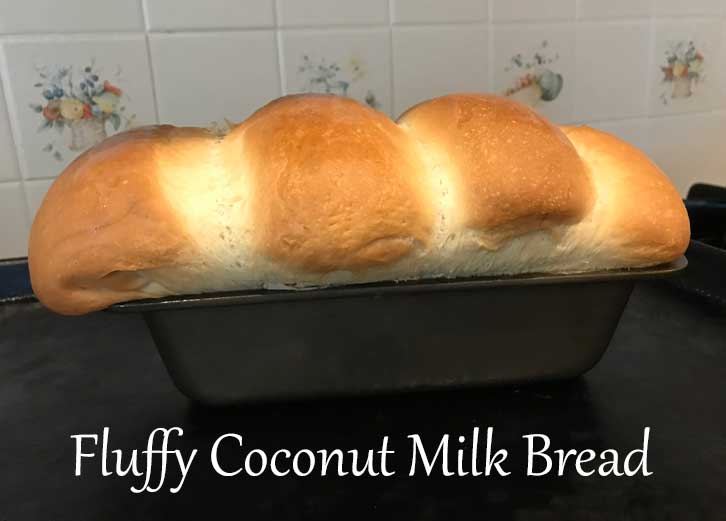 Fluffy Coconut Milk Bread is just as delicious as the Coconut Milk Sandwich Bread, but different. The sandwich bread contains oats and is a little firmer, while the fluffy bread is super soft. In fact it's so soft it might be mistaken for Japanese Milk Bread or even brioche. I made it as a loaf, but now I can't wait to make it again as hamburger or hot dog buns. It also has a good flavor. You can taste the coconut milk, but it's melded in with the flavor of butter, sugar and salt so the bread's got some character, but isn't what I'd classify as coconutty tasting.
Vegan Fluffy Coconut Milk Bread
Since there are no eggs in Fluffy Coconut Milk Bread, you can use oil or vegan butter and make it vegan. As I write this, Miyoko's butter is on sale, so maybe I'll test a vegan version sooner or later. Plus I'm looking for an excuse to finally buy Miyoko's. I love all these new plant butters and am kind of making my way through all the brands. Country Crock with Almond Butter is still the best.
But vegan or not, I'm pleasantly surprised with how light and soft this loaf is. My only mistake was to use too small of a pan. I used an 8×4, when an 8 1/2 by 4 1/2 would have been a better fit. The base of the 8×4 inch pan was too narrow so the bottom squishes inward. At least it gives you an idea how soft this is.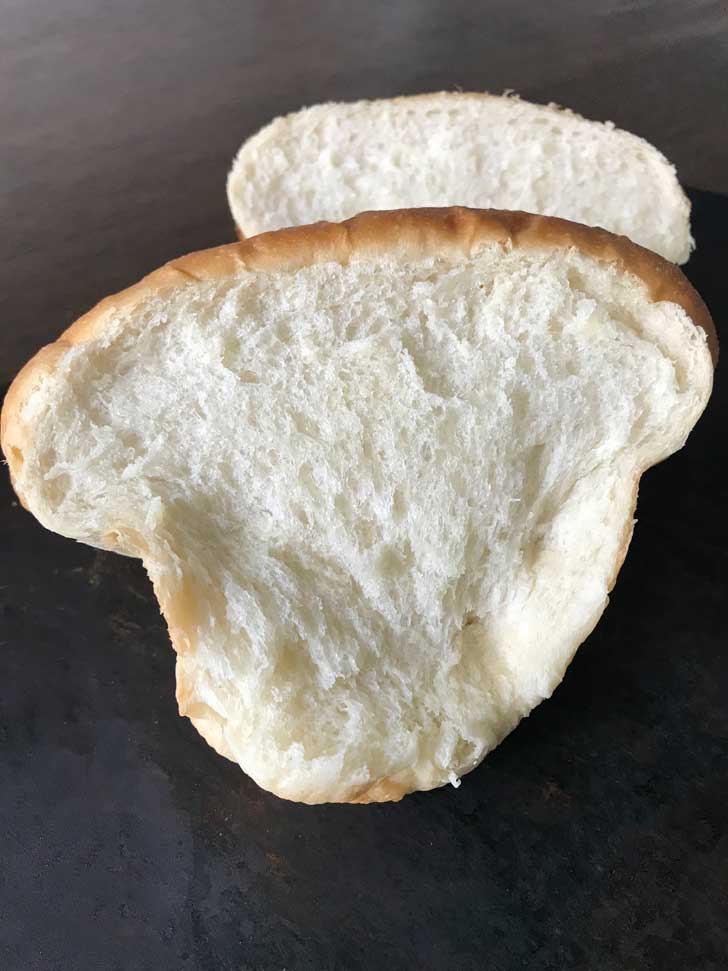 Here's a picture of the smooth and elastic dough.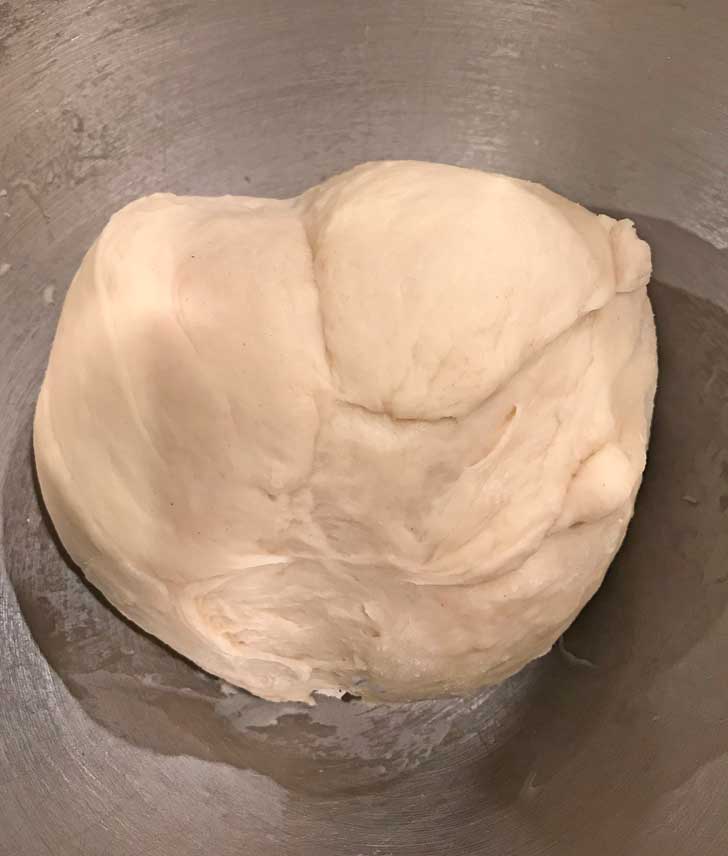 I loved the feel of this dough and didn't have any problems rolling and shaping the four cylinders that go adjacent to each other in the loaf pan. The technique of putting four rolls together to make one loaf is new to me, and I need some practice! Too bad there are only two people to eat all of this. The drawback of loving to bake is never having enough people to feed.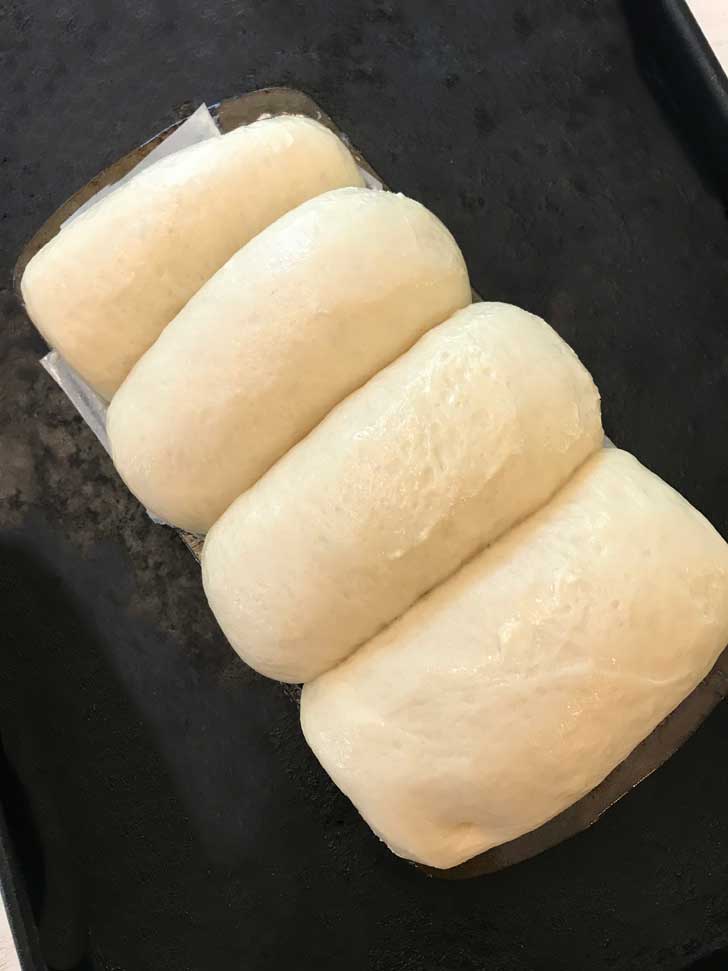 Here's the ingredient rundown. Hopefully there's something helpful here.
Fluffy Bread with Coconut Milk Ingredients
Yeast — I've been using instant SAF yeast lately. Normally you just add instant yeast to the dry ingredients, but I went ahead and dissolved it in the coconut milk.
Flour — The loaf pictured was made with bread flour, but AP flour should be okay too.
Coconut Milk — Full fat type from a can. I always use Wegman's or Trader Joe's brand.
Butter — Salted works perfectly. If you use unsalted, add a pinch more salt to the recipe.
Sugar — Lots of sugar in this loaf, yet it's not a sweet loaf.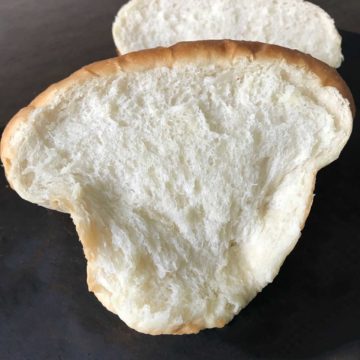 Fluffy Bread with Coconut Milk
This is a very high rising, light textured bread.
Ingredients 
1

cup

coconut milk

(230 grams)

2 3/4

cups

plus 2 T. bread flour (AP should be okay too)**

(370 grams)

2

teaspoons

instant yeast

1/4

cup

granulated sugar

1/4

cup

salted butter, melted

1/2

teaspoon

salt

oil for bowl
Instructions 
Put the coconut milk in a microwave-safe measuring cup and heat for about 45-60 seconds. Remove from heat, insert a thermometer and let cool to between 110 and 115 degrees.

Pour the milk into a stand mixer bowl and add the sugar and instant yeast. Stir to dissolve sugar, then wait about 5 to 10 minutes ot make sure the yeast is active (it should bubble and foam). Once you trust your yeast, Add the melted butter and salt.

Begin adding flour gradually, starting with 2 cups (260 grams). Continue adding remaining flour 1/4 cup at a time (110 more grams total). The dough should not seem sticky, but definitely not dry.

Knead until smooth and elastic. The dough will clear the sides of the stand mixer and climb the hook. You could also knead this dough by hand if necessary.

Shape dough into a log about 12 inches, then cut into 4 equal pieces. Take one piece and flatten into a rectangle. Roll into a cylinder and place in a greased loaf pan. Repeat with remaining 3 pieces as pictured in the unbaked, risen loaf above.

Cover with a greased piece of plastic wrap and let rise again for about 30 minutes or until it comes up over the sides of the pan. If you want, you can brush the top of the unbaked dough with coconut milk.

Set the pan on a rimmed baking sheet and bake at 350 for about 30 to 35 minutes or until golden. Let cool.
Notes
For the flour, I used 370 grams.  The volume amount might vary depending on how heavy you pack the cup.  As always, it's best to weigh or at least start with 2 cups and gradually add the rest.