This is one of my older recipes for Cinnamon Chip Scones made with Hershey's Cinnamon Chips. Here are the old notes.
Cinnamon Chips Scones and Self-Rising Flour
When it comes to scones and biscuits, self-rising flour is a real time saver.  Or at least I perceive it as such since it lets me skip searching for the baking powder and salt, which seem to move about the pantry.  Plus something about self-rising flour, maybe the protein content or the type of wheat,  seems to make a softer baked good.   Or maybe that's my imagination, but I've started keeping a bag of self-rising flour (or "self-raising" as they call it in Europe) in the freezer for quick breakfast treats likes these.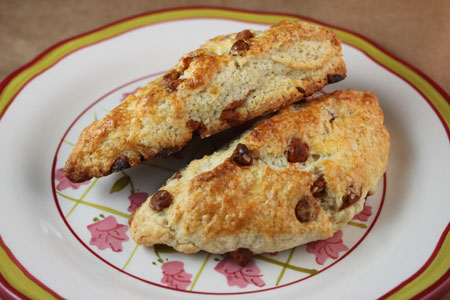 Hershey's Cinnamon Chips
are what I use and you can buy them on-line or at some grocery stores. If you have to order them, don't worry about paying the shipping because it's worth it! Then again, any type of chip would work.
Cinnamon Chip Scones
2 cups self-rising flour flour (9.6 oz/270 grams)
⅓ cup granulated sugar (60 grams)
8 tablespoons butter, cut into slices (4 oz/114 grams)
1 large egg
½ cup sour cream (4 oz/114 grams)
¼ teaspoon vanilla
½ cup cinnamon chips (or more)</li>
Extra beaten egg or a little cream of half &amp; half for brushing tops</li>
Preheat oven to 400 degrees F.
Mix flour and sugar together in a mixing bowl
Scatter the cut up butter over flour mixture and using your fingers, work the butter into the flour until flour mixture is very coarse.
In a small bowl, whisk egg, sour cream and vanilla until smooth. Stir sour cream mixture into flour mixture until large dough clumps form. Add the cinnamon chips. When dough just starts to come together, turn it onto a clean surface and shape it into a 7 inch circle or if you prefer, 2 rectangles about 3x6 each. Slice the circle into 8 triangles or slice each rectangle into 4 triangles. Arrange triangles a few inches apart on a cookie sheet.
Bake until golden, about 15 to 17 minutes. Cool for 5 minutes and serve warm or at room temperature.
I often make a half batch of these scones using 2 tablespoons of egg. I take the remaining egg, mix in a little cream, then brush it over the top.