I have a lot of granola recipes, but the one my daughter likes best is this one. I think it's the clumps, which are there because the recipe evolved from a failed attempt at making granola bars.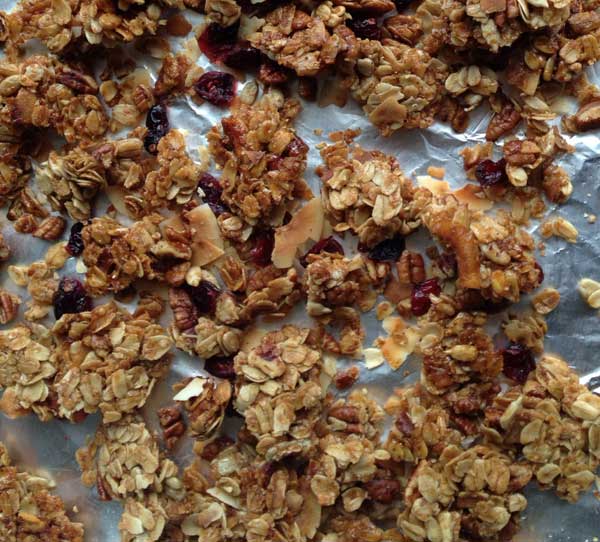 The bars wouldn't hold together, so I just broke them all up and dried the broken granola out in the oven for another 15 minutes or so. It made the clumpiest granola ever, and since granola is finger food in this house, the clumps make it easier to eat on the go. I also like this method because it doesn't involve a lot of stirring. Not that stirring every 15 minutes is a drag, but, well, yes — it is a drag. But I can't really say this one is more convenient because you still have to use both a baking sheet and a pan.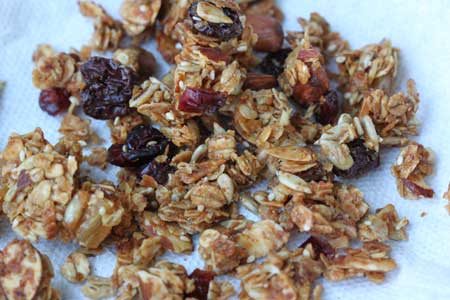 Since this recipe started out as a bar, I baked the dried fruit with the granola which made the fruit a bit dryer and chewier. I liked that somewhat more dried out quality in the apricot, but if you're using raisins or cranberries and don't want the fruit to be quite so chewy, you should at it last.
Very Clumpy Granola
Recipe for granola with clumps
Ingredients
1 1/3 cup rolled oats
1/4 cup sunflower seeds
1/2 cup almonds, walnuts or pecans
2 tablespoons of untoasted wheat germ
2 tablespoons of sesame seed (optional)
1/4 cup shredded or flaked coconut
1/4 cup honey
2 tablespoons packed light or dark brown sugar
1 1/2 tablespoons unsalted butter or coconut oil
1/8 teaspoon salt
1 teaspoon vanilla extract
3 ounces dried fruit – preferably apricots, golden raisins and raisins
Instructions
Spread the oats, sunflower seeds, almonds and wheat germ and sesame seeds (if using) on a baking sheet and bake at 350 for 10 minutes or just long enough to toast the oats and nuts.
Meanwhile, line an 8 inch square metal pan with foil and spray foil with cooking spray or just line with non-stick foil.
In a large, microwave-safe mixing bowl, combine the honey, brown sugar, butter, and salt. Heat for 1 minute and stir until smooth. Add the vanilla.
Add the toasted oat mixture and the coconut to the sugar mixture and stir well (save fruit and add it later). Pour into the pan and press down tightly. Bake at 300 for about 20-25 minutes. Remove from pan and let cool completely (this is important). Break up the cooled granola. You should have clumps and crumbs. Spread the not-quite-crisp granola on a tray and re-heat at 300 for about 15 minutes or until it begins to crisp. Remove for the oven and let it cool completely. Stir in whatever dried fruit you like.