This weekend I had lunch at my grocery store, the H-E-B.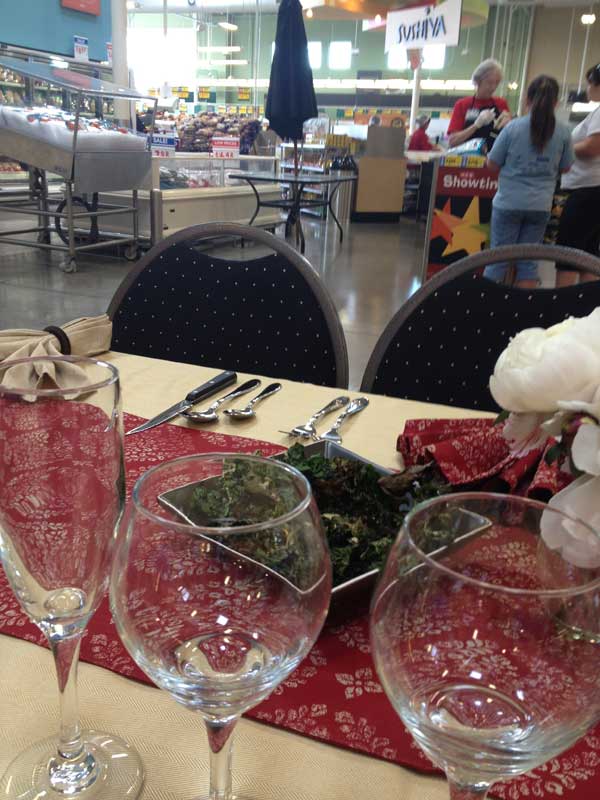 Hosted by H-E-B's popular Cooking Connection, an area where in-store chefs demonstrate recipes using select products, the event was to promote the Cooking Connection's expansion into classes. For instance, the Brodie Lane H.E.B. is now scheduling tastings that involve more food, more wine, and more chef interaction.  The next one is July 19 at 6:30 PM, and I'm trying to get the word out because it's a real labor of love for H.E.B.'s chefs.
If you're in town and like activities with chef involvement and a little education on the side, call the Brodie H-E-B, ask for ext. 234 and sign up.  You'll get a lot of food and wine for a very small price ($25 for 5 full courses).  And as  Jodie from Tasty Touring mentioned,  it would be a fun date night activity.
Our seating was an early lunch, and for this we were served Kale Chips, Green Chile Breakfast Strata, Steelhead Trout with Lemon Caper Dill Sauce, Pineapple Cucumber Gazpacho, Herb Roasted Lamb Chops and Sticky Toffee Phyllo Cups. Each course was served with a different wine, and as we tasted each pairing we were given insight into new products. One of my favorites was Coombe Castle Sticky Toffee Cheese.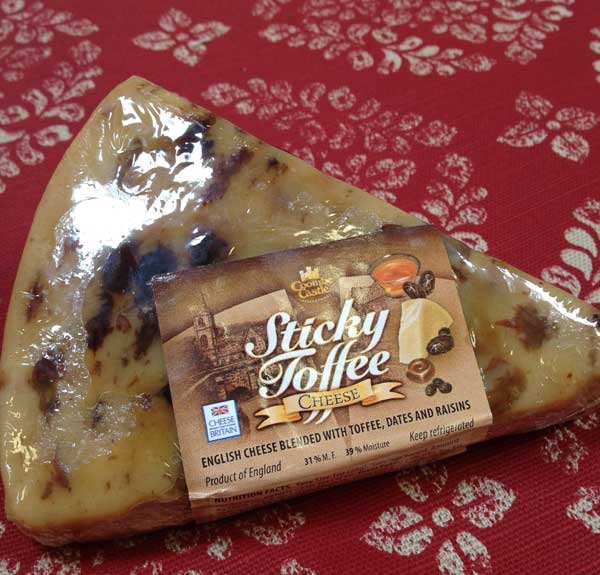 And another big standout was the Green Valley Ranch Reserve Caramel Sauce with Agave.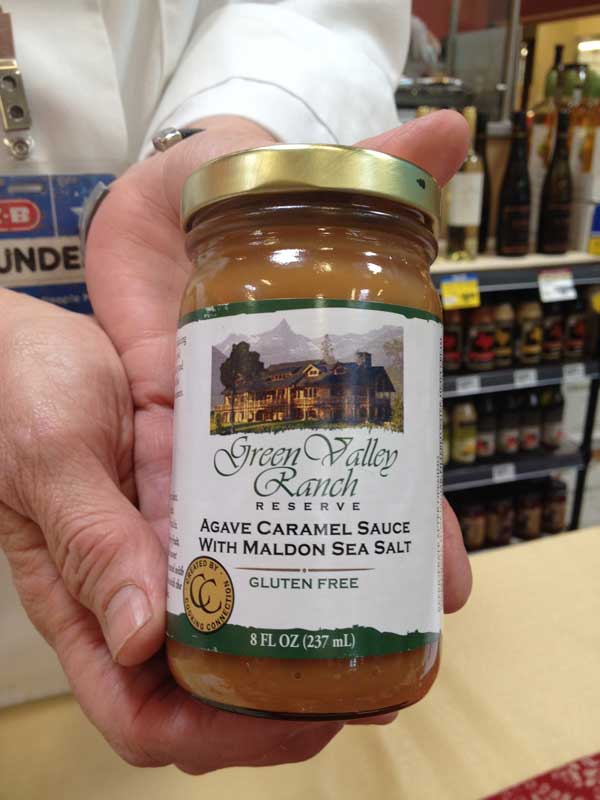 We were also introduced to Cookwell Green Chili Stew, Robert's Reserve Lemon Dill Caper Sauce and H-E-B's That Green Sauce, which is becoming somewhat of a legend around here, and might be worth picking up as a souvenir if you pass through an H-E-B.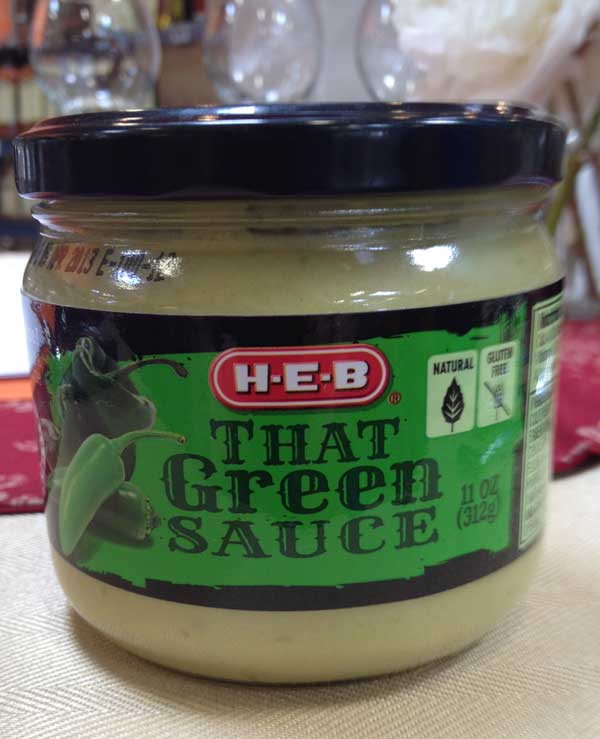 But back to that sticky toffee cheese. Have you ever tried sticky toffee cheese, and if so, what did you think? It was a first for me, and I will say that it was "different" and not in a bad way, because each time I tasted it I wanted more. It was an interesting addition to the phyllo dessert, but if you can't find it, try a dollop of plain cream cheese sprinkled with cinnamon. As for the caramel sauce, again — you can use any type you want, but if you can find the Green Valley Ranch Reserve, it's good stuff!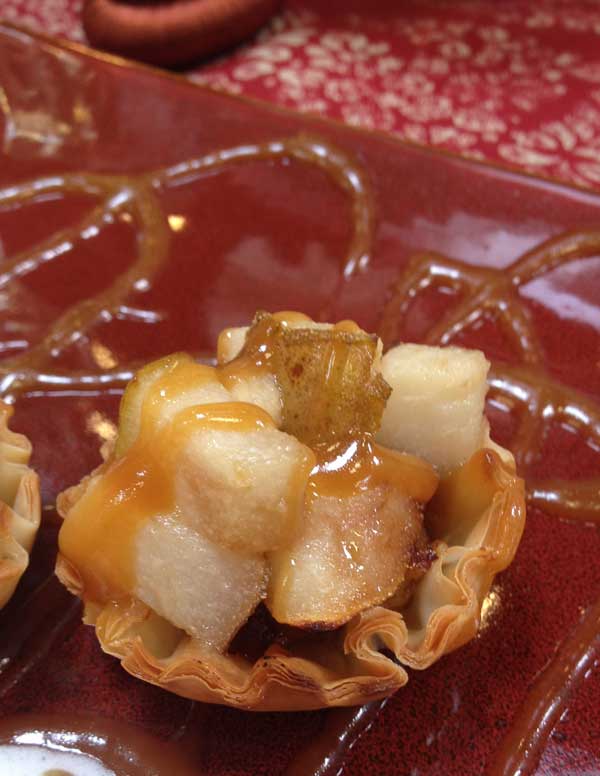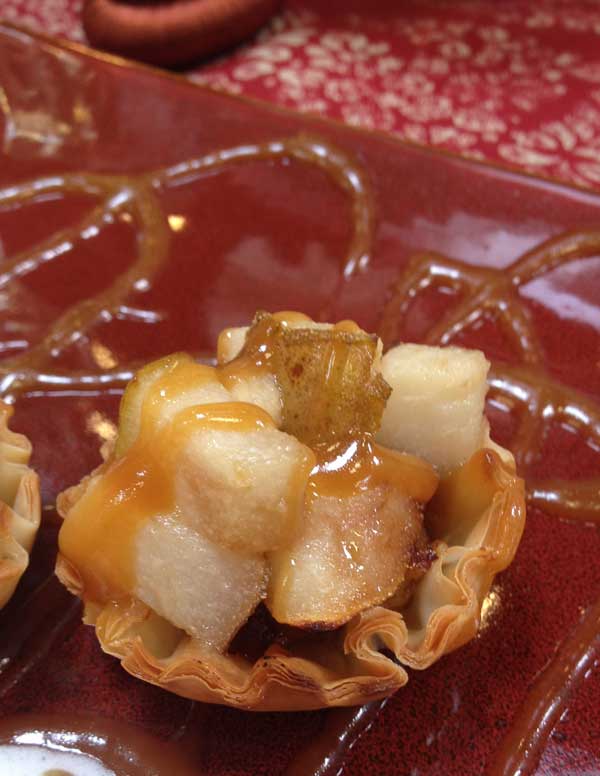 Sticky Toffee Phyllo Cups from H-E-B's Cooking Connection
Easy pear filled phyllo cups made with sticky toffee cheese
Ingredients 
Mini Phyllo Shells

Sticky Toffee Cheese

cubed or some Mascarpone or plain cream cheese

Pears

Butter

Caramel Sauce
Instructions 
Preheat oven to 350 degrees F.

Melt the butter in a skillet set over medium heat. Saute pears in the butter until soft.

Place shells on baking sheet and bake for 3 minutes.

When just out of the oven, put a cube of cheese in bottom of the cup. Place a tablespoon of pears on the cheese and bake for 2 to 3 minutes just to warm the cheese.

Drizzle with the caramel sauce and serve. Ice cream on the side is optional, but recommended!