In my ongoing quest to find great cupcakes, here's a recipe I clipped seven years ago from Chocolatier Magazine.  It's called White Mountain Coconut Cupcakes, and the secret ingredient is (drumroll please) coconut milk!  Not that coconut milk is really so secret. There are quite a few good coconut recipes that call for it, and for good reason. It adds richness and just a hint of coconut flavor.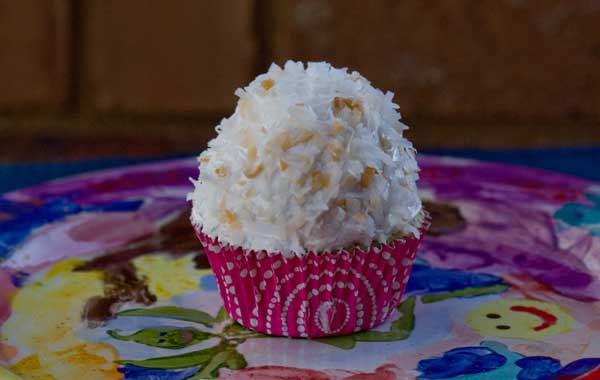 White Mountain Coconut Cupcakes Icing
In addition to the coconut milk flavor, more coconut flavor comes from the coconut that's sprinkled on the frosting. I always forget how much I like 7 Minute Icing.  It's light, fluffy, and crusts over after it's been sitting around for a while. Plus it's fat free, so you can pile it on generously without making things overly rich.  The only problem with 7-Minute Icing is that it can be kind of a pain if you don't have a double boiler.  Setting a metal bowl over simmering water works well, but I think I'm going to try another method today from.  King Arthur has a 7 Minute Icing recipe where you boil the sugar syrup to about 240 and just pour it into the beaten egg whites.
Recipe
White Mountain Coconut Cupcakes
Yellow cupcakes with a hint of coconut flavor topped with a mountain of light, fluffy, 7 Minute Frosting.
Ingredients 
1 ¼

cups

cake flour or White Lily

(150 grams)

1

teaspoon

baking powder

⅛

teaspoon

salt

8

tablespoons

unsalted butter, room temperature

(114 grams)

1

cup

granulated sugar

(200 grams)

2

large

eggs

room temperature

1

teaspoon

vanilla extract

½

cup

coconut milk, full fat type (canned)
Frosting
1 ¼

cups

granulated sugar

⅓

cup

water

3

large egg whites

¼

teaspoon

cream of tartar

1

teaspoon

vanilla extract

½

teaspoon

almond extract

2

cups

sweetened flaked coconut

lightly toasted
Instructions 
Preheat oven to 350 degrees F. Line 12 cupcake cups with paper liners.

Mix the flour, baking powder and salt in a bowl and set aside.

In a mixing bowl, using an electric mixer, beat the butter and sugar for about five minutes. Add the eggs, one at a time, beating well after each egg. Add the vanilla and beat well.

With a spoon or heavy duty scraper, stir in half the flour mixture. When flour is blended, stir in the coconut milk. Stir until blended, then add the rest of the flour mixture and stir until smooth.

Divide evenly among cupcake cups and bake for about 22 minutes or until cupcakes spring back when touched.

To make the icing, put the sugar, water, egg whites and cream of tartar in the top of a double boiler. Alternatively, you can use a metal bowl and set it over simmering water. Using handheld electric mixer, beat on high until foamy (about 1 minute). Place the top part of the double boiler (or bowl) over simmering water and beat on high speed for about 7 minutes or until frosting holds firm peaks. Remove from heat and stir in extracts. Beat another two minutes.

Put large spoonfuls of icing on the cupcakes. Sprinkle generously with the coconut.
Notes
To toast the coconut, lay it on a cookie sheet covered in foil. Bake at 350 for about 5 minutes or just until the coconut around the edges starts to brown. Mix all the brown coconut with the white coconut and let it cool.