Not that you need an excuse to buy good beer this weekend, but here's a recipe that calls for brown ale.  Brown Ale Beer Biscuits are a variation on traditional no-yeast beer bread, but in biscuit form -- or rather, muffin form.  Because the batter is thin and gloppy, it needs to be baked in a muffin pan to keep it together.  However, the texture is more like a biscuit.  And the flavor is impressive! You really can taste the beer, and it does make a difference what brand you use.  I got the best flavor when I used Brooklyn Brown Ale, but I also had a nice and slightly more subtle beer flavor when I used Real Ale Brewing's Brewhouse Brown Ale.  Hmm, I'd say you really need to experiment with as many beers as possible.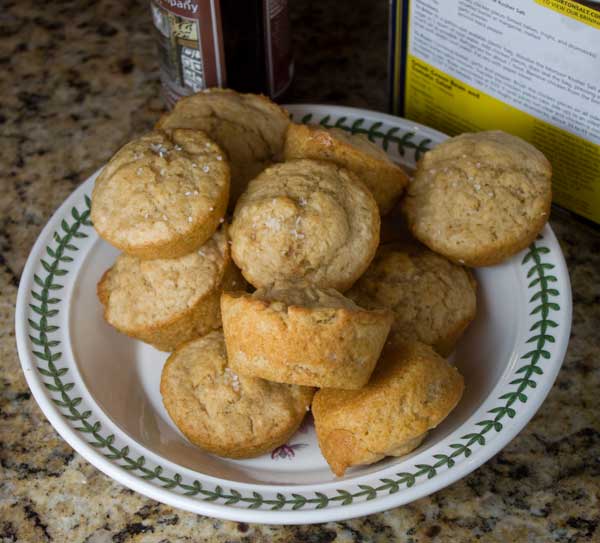 Beer Biscuits Recipe Tips
Another fun thing about Brown Ale Beer Biscuits is the salt. The biscuits are a bit sweet, and I found a topping of a little kosher salt (sea salt would be even better) really enhances the flavor.  Butter helps too, of course.  And finally, I've only tested these with self-rising flour.  If you have all the ingredients for self-rising flour substitute (1 ½ cups flour, 2 teaspoons baking powder and ½ teaspoon of salt), you could use that instead.  But I like keeping a bag of self-rising flour in the freezer for biscuits and a few other things. 
Anyway, I hope you try the biscuits -- and let me know what ale you used so I'll have an excuse to go by that brand and sample it too!
Recipe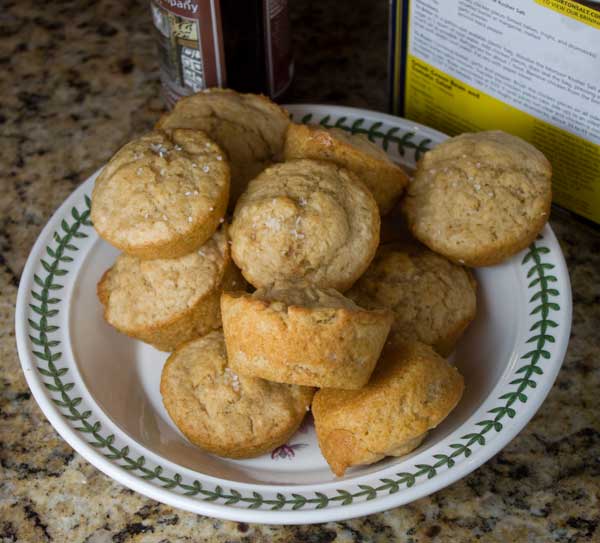 Brown Ale Beer Biscuits
Beer bread made in biscuit form
Ingredients 
1 ½

cups

self-rising flour

(190 grams)

¼

cup

granulated sugar

(50 grams)

6

ounces

half a bottle of Brooklyn Brown Ale

4-6

teaspoons

melted butter plus more for butter muffin tins

Sea Salt or Kosher salt for topping
Instructions 
Preheat the oven to 375 degrees F.

Rub a 12 cup muffin tin generously with butter.

In a bowl, mix together the flour, sugar and beer to make a sticky, lumpy, batter.

Divide the batter evenly between the muffin cups by scooping heaping tablespoons into the cups. It won't come anywhere near the top, but don't worry. The batter rises.

Spoon about ¼ to ½ teaspoon of melted butter over the dough in each cup.

Bake on center rack for about 20 minutes or until nicely browned.

Pull from the oven and top with a little more melted butter and some flakes of sea salt or Kosher salt. Carefully pry the biscuits from the muffin tins.

You can serve them immediately, or reheat later. The beer flavor is more pronounced the longer they sit.