Last year I tried what is now our favorite recipe for pretzel bread, and since then I've been kicking around the idea to bake something into the dough -- specifically, cheddar cheese and jalapeno. I wasn't sure if it would work, but as you can see from the photo, we now have Jalapeno Cheddar Pretzel Bread!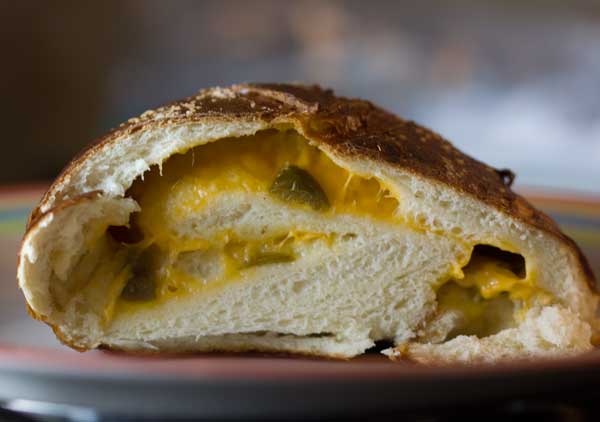 Jalapeno Cheddar Pretzel Bread Tips
The recipe makes two loaves, so you can stuff one of the loaves and leave the other plain. I also found out by accident that 2% milk cheese works. Normally I'd go for the full fat cheese, but I'd bought some 2% for snacking and accidentally used it. It was surprisingly smooth and melty (not rubbery) and tasted great. Considering how well the cheddar and jalapeno combo worked, I'm looking forward to trying some other flavors of cheese and pepper.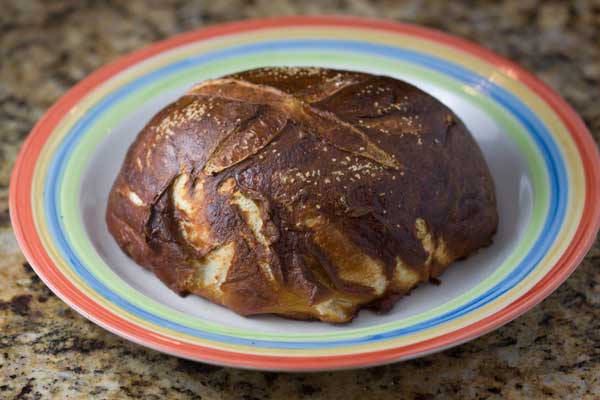 More Peppery Recipes!
Recipe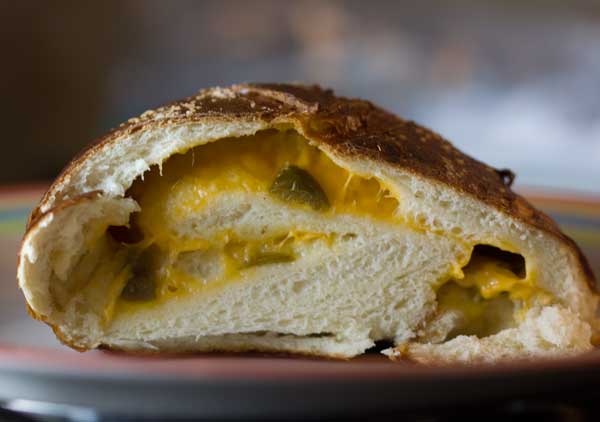 Jalapeno Cheddar Pretzel Bread
Jalapeno Cheddar Pretzel Bread
Ingredients 
1

cup

milk

2

tablespoons

unsalted butter

2

tablespoons

brown sugar

1 ¾

teaspoons

kosher salt

3

cups

bread flour

all-purpose okay – 13.5 oz

1

packet Rapid Rise or Quick Rise yeast

½

cup

approximately small slices of cheese

2

tablespoons

jalapeno

chopped and seeded from a can of whole

Solution: 3 quarts water and ¾ cup baking soda

Some beaten egg for brushing
Instructions 
Heat the milk and the butter together in a microwave-safe measuring cup until mixture just begins to boil. Let the mixture cool to about 120-130 on a thermometer.

Meanwhile, Mix the sugar, salt, 2 cups of the flour and the yeast in a mixing bowl. Add the 120-130 degree milk mixture and stir until well blended, then gradually add the remaining flour until the dough is soft, yet not too dry. If you weighed the flour, you'll probably use it all. Knead the dough by hand or better yet, with the dough hook of a stand mixer, until it is smooth and elastic. Put the dough in a large buttered bowl and let sit, covered with a sheet of plastic wrap, for about an hour or until it has risen.

Punch down the dough and divide it into two sections.

Roll 1 section into kind of a shabby rectangle and lay pieces of cheese and jalapeno on it, pressing them into the dough. Roll dough up and around the cheese and peppers and form it into a ball. Repeat with the other section of dough.

Bring 3 quarts of water and ¾ cup baking soda to a boil. Boil each loaf for two minutes, turning halfway, being careful that they don't fall apart. Remove with a slotted spatula. Set the loaves on a parchment lined or well-greased baking sheet.

Brush loaves with some beaten egg and sprinkle with a little kosher salt. If you have one, take a razor and slash a nice "X" through the top of each loaf.

Bake at 400 degrees F. for about 26 to 28 minutes.