My grandfather loved rhubarb pie, but he never told me this until I was a teenager. One day he confided that his mother, whom I never met but was from Illinois, made the best rhubarb pie. I'm pretty sure that at that point I barely knew what rhubarb was. Also, the only pies that I'd made to date had been Jell-0 "Dream Pies".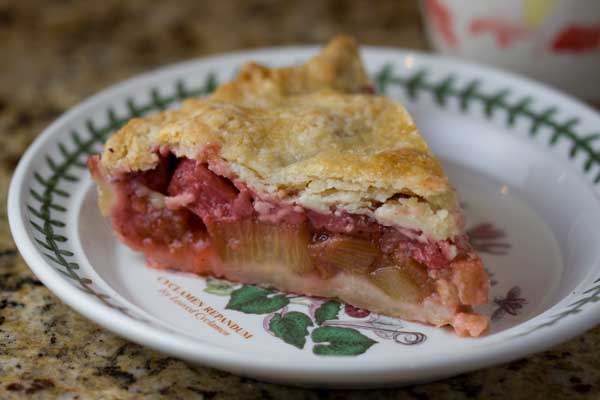 But I was pleased my grandfather had made a request, so I had mom to drive me to the store to find this mysterious thing called rhubarb. Given where we lived, the only rhubarb available was frozen, and the only recipe I had access to was the one on the back of the rhubarb bag. For the crust, I'm fairly certain I used the refrigerated type. In the end, it didn't matter that it wasn't fresh rhubarb and that the crust wasn't scratch. My grandfather almost cried and from that point on I'd make him a rhubarb pie every year using the same recipe.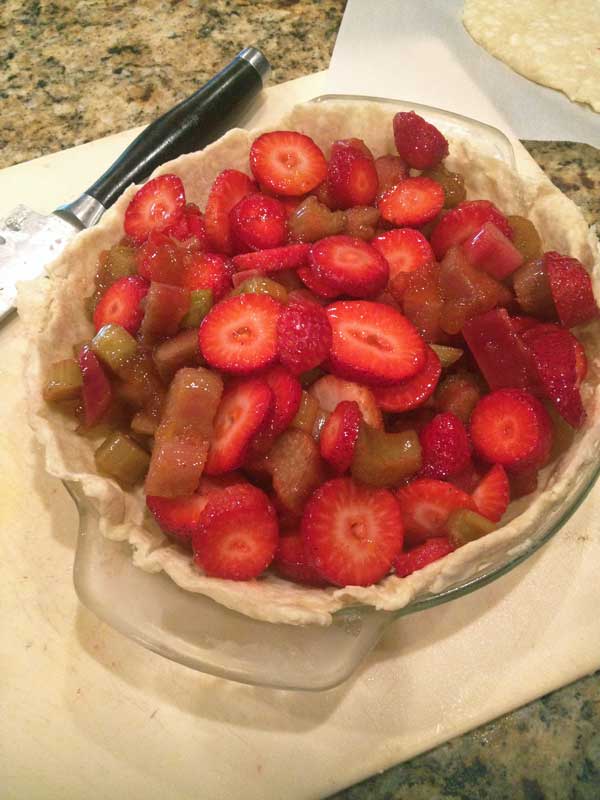 I wish my grandfather still around to sample this one, but luckily I have Todd, who is the second person I've known to request rhubarb pie. Like with the original pie, I always use frozen rhubarb. One of these days I'll try fresh, but our grocery store only sells fresh rhubarb sporadically and thus I end up with frozen. These days I almost always combine the rhubarb with strawberries, which adds a little more flavor and texture. Personally, I don't care for texture of rhubarb, but it's fun making the pie for people who do.
This recipe is based on one from Greg Patent's Baking in America. Patent macerates fresh rhubarb with sugar, collects the juice, then makes a gel that serves as a binder. I macerate the rhubarb, but use the frozen as mentioned. The filling holds together quite nicely.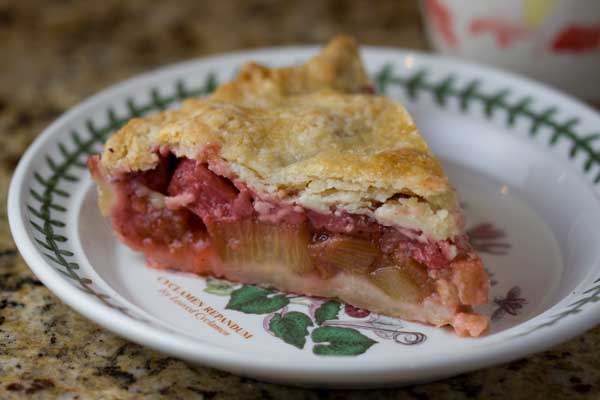 Strawberry Rhubarb Pie
A pie made with frozen rhubarb, strawberries and orange.
Ingredients 
Pie dough for a double crust pie

refrigerated or homemade

1

pound

frozen rhubarb

3/4

cup

plus 2 tablespoons sugar

1/8

teaspoon

each -- nutmeg

ginger and allspice

1

teaspoon

orange zest -- use 1/2 for less orange flavor

1 1/2

tablespoons

orange juice

2

tablespoons

cornstarch

1

pint

strawberries

1

tablespoon

of butter
Instructions 
Put the frozen rhubarb in a large bowl and pour 2 cups of boiling water over it. Let sit for 3-5 minutes, then drain.

Add the sugar, nutmeg, ginger and allspice to the drained rhubarb and toss to mix. Cover the bowl and let stand at room temperature for 4 hours.

Set a strainer over a large bowl or glass measure. Strain the rhubarb mixture letting macerated juice fall into the bowl. You should get about 1/2 cup plus 2 tablespoons of juice, but if not, add water until you get that much.

Put the 1/2 cup 2 tablespoons juice in a saucepan and stir in the zest, orange juice and cornstarch. Cook over medium heat, stirring constantly until the mixture boils and thickens. Boil very gently for another 1 1/2 to 2 minutes, stirring constantly. Let cool to room temperature. Pour over the rhubarb, then mix in the strawberries.

Meanwhile, out roll half the pie dough and line a 9 inch pie plate with it. Let the dough hang over the side and put in the refrigerator.

Put the rhubarb filling in the pie plate. Dot with butter.

Roll the second round of dough into an 11 inch circle. Lay over the filling and pinch the edges to seal. Cut 6 slits in the top and brush with a little cold water or heavy cream. Sprinkle with sugar.

Set the pie on the center rack and set a rimmed baking sheet on the rack below it to catch drips.

Bake at 400 degrees for 30 minutes. Reduce heat to 375 and continue baking for another 30 minutes. Note: If top crust has browned after the first 30 minutes, lay a sheet of foil over it.

Remove from oven and let cool before slicing.
Notes
If you want the pie to hold together nicely, chill it after cooling, then cut while cold. Let the slices come to room temperature.