My grandfather, who grew up in Illinois and moved to Texas, used to talk about how much he missed strawberry rhubarb pie. Being an eager-to-please teenage baker, I made him a couple of rhubarb pies using frozen rhubarb — the only kind I could find. He was always happy and never complained once that the rhubarb was frozen. Still, I made it a goal to eventually make a rhubarb pie with fresh rhubarb. Apparently it's much easier to find here in Illinois because I see it all the time. I finally bought some and made a strawberry rhubarb pie in honor of my grandfather.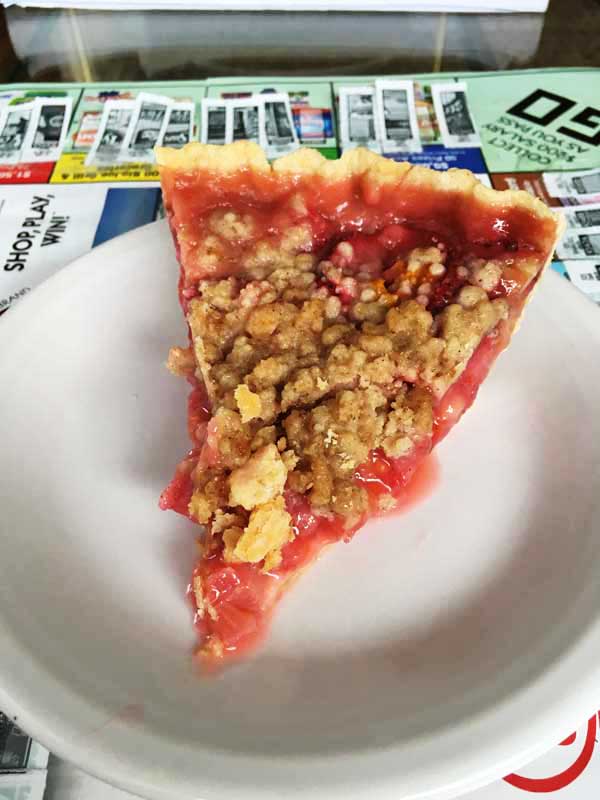 Wow! Fresh rhubarb is so much better than frozen. Up until now I thought I didn't even like rhubarb much because of the cooked celery-like texture and lack of flavor, but fresh rhubarb makes a world of difference.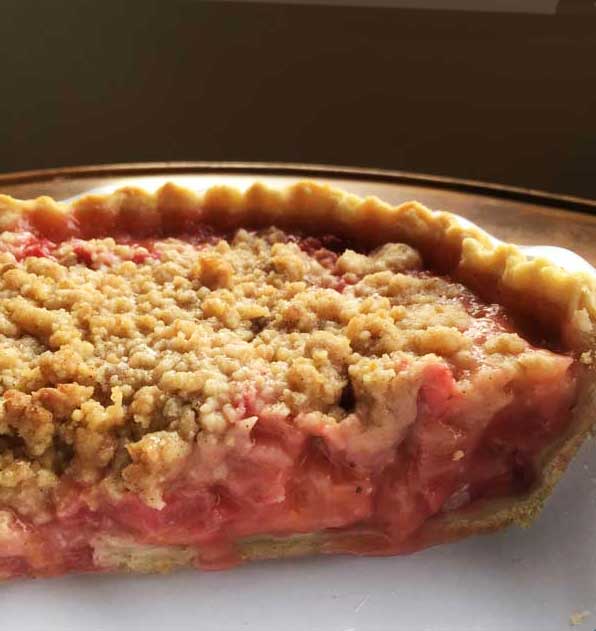 This strawberry rhubarb pie, which I cobbled together after looking at pies from Edna Lewis, King Arthur, Allrecipes.com and Epicurious, is just perfect. It has a complex, tart flavor and isn't a bit runny.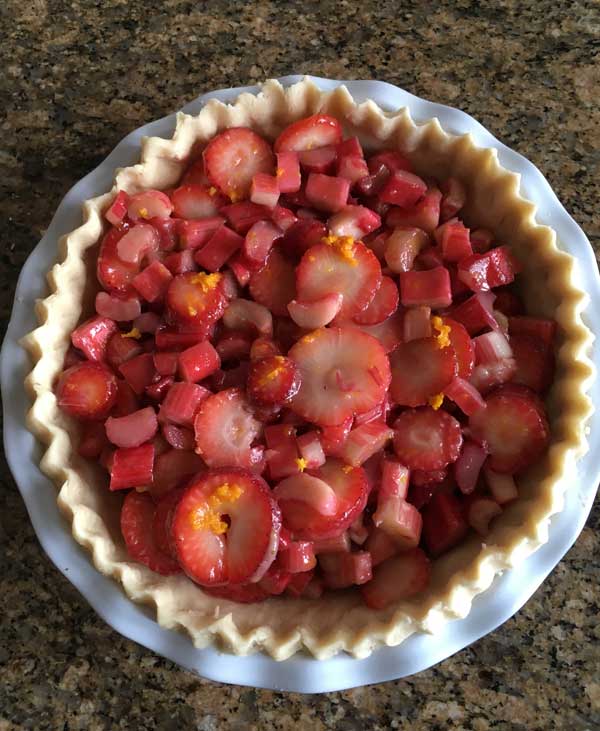 The key thickener is flour, and all you need to do is toss it with the rhubarb and strawberries. Edna Lewis sprinkles a little bit of the flour/sugar mixture over the pie crust as well, which I believe might absorb some of the juice and stave off sogginess.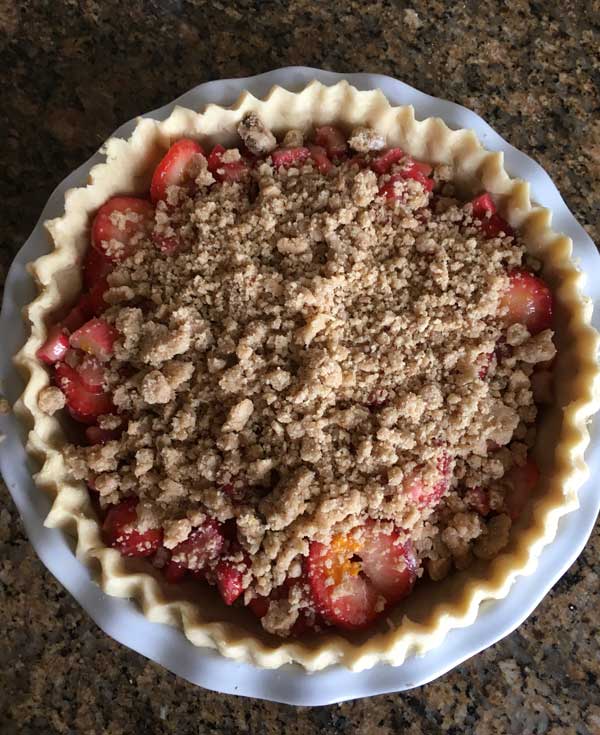 Now that I've discovered fresh rhubarb I'm sure I could go back to frozen, but if frozen rhubarb is all you can find, I think it would still work very well.
One last thing. For the crust I just used a basic 3-2-1 crust recipe. Use whatever crust you feel like, be it homemade, refrigerated Pillsbury or deep dish frozen. Don't ever let worrying about the crust prevent you from making a pie — especially one that's as easy as this.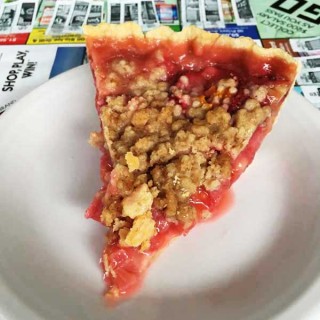 Strawberry Rhubarb Pie
This flavor of this strawberry rhubarb pie is sweet, tart and full thanks to the combination of fresh rhubarb, strawberries and (especially) orange zest. The amount of topping listed below is how much I used, but if you love crumb topping I recommend doubling it.
Ingredients 
Filling:
1

cup

granulated sugar

7

tablespoons

all-purpose flour

1/8

teaspoon

salt

4

cups

diced rhubarb

1 pound

2

cups

sliced and trimmed strawberries

2

teaspoons

orange zest
Crumb Topping:
1/2

cup

plus 2 tablespoons all-purpose flour

3

tablespoons

dark brown sugar

golden okay too

2

tablespoons

granulated sugar

1/4

teaspoon

cinnamon

1/8

teaspoon

salt

omit if using salted butter

4

tablespoons

unsalted butter

melted and cooled

1/4

teaspoon

vanilla extract
Instructions 
Heat oven to 400 degrees F. Set a foil lined rimmed baking sheet on the middle rack.

Stir together the sugar, flour and salt. Sprinkle about a tablespoon of the sugar mixture over the bottom of the unbaked shell.

In a large bowl, stir together remaining sugar mixture, rhubarb, strawberries and orange zest; set aside while you make the topping.

Mix the flour, brown sugar, granulated sugar, cinnamon and salt together in a large bowl. Combine melted butter and vanilla and pour over mixture. Stir until crumbly.

Spoon the rhubarb mixture into the pie shell, then sprinkle topping evenly over the pie to cover completely. Set the pie on the hot baking sheet and put it in the oven.

Bake the pie at 400 for 25 minutes, then reduce heat to 375. Lay a sheet of foil loosely over the pie and continue baking another 40 minutes. Remove foil after 40 minutes and if crumb topping isn't brown enough for you, bake for another 10.

Let cool completely on a wire rack. Do not cut into the pie until it is completely cool or it will be runny. For best results, let cool completely and re-warm.
Notes
If you use frozen, you should probably thaw it out and drain off the excess liquid before mixing.