Before moving to Chicago we didn't have much of an opinion on Giardiniera, but it's a pretty big deal in this town so we've been schooling ourselves. As homework, I bought a bottle of "Tuscan Gardens" giardiniera at Aldi and made "Focaccia Giardiniera" -- a fancy sounding name for focaccia with giardiniara spread on the dough before baking.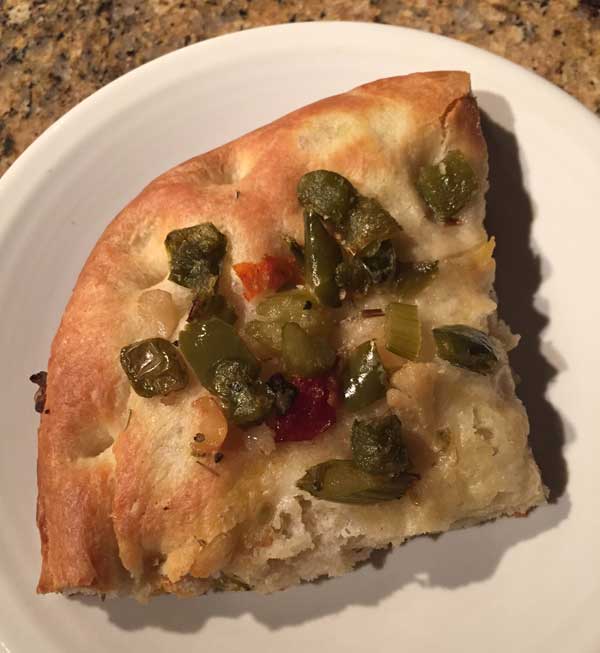 I made this on the fly to go with tonight's dinner and was only able to snap a quick photo before my ravenous wolf came home from dance practice. Sorry about all the shadows etc, but a bad picture is (usually) better than no picture. Okay, maybe not. Anyhow, this comes together quickly if you have a stand mixer and dough hook. For best results, measure your flour with a scale or stir and aerate and then spoon into the cup.
Instant Pot Giardiniara
Update: We moved to North Carolina and I have not yet found a really great brand of giardiniera. Just for fun, I sometimes make it in the Instant Pot. I don't have one particular Instant Pot giardiniera recipe yet because I change it so often, but you can find one pretty easily with a Google search.
Recipe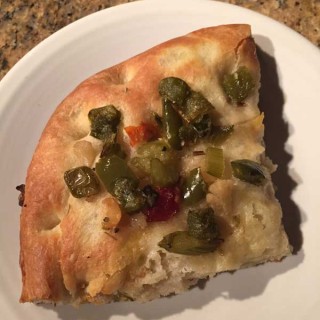 Focaccia Giardiniera
Focaccia Giardiniera is an easy focaccia with giariniera baked on top.
Ingredients 
375

grams

bread flour

2 ¾ cups to 3 cups

1

packet instant yeast

2

teaspoons

sugar

1

teaspoon

salt

2

teaspoons

dried rosemary leaves

1

cup

very warm

120 degrees water

3-4

tablespoons

olive oil

Your favorite giardiniera

I used Aldi's Tuscan Garden for this one
Instructions 
Put the flour, yeast, sugar, salt and rosemary in the bowl of a stand mixer.

Add the water, 3 tablespoons of the oil and rosemary and stir with a heavy duty scraper until blended. It should be raggedy and just a bit on the dry side, but not falling-apart dry.

Attach the dough hook to the stand mixer and let the mixer knead until the dough is smooth and elastic.

Put the remaining tablespoon of oil in a large bowl. Put the dough in the bowl and roll it around so that it's coated in the oil. Cover with plastic wrap and let rise until doubled in bulk (about an hour).

While dough is rising, line a 12x17 or larger rimmed baking sheet with parchment paper or nonstick foil.

Preheat the oven to 425 degrees F.

Punch down dough and press it into a large slab (about 16x8) directly on the lined baking sheet. Let it sit for about 20 minutes to rise a bit, then spoon a thin layer of giardiniara (try to let the oil drain off first) across the dough. Using the handle of a wooden spoon, punch some dimples in your dough.

Bake on center rack for about 20 to 25 minutes or until golden, then let cool slightly before serving.