While reading a neighborhood bulletin board, I stumbled across a post from someone requesting used coffee cans to bake her family's holiday kulich. Having seen bread baked in cans, yet not being familiar with "kulich", I did some research and learned that it's a Russian and Ukrainian yeast bread used to break the fast on Easter. A symbol of atonement, the bread's shape carries several religious meanings. It's an interesting and very important bread, and I soon found myself obsessing over can sizes and molds so that I could make some.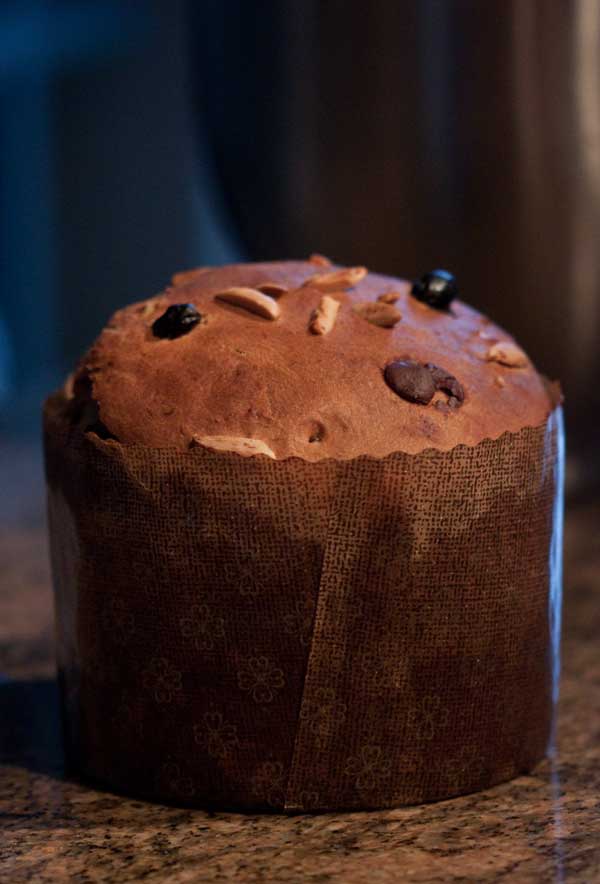 Add-Ins for Kulich
Kulich is similar to babka, brioche and panettone. It can be baked in a deep cake pan, a panettone mold or in cans. Kulich has a high proportion of butter and eggs, yet a rich and light texture. It tastes good at room temperature or slightly warmed. Traditional spices include cardamom, saffron, and citrus; while add-ins include but are not limited to candied orange, vodka soaked raisins, toasted almonds and chocolate chunks. Like babka, it comes in a variety of flavors.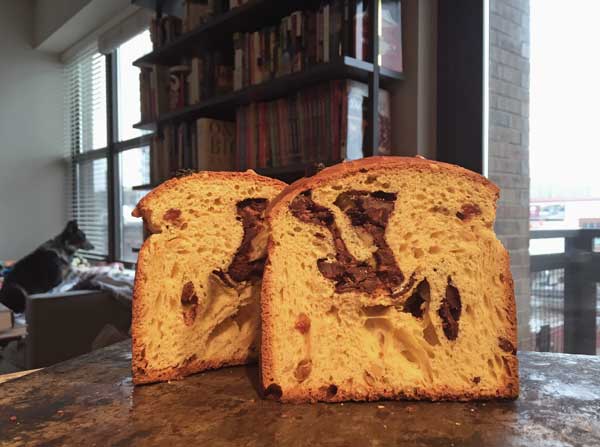 Four Egg Yolk Recipe
For my first kulich, I chose an interesting recipe with a dough calling for 8 egg yolks with two stiffly beaten whites folded in. The recipe makes two loaves, but I halved it so that I wouldn't have to use so many yolks. That, plus I wasn't sure about the blend of spices which in this case were orange, cardamom and vanilla. Cardamom is generally not my favorite, but I was going for a European flavor. For the add-ins, I used rum soaked raisins, chocolate chunks and almonds. Unfortunately, I could not find any candied orange or "citron". It's usually in stores from October to February, at which point they put it all on the clearance rack. I figured orange zest would do the trick.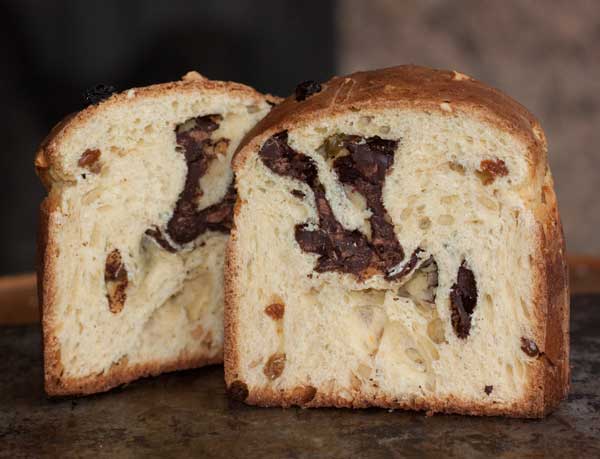 I've made this Kulich twice. The first time I used a panettone mold and the second time I made smaller loaves using two 29 oz pumpkin cans. I left off the icing thinking the chocolate would keep it sweet and because I like to warm these types of bread in the toaster before serving. I love icing, but don't miss it at all. However, it is traditional so you may want to add it.
So now our freezer is full of kulich and I'm looking for a Russian friend to do a taste test. The spices added a pleasant flavor, and the yolks gave the bread a slightly yellow hue and slightly stiffer texture. I'm not sure what the beaten egg white does, but Bernard Clayton uses that same technique in his French bread. I imagine it adds volume and increases air pockets during baking.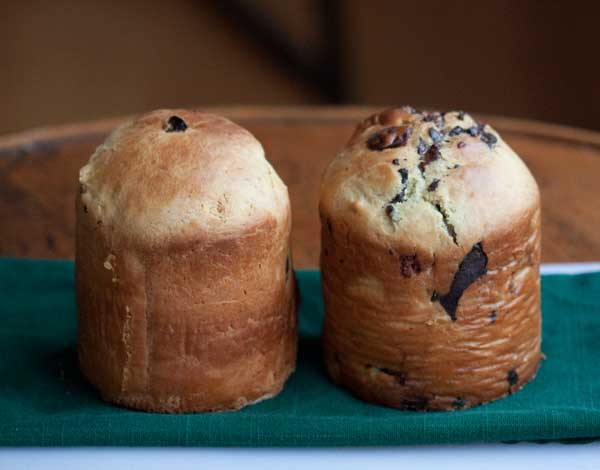 Given how much time kulich takes, you might want to just make the full recipe from the link above. However, if you only have 4 yolks and are interested in a different blend of spices, here's my version.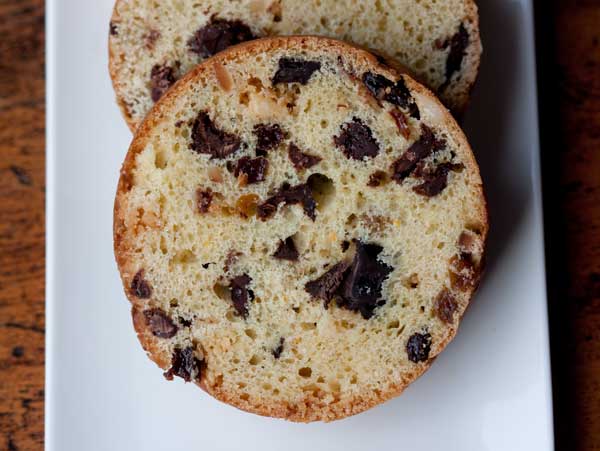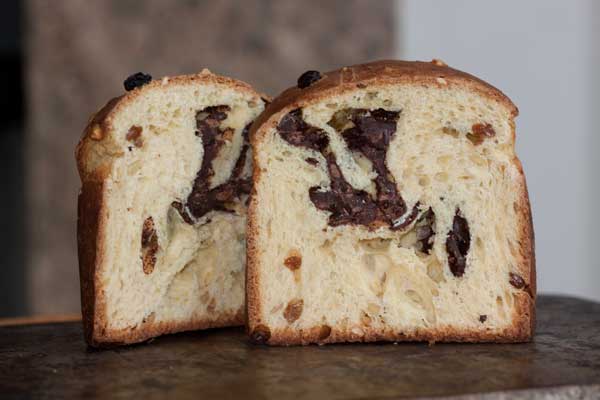 Recipe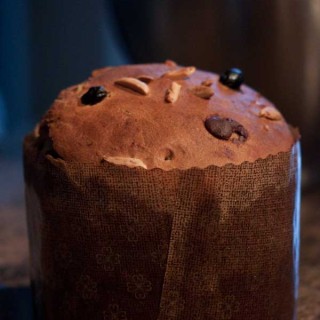 Russian Kulich
Kulich is a cylindrical sweet yeast bread served on Easter. This recipe makes about 1 ¼ pounds of dough (before add-ins).
Ingredients 
Yeast Sponge
¼

cup

warm milk

2

tablespoons

warm water

2

tablespoons

sugar

1 ⅛

teaspoons

active dry yeast

½

cup

all-purpose flour

(70 grams)
Dough:
1

large

egg white

4

tablespoons

unsalted butter, softened

¼

cup

sugar

4

large

egg yolks

½

teaspoon

salt

1

teaspoon

vanilla

½

teaspoon

cardamom (can use more if you like)

½

teaspoon

salt

halve if using salted butter

1 ½ to 1 ¾

cups

all-purpose flour

(210 grams)
Add-Ins
1

teaspoon

orange zest

⅓

cup

golden raisins soaked in rum

¼

cup

slivered almonds

½

cup

chocolate chips
Glaze:
1

cup

confectioners' sugar

⅛

teaspoon

almond extract or vanilla extract

1

tablespoon

warm water
Instructions 
In a large glass measuring cup or bowl, combine milk and water and heat in the microwave until hot. Stick a thermometer in the liquid and let cool to between 110 and 115 degrees, then add 2 tablespoons of the sugar and the yeast. Stir well, then stir in ½ cup of the flour. Cover and let stand in a warm place for 1 hour.

Whip the egg white into soft peaks and set aside.

In the bowl of a stand mixer, beat the butter and remaining ¼ cup of sugar until creamy, then beat in the egg yolks until well blended.

Beat in the salt, vanilla, cardamom and orange zest, then add the flour/yeast mixture.

Add the remaining 1 ½ to 1 ¾ cups of flour, about ½ cup at a time, until you have a soft dough. It will be very sticky.

Fold the beaten egg white into the dough.

Switch to the dough hook and knead for 5 minutes. The dough will be very soft with just a bit of elasticity.

Transfer to a well-oiled bowl and let rise for about 90 minutes. Dough may not quite double in size, but it should rise substantially.

Punch down dough and add the drained raisins, chocolate and almonds, folding dough around the add-ins the best you can to make a ball.

Put the ball of dough in a panettone mold (5 inch base, 4 inch high sides) and let it rise for another hour. Alternatively, you can use two 29 oz cans lined with parchment to make two stumpier but still nice loaves.

Set the mold (or molds) on a rimmed baking sheet.

Bake the kulich for about 40-45 minutes at 350 or until a meat thermometer inserted measures 205 F. Let cool completely.