When it comes to white sandwich bread recipes, this is one I really like. Is it the best? I don't know, but it's the one I make most often mainly because the ingredients are always on hand and we like the texture and flavor.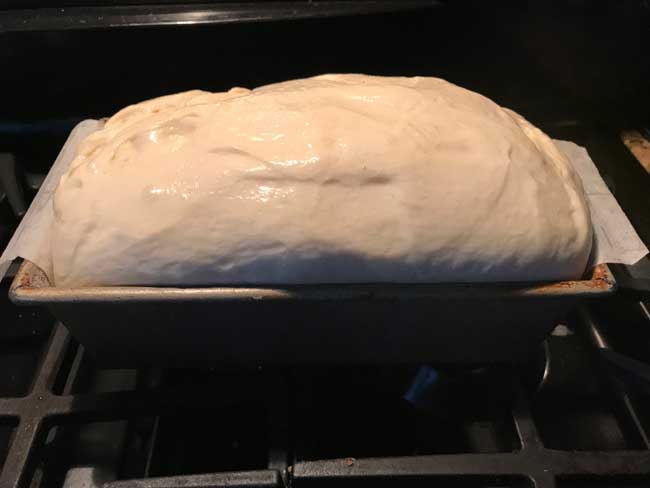 For this bread I use Platinum yeast, which rises in about half the time as other yeasts. I usually use an 8 1/2 by 4 1/2 inch pan because that just happens to be the size of my favorite pan, but a 9×5 inch would be more appropriate. This bread rises a lot! Here it is before going in the oven. The 8 1/2 by 4 1/2 inch pan is just a tad too small.
The texture is soft and tight crumbed and the crust is not too thick or hard. In short, it lives up to its name because it's perfect for basic sandwiches.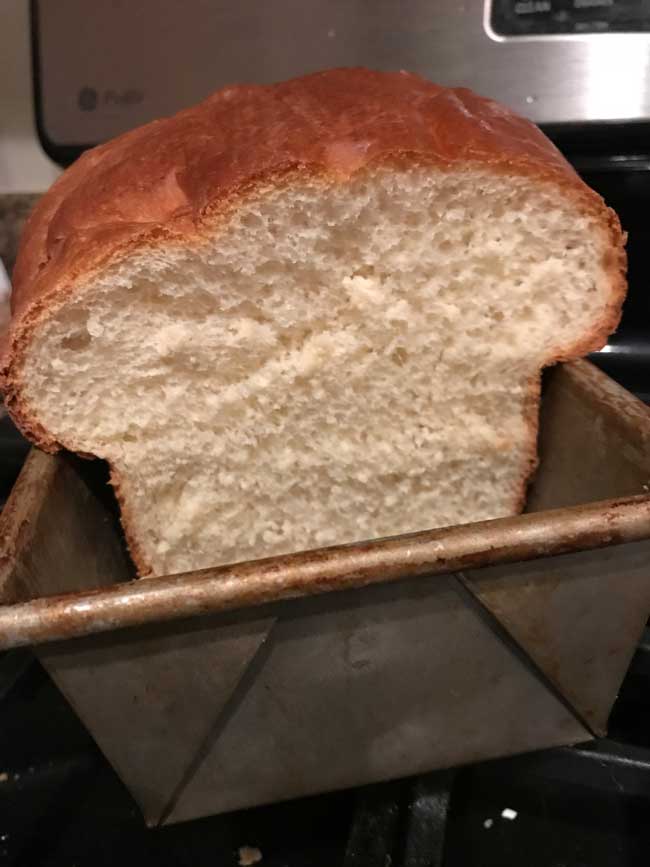 For slicing, it's best to do so when the bread is completely cool. You can slice it while it's warm, but it will be very soft and will not slice as neatly. I usually slice off a piece or two while warm just so the family can try it, then cool, wrap and freeze the whole loaf. I then cut the loaf into neat slices when partially frozen.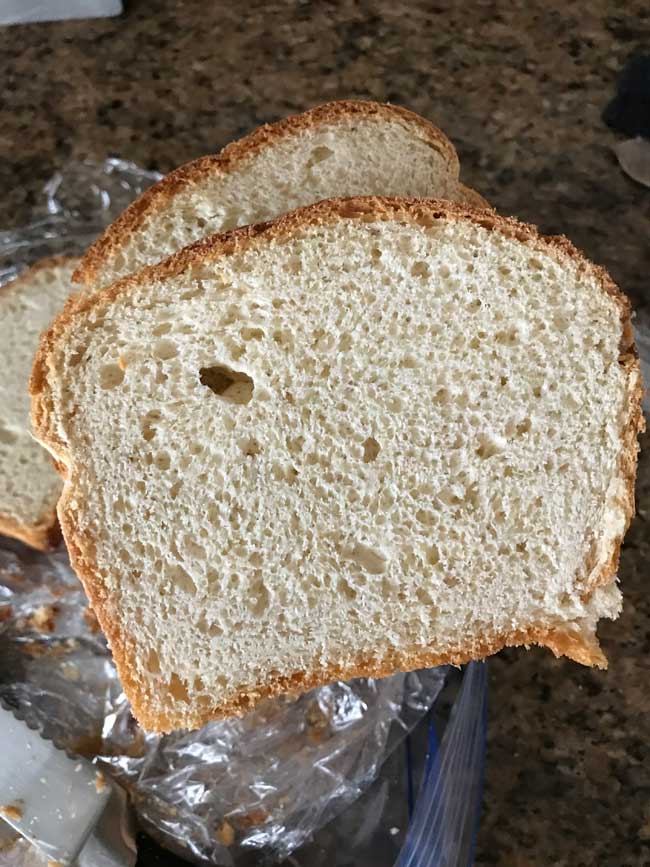 White Sandwich Bread
White Sandwich Bread
Ingredients 
2 1/2

cups

all-purpose flour (King Arthur) plus more as needed

350 grams

1 1/2

tablespoons

sugar

35 grams

1

teaspoon

salt

1

package quick rising yeast

Platinum if you can find it

1

tablespoon

unsalted or salted butter

very soft or melted, 14 grams

1

cup

very warm low-fat milk

125 degrees, plus a little extra for brushing

1

large egg

lightly beaten ( you will only use 2 tablespoons)
Instructions 
Combine 2 1/2 cups (12.5 oz) of the flour, sugar, salt and yeast in the bowl of a stand mixer.

Add butter, 1 cup of warm milk and 2 tablespoons of the beaten egg. Mix well to form a soft dough. If dough seems too dry, add 2 tablespoons of warm water.

Put the dough on the stand mixer and use the dough hook to knead the dough for about 8 minutes or until it is smooth and elastic.

Place dough in a large bowl coated with olive oil or cooking spray, turning to coat.

Cover and let rise in a warm place for 45 minutes to 1 hour or until doubled in size.

Grease and flour a 9×5 inch loaf pan.

Punch down the dough, shape it into a brick and put it in the loaf pan. Let rise for 30 minutes.

Meanwhile, preheat oven to 400°.

Add about 1/2 tablespoon of milk to the remaining egg and stir well. Gently brush over the loaf.

Place loaf in oven and IMMEDIATELY reduce temperature to 375 degrees f.

Bake at 375° for 40-45 minutes or until top sounds hollow when tapped. Let cool in the loaf pan for about 30 minutes, then carefully remove.