Walnut Sandwich Bread is my take on a walnut bread recipe that originally appeared in Cooking Light years ago. It makes a 9x5 inch loaf that's perfect for sandwiches or toast. My family loves it. The original version called for rosemary, so feel free to throw some in. We prefer to leave it out so we can use if for peanut butter toast.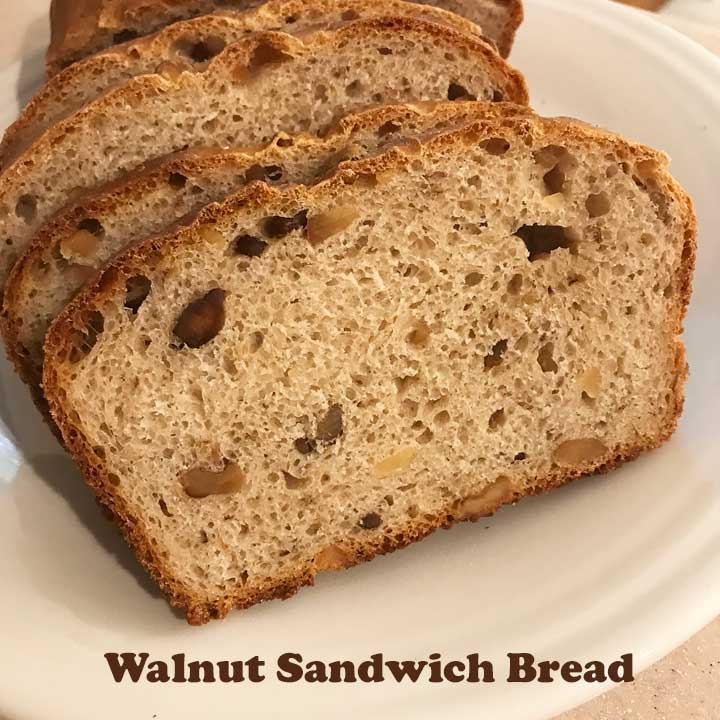 I haven't tested Walnut Sandwich Bread with hazelnuts, but will update when I do. Another change I plan to try is using walnut oil in place of olive oil.
Walnut Oil in Walnut Sandwich Bread
I finally tested the recipe with the addition of 1 tablespoon of my favorite walnut oil. It was fine, but I wouldn't go out of my way to use walnut oil in this particular loaf. The olive oil or butter should work just fine.
Forget the Walnuts
This recipe also makes a good loaf of plain white bread. Just follow the directions as written and leave out the nuts.
Recipe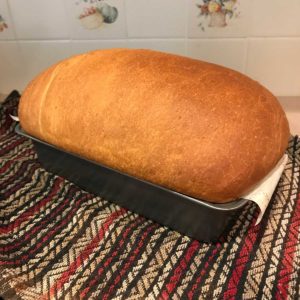 Walnut Sandwich Bread
A 9x5 inch loaf of light textured walnut bread that's perfect for sandwiches
Ingredients 
1

cup

whole milk (see note about milk temperature)

(between 105 and 110 degrees F.)

1 ½

tablespoons

sugar

1

packet

active dry yeast

2 ¼ teaspoons

2 ¾

cups

bread flour plus more as needed

(350 grams)

1

teaspoon

salt

plus a pinch

1

tablespoon

olive oil or melted butter plus more for bowl

2

tablespoons

lightly beaten egg

reserve remaining egg for brushing

½

cup

chopped walnuts

lightly toasted

More milk for brushing the top
Instructions 
In the bowl of a stand mixer, combine warm milk (110 degrees), sugar and yeast and stir well. Let stand for about 5 minutes or until you see some bubbles and can tell the yeast is active. Add 1 cup (115 grams) of the flour and stir well. Cover bowl and let stand for 15 minutes.

Add salt, oil, 2 tablespoons of beaten egg, and 1 ½ cup (200 grams) of the flour (you'll still have ¼ cup or around 25 grams flour left) and stir well. Attach dough hook to stand mixer and begin kneading. Continue adding extra flour about 2 tablespoons at a time until dough starts to clear the sides of the bowl as it is kneaded. Continue kneading until dough is smooth and elastic. It should be soft, but not too stick, and it should snap a little. It should clear the side of the bowl as it's needed, but will still stick to the bottom. Knead in the walnuts.

Transfer to a bowl which you've rubbed with olive oil or butter. Cover and let rise for 1 hour.

Meanwhile, grease a 9x5 inch loaf pan and line with a strip of parchment paper.

Punch down risen dough and press evenly into loaf pan. Cover loosely with greased plastic wrap and let rise for another 30 minutes.

Preheat oven to 400. Put the risen dough in the loaf pan in the oven.

Reduce heat to 375 and bake for about 40 minutes (check at 30) at 375.
Notes
If you trust your yeast, you can mix the yeast, flour and sugar and add slightly warmer milk (125 degrees).  I've been using less reliable yeast lately and need to prove it works, so I dissolve the yeast in cooler milk (110 degrees)  and wait for bubbles to appear before adding the flour.