Nutty Oatmeal Chocolate Chunks Cookies are a favorite at our house. They are thick, nutty, oatmeal chocolate chunk cookies with almonds. They're made with butter rather than shortening, but they stay fresh longer than other cookies. That is, they are still good on days 2 and 3.  In fact, years ago I made these for a friend stationed in the Middle East.  After reluctantly sending them overseas and worrying they wouldn't survive the journey, I got a report back that the troops loved them.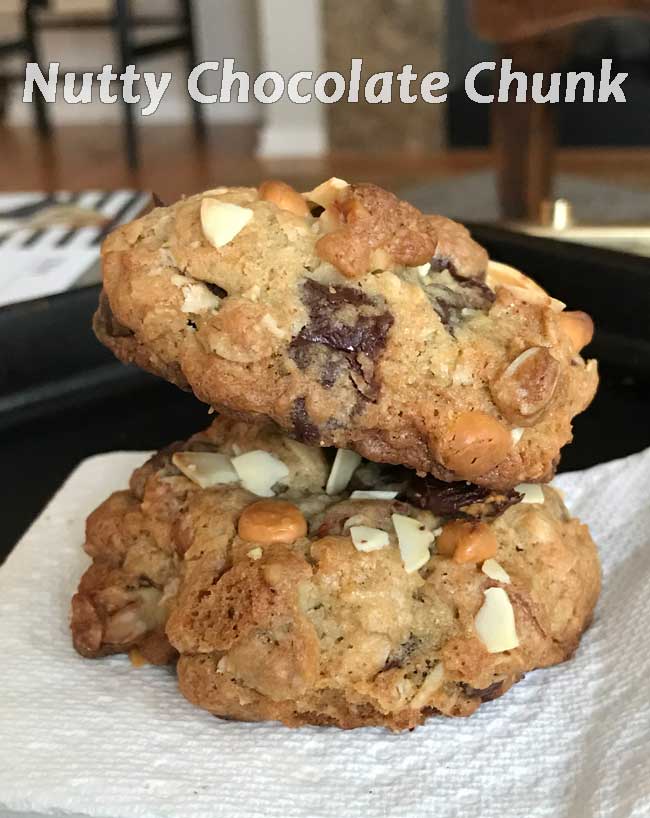 Through the years I've played with the recipe by mixing and matching different kinds of nuts and chocolate and experimenting with various flours, my favorite being a mix of bread and all-purpose.  The cookies have a lot of sugar, but it's offset by the nuts, oatmeal and unsweetened coconut.  The recipe also calls for cinnamon which gives the cookies a little something when used in a very small amount.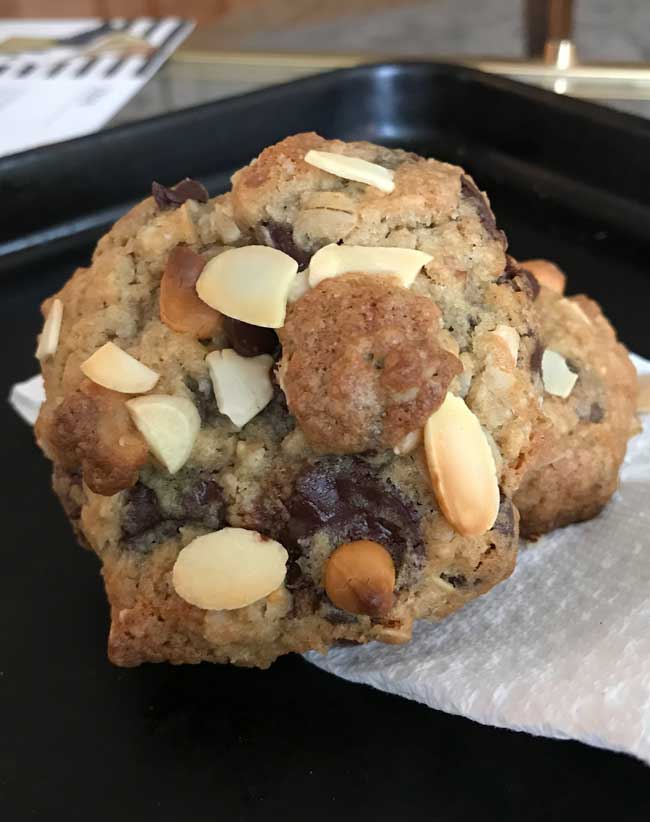 Chocolate Chunk Cookies with Almonds
I don't usually put almonds in chocolate chip cookies, but this recipe is an exception. The cookies have a firm and slightly crunchy structure that works well with with the harder texture of almonds. Here's a picture of the latest batch, courtesy of Fuzz who made a successful batch without the coconut. She couldn't find unsweetened coconut, so she left it out and added additional almonds, finely chopped.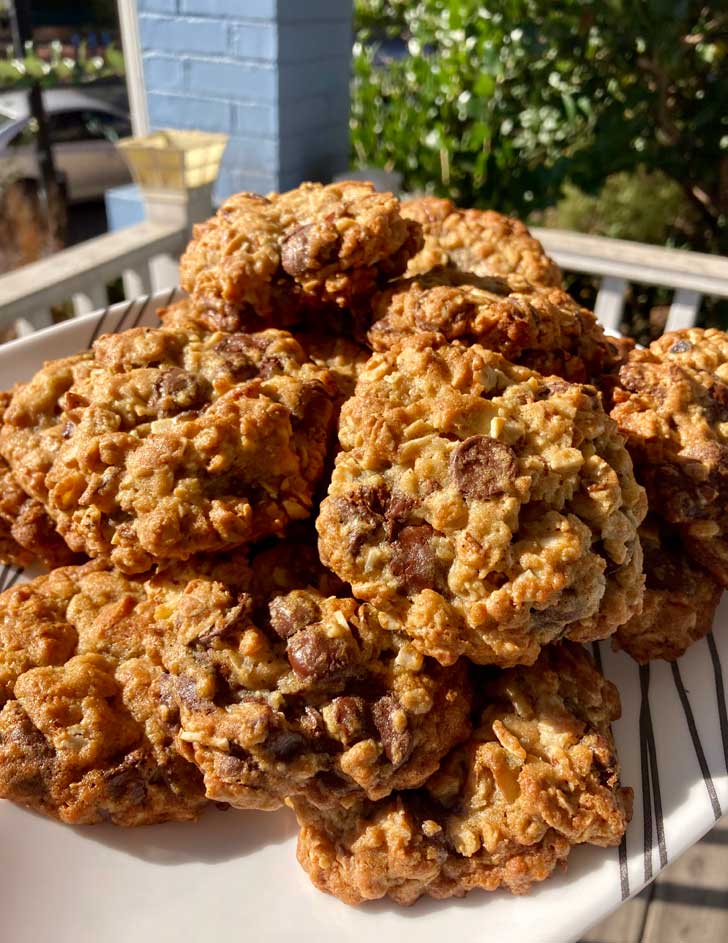 And here's the updated recipe!  Feel free to make changes, but one change I don't recommend is taking out the nuts.  If you are looking for a good oatmeal chocolate chip or oatmeal chocolate chunk cookies without nuts, my favorite as of late is Barbara Bush's Chocolate Chip Cookies recipe.
Recipe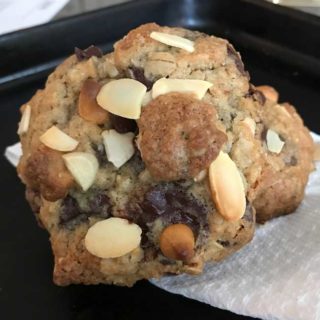 Nutty Oatmeal Chocolate Chunk Cookies
Nutty Oatmeal Chocolate Chunk Cookies are thick oatmeal cookies with lots of nuts, coconut and chocolate chunks. These cookies are very thick and keep well.
Ingredients 
2

sticks

unsalted butter, cold, cut into chunks

(230 grams)

1

cup

light brown sugar, lightly packed

(190 grams)

½

cup

cane sugar (aka regular granulated sugar)

(95 grams)

2

large

eggs

2

teaspoons

vanilla extract

1

teaspoon

baking soda

¼

teaspoon

cinnamon

can use more if desired**

1

teaspoon

plus a tiny pinch. Reduce to ½ teaspoon if using salted butter

250

grams

of flour. This is about 2 cups of sifted AP

but I recommend weighing. Also, I like using a mixture of half bread flour and half all-purpose.

2

cups

oats

old fashioned type

1

cup

finely shredded unsweetened coconut (I use "Let's Do Organic!" brand)

(56 grams)

10

oz

bittersweet chocolate chips

or your favorite chocolate

1

cup

roasted almonds, slightly heaping or 130 grams

(130 grams)

Optional: A handful or so of butterscotch chips
Instructions 
In the bowl of a stand mixer with a paddle attached, beat the butter until creamy. Add sugars and beat for about 4 more minutes, scraping the bowl often.

Add eggs one at a time and beat until just blended, then beat in vanilla, baking soda and salt, scraping bowl often.

Add flour and mix at low speed until just blended. Stir in oats, coconut, chocolate, and nuts.

Using a ⅓ cup measure as a scoop, scoop up about 18 mounds of cookie dough and set on a plate lined with plastic wrap. Mold each mound into a compact ball and then flatten slightly.

Chill flattened dough portions overnight or for as long as you can stand to wait. If you are in a hurry, you can skip the chilling, but the cookies are better when made with chilled dough.

When ready to bake, place on parchment lined baking sheets.

Arrange oven rack so that it is in the top third of the oven, and bake the cookies for about 15 to 18 minutes at 375.

Alternatively, you can just bake at 350 for slightly longer or at 325 for 20 minutes. I sometimes find that baking cookies in the higher part of the oven at a higher heat makes for thicker cookies, but ovens vary.
Notes
You can leave the cinnamon out if you prefer. I normally don't like cinnamon in chocolate chip type cookies, but in this case a little tiny bit of it enhances the cookie. If you want a more pronounced cinnamon flavor the cookies are still good with up to ½ teaspoon.