For years I've used the same Tortilla Soup recipe, but I recently changed things a bit and it is now Instant Pot Tortilla Soup. It can still be made over the stove, but making it in the Instant Pot is a little more fun. I am not sure why since the process is pretty much the same, but I like it better.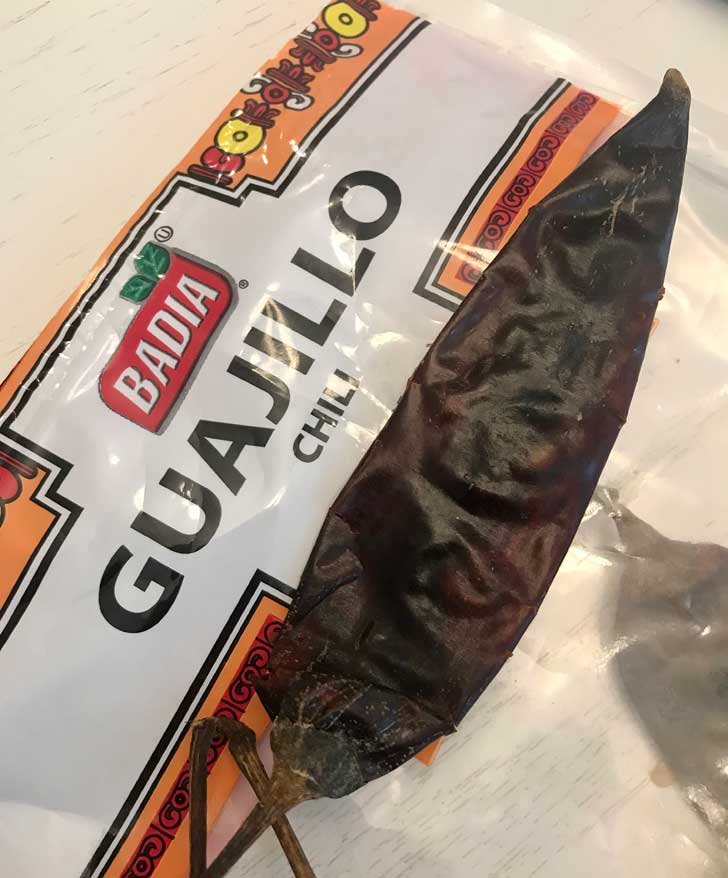 In addition to transitioning from stovetop to Instant Pot, I've switched from chili powder to pureed dried chiles As a Texan I feel a little guilty abandoning Gebhardt, but mixing and matching different chiles has been an adventure and allows for more variety and control over the flavor. Of all the ones I've tried in Instant Pot Tortilla Soup, Guajillo chiles are my favorite. They're pretty easy to come by in regular grocery stores. I've even found them at Aldi.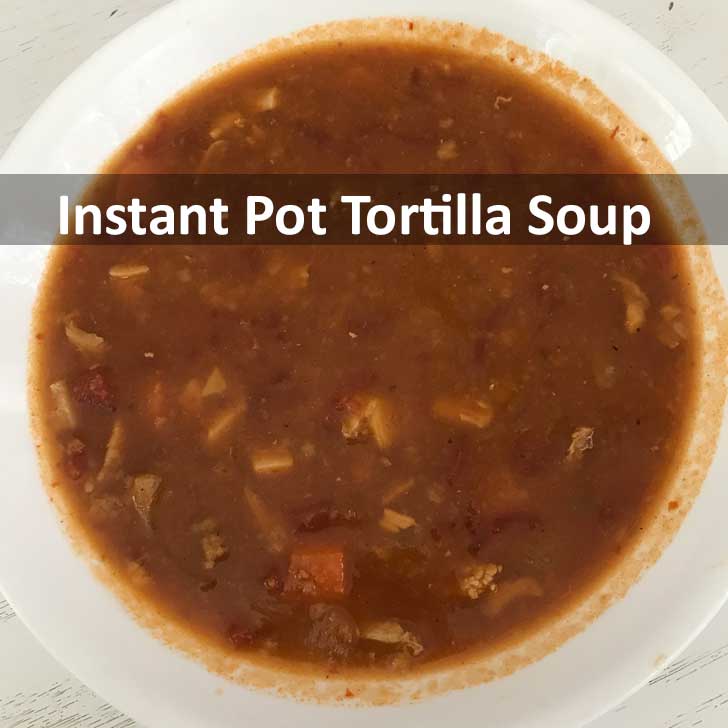 Puréeing Peppers and Pepitas
Since the soup now involves the step of puréeing chili peppers, I purée some of the soup as well and throw in some pepitas for extra body and flavor. Having to purée things adds a new step to the process, but if you keep a blender or Nutribullet nearby it's pretty easy. I'm curious to hear what other people think, so rather than go one about the soup I'll give you a quick ingredient rundown. If you make the soup and improvise, I'd love to hear your changes!
Instant Pot Tortilla Soup Ingredients
Guajillo Peppers — They come in a range of sizes, so I use two medium, two small or just one large. If you remove all the seeds they are not terribly hot. After you try the soup with Guajillos, you may want to combine it with other types of dried peppers. Anchos are already good too.
Carrots — The carrots add sweetness to the soup, so if you leave them out you may need to balance the sweetness with something else. Corn is also a good addition.
Ro-Tel Tomatoes – Ro-Tel is spicy, but they also have a mild variety which is still kind of spicy. For even less heat (or less salt) you can use any other brand or type of canned tomatoes.
Garlic — 3 cloves should do the trick, but feel free to double!
Chicken Broth or Vegetable broth — I use Swanson, Progresso or whatever brand is on sale. Sometimes I use reduced sodium and add more salt, sometimes I just use fully salted broth and just a pinch.
Cumin is one of my favorite spices, but I've dialed it down over the years from a tablespoon to a teaspoon. You can adjust it to taste.
Honey — This may seem like an odd ingredient, but it's the secret to making the soup really good! Two teaspoons should bring out the natural sweetness of the tomatoes. You can leave it out or halve it, but give it at try. Brown sugar also works.
Pepitas — Since you have to puree the peppers anyway, you might as well throw in some dried pumpkin seed kernels They add body and a little flavor, but are optional.
Smoked Paprika — Adds a dash of smokiness. If you are using Anchos or Chipotle flavored Ro-Tel you can skip it.
Bay leaf — Adds more flavor than you'd think. The big ones are the best because they are easy to fish out.
Chicken — I've made this soup with leftover cooked chicken breast, thighs refrigerated chicken chunks and even canned. They're all good.
Instant Pot Tortilla Soup
A fairly quick tortilla soup thickened with chopped tortilla and pepper puree. Consider this soup a template and adjust the heat or flavorings to taste.
Ingredients 
1 or 2

dried

dried Guajillo peppers

(10 grams before seeding)

1

tablespoon

oil,

I use olive or canola

1

cup

chopped onions

(100 grams) — May need more

1/3

cup

chopped carrots

(50 grams)

3

cloves

garlic, minced

(18 grams)

2/3

cup

chopped corn tortillas

(56 grams)

1

can

RoTel tomatoes (10 oz)

3

cups

chicken or vegetable broth

1

teaspoon

ground cumin

2

teaspoons

honey, plus more as needed

(8 grams) — I sometimes use more

1/4

teaspoon

smoked paprika

(optional)

1-2

tablespoon

pepitas (roasted pumpkin seed kernels)

optional, but they add body and flavor

1

pinch

salt, or as needed

1

bay leaf, whole

1

cup

chopped cooked chicken

5

corn

tortillas for air frying or baking
Instructions 
Remove stem and seeds of dried peppers. Put peppers in a small bowl and pour some hot water over them. Let stand for about 20 minutes to soften.

Set the Instant Pot to Sauté, and adjust to high. Add the olive oil and heat until warm, then add the onions. Add carrots and cook onions and carrots together for 3-4 minutes. Add garlic and chopped tortillas. Cook for another 2 minutes, stirring and scraping any tortilla that sticks to the bottom.

Add the whole can of Ro-Tel, undrained, and scrape bottom of Instant Pot. Add 3 cups broth, the cumin, honey and smoked paprika. At this point it won't be very hot because you are still in Sauté mode. Turn off pot (cancel/off). Measure out about 1 1/3 cup of soup mixture. Try to get about 2/3 cup of solids and 2/3 cup of liquid (precision not required!).

Put the measured soup into a Nutribullet (or blender). Drain the softened peppers and add to the Nutribullet along with the pepitas (if using) Puree and add contents to the Instant Pot.

Taste the soup and adjust any salt or pepper or add any other ingredients you like. Add the bay leaf.

Put the top on the pot and set steam valve to the center, press manual, set time to "2", press manual again. Let soup pressure cook for 2 minutes. Allow for a natural release. This should take about 20 minutes. If you are in a hurry, you can do a quick release.

Open pot and stir in chicken. Alternatively, you can leave the chicken out and pour the soup over the chicken like they do in restaurants. Adjust any spices you like (more salt, less, pepper, whatever). Throw in some corn if you feel like it. Set the slow cook function or put it on a keep warm setting and serve when you are ready.

Serve with air fried or baked corn tortilla strips. Cut the tortilla strips about 1/2 inch wide. Arrange in an air fry basket and spray with cooking spray or olive oil spray. Air fry at 250-300 for about 7 minutes. Alternatively, just bake them at about 350 for 8 to 12 minutes or until crisp.