This morning I spent almost 2 hours trying to figure out some "simple" things in Photoshop. I am terrible not the greatest nor the worst with Photoshop, but I have fun playing with it — at least until I get extremely frustrated and delete everything, which is what happened this morning. I decided I'd take another shot at it later this evening and went to the kitchen to bake today's cookie.
As usual, I was craving chocolate chip. Unfortunately, there was no butter.
I could have driven to the store for butter, but in the spirit of using what's on hand, here are some chocolate chip cookies made with oil. They came out of the oven looking quite pretty and the taste wasn't bad either. So while you will miss the butter taste, you will get plenty of flavor from the chocolate, nuts and vanilla. I used a teaspoon, but you could even use a little more. Coconut might be a good addition as well. And if you want to make these somewhat more nutritious, you could use white whole wheat flour.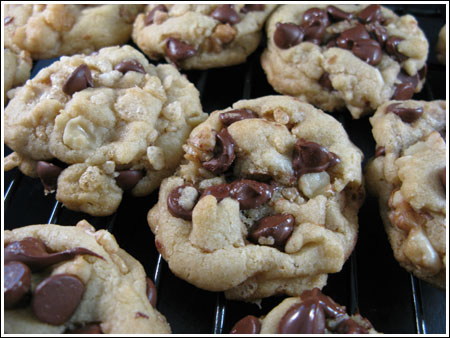 Chocolate Chip Cookies Made With Oil
Chocolate Chip Cookies Made With Oil -- You won't miss the butter! Or maybe you will, but these are good in their own way and worth a try.
Ingredients
1 1/2 cups all purpose flour -- fluff up before scooping and sweep carefully or weigh out 6.7 oz.
1/2 teaspoon baking soda
1/4 teaspoon salt
1/4 cup granulated sugar
1/2 cup packed light brown sugar
1/2 cup vegetable oil
1 large egg
1 teaspoon vanilla
1 1/2 cups chocolate chips (more chocolate to compensate for the missing butter!)
1/3 cup toasted walnuts (nut flavor to compensate for the missing butter!)
3/4 cup Rice Krispies (optional)
Instructions
Preheat oven to 350 degrees F.
Stir together flour, soda and salt. Set aside.
Whisk together both types of sugar, oil, egg and vanilla. Add flour mixture to oil mixture and stir just until blended. Stir in chocolate chips and walnuts.
Add Rice Krispies if desired
Using a tablespoon measure, scoop up dough and shape into tight rounds of about ¾ to 1 inch. Space them about 2 inches apart on two ungreased cookie sheets. The mounds should be bursting with chips(note: if the dough balls seem really dry, press them down a little bit). Bake for 8-10 minutes. Cool for 2 minutes on cookie sheet, then transfer to a wire rack to continue cooling.
Makes about 2 dozen
Related posts: