Whole Wheat Cranberry Golden Raisin Bagels are big, chewy, sweet bagels made without any specialty ingredients. And by that I mean no diastatic or non-diastatic malt powder. The bagels have plenty of flavor (plus a little hint of orange!) and a good chewy texture.
Old Picture of Raisin Bagels
This is an older picture of the bagels. You can't really see the golden raisins, just the cranberries. I need to update this one soon. Looks like it's time for some bagels. I think I need to add a few new notes as well.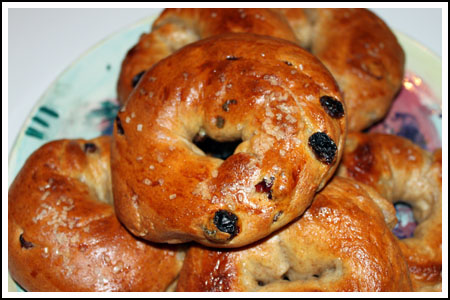 Weigh Flour for Best Results
Since measuring flour by volume isn't very accurate, I listed the weight of the flour I used next to the volume measure. Hopefully that will help, but you should definitely go by the feel of the dough rather than precisely by the recipe because different brands of flour yield different results. In my experience, getting the amount of flour just right is the hardest part of making yeast bread and the part that takes the most practice. It should look something like this before rising.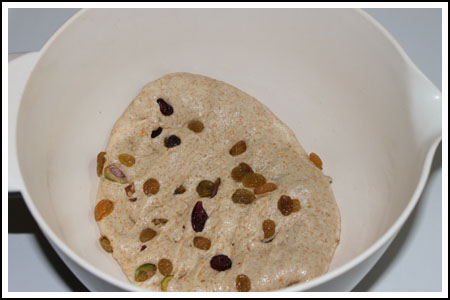 And like this after.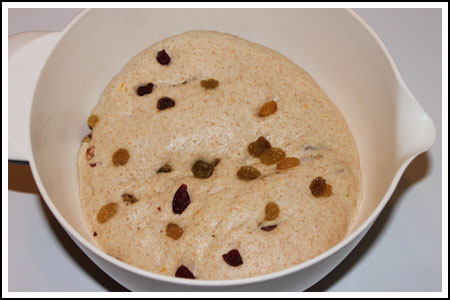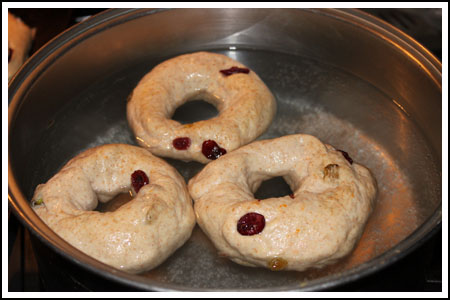 Whole Wheat Cranberry Golden Raisin Bagels
1 cup warm water, about 110-115 degrees F
2 ¼ teaspoons active dry yeast
2 tablespoons granulated sugar, plus 1 tablespoon reserved for water
1 cup whole wheat flour (5.2 oz)
1 ¼ to 1 ½ cups unbleached all-purpose flour (5.7 to 6.7 oz)
1 teaspoon salt
A generous 1 tablespoon light olive oil plus extra for greasing bowl
¼ teaspoon vanilla extract
½ teaspoon orange zest
⅓ cup dried cranberries
⅓ cup golden raisins
1 egg beaten with about a tablespoon of water for brushing
Bagel Directions
Mix the water, yeast, and 2 tablespoons of the sugar in the bowl of a stand mixer fitted with a dough hook. Let stand for about 10 minutes or until the yeast is bubbly. With a mixing spoon, stir in the whole wheat flour, 1 cup of the all purpose flour and the salt; add remaining ¼ cup of flour and stir to make stiff dough. Turn on mixer and mix with the dough hook and let it go for a few minutes; if dough seems sticky to touch, add another ¼ cup of the flour.
With mixer on medium and dough hook in action, add the oil, vanilla and orange zest. Continue kneading with the mixer for another 5 minutes. The dough should be thick, but neither sticky nor dry. See photo below. Continue kneading with dough hook and knead in the cranberries, and raisins.
Grease a large bowl with some extra olive oil. Place the dough in the bowl, cover with a damp towel or plastic wrap and let rise in a warm spot for an hour.
Punch down the dough and divide into 6 equal pieces. Shape each piece into a 6 inch log and join the ends to make rings. Place rings on non-stick foil lined cookie sheet and let rise for another 30 minutes – you can cover the bagels if you want, but I didn't and they still rose.
Preheat the oven to 400 degrees F. Have a second cookie sheet lined with non-stick foil ready to go.
Ready to Boil!
Bring about 12 cups of water and the remaining tablespoon of sugar to a boil in a large pot. Add the bagels about 3 at a time to the water and boil for 1 minute, turning halfway through Lift the bagels out with a spatula, letting any water drip back into the pot, and place on the non-stick foil lined cookie sheet so that the "pretty side" is up. Brush bagels with the egg/water mixture and sprinkle with a little sparkly sugar if you'd like.
Bake pretty side up on center rack of oven for 15, minutes, turn bagels and cook another 10 minutes ugly-side-up, then flip them back so the pretty side is up and bake another 10-15 minutes or until nicely browned.
Makes 6
Note: if you don't want/have cranberries and golden raisins, these would probably be great with ½ teaspoon of cinnamon and ⅔ cup of regular raisins.