Happy Halloween from Cookie Madness! Here's a helpful article listing the 20 Best & Worst Halloween Candy in every state, updated for 2023.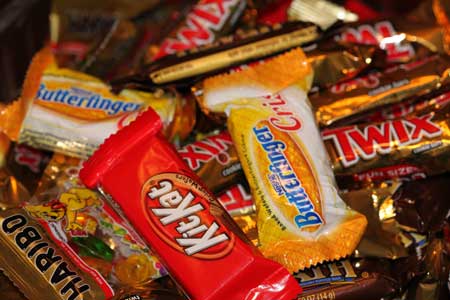 I posted this photo back in 2011 and have many happy Halloweens since. We've also come up with more ways to use leftover Halloween candy, so here are a few links to the recipes.
Halloween Kit Kat Cake
Buy plenty of Kit Kats for the kids, but save some to make a Halloween themed Kit Kat and M&Ms cake. For a Halloween party, you could fill the cake with spooky colored M&Ms or go a different route and fill the cake with Halloween Oreos or the Halloween themed Circus Animals.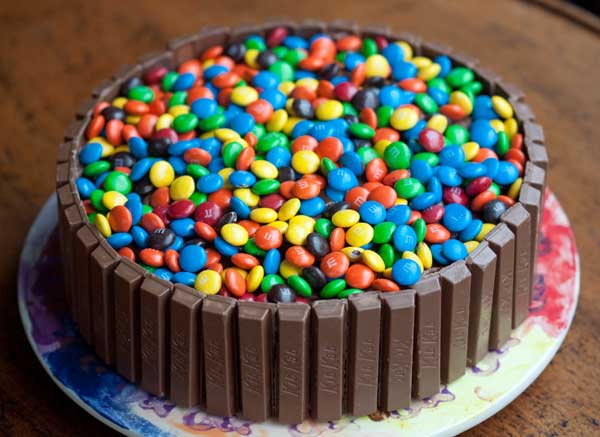 Nestle Crunch Bar Malted Milk Chocolate Chunk Cookies -- My personal favorite and the reason I buy Nestle Crunch Bars even though only 2 or 3 kids come to our house.
Leftover Halloween Candy Cookies -- These are thick, soft, chocolate chip cookies with a texture that's the perfect partner for chopped up Halloween candy.
Candy Bar Bars -- An oatmeal bar cookie recipe with chopped Halloween candy in the filling.
Candy Bar Brownies -- Particularly helpful recipe if your haul included loads of Snickers. Or maybe you bought too many Snickers and the kids went elsewhere? It happens.
A Few More Happy Halloween Ideas