I still can't believe school is about to start, but I'm grateful that we were able to fit in a last minute road trip. It was fun! We drove through Michigan, Canada and Upstate New York where we visited friends and had a few food adventures. One in particular was eating Meatball Cookies at Wegman's, a grocery store in Rochester.

I'd never heard the term "Meatball Cookies" until visiting Rochester, but my friend Tracy says they are quite popular and sold not only at Wegman's, but Italian bakeries. Meatball Cookies, which I suspect are similar if not the same as "Anginetti" are rounded and crumbly and kind of soft. Here's a picture of the one from Wegman's.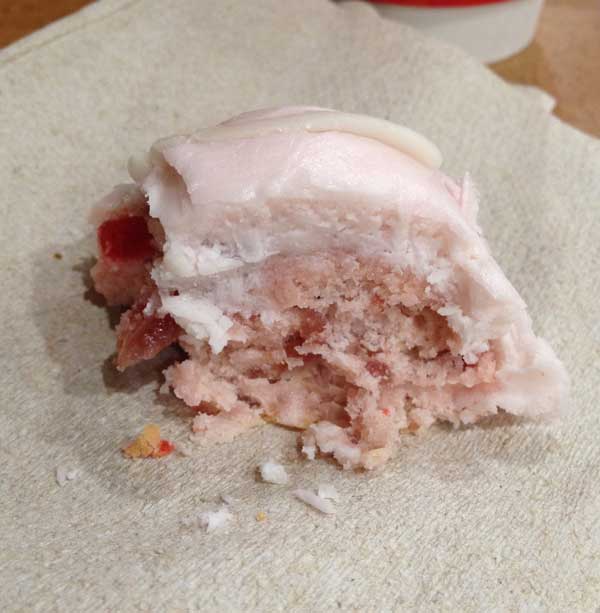 The texture is much cakier than Italian Wedding Cookies or Sand Tarts, but instead of being dusted in powdered sugar, Meatball Cookies have a coating of icing.
Also, Meatball Cookies come in a variety of flavors. The ones we liked best were the cherry flavored, so when I got home from our trip I tried to re-create them.
The trick was getting the cherry flavor just right. The flavor I was going for was not fresh cherry, but rather like cherry Jell-O or cherry cake mix. And I wanted the cookies to be pink!
As luck would have it, I found a bottle of Watkins Cherry Extract in the pantry. It smelled like cough syrup and I had my doubts, but when mixed with vanilla and cherry juice, it did the job. The cookies turned pink and tasted fantastic.
Here's the recipe as I made it.
Also, if you'd prefer to use shortening or just want a lemon version, here's the link to Tracey's version.
Recipe
Meatball Cookies
Cherry Meatball Cookies are round, cakey, crumbly cookies flavored with cherry extract and Maraschino cherries.
Ingredients 
2

cups

well-stirred all-purpose flour

260 grams

2

teaspoons

baking powder

I use Rumford

1

stick

½ cup unsalted butter, softened (120 grams)

¼

teaspoon

salt plus a pinch

omit if using salted butter

⅓

cup

granulated sugar

70 grams

2

large eggs

room temperature

¾

teaspoon

Watkins cherry extract

½

teaspoon

vanilla extract

1

tablespoon

plus 1 teaspoon Maraschino cherry juice

10

Maraschino cherries

broken apart or chopped

⅓

cup

powdered sugar for rolling
Icing:
2

cups

powdered sugar

2

tablespoons

melted butter

2

tablespoon

room temperature whole milk plus extra if needed

⅜

teaspoon

Cherry Extract

⅜

teaspoon

vanilla

Maraschino cherry juice as needed
Instructions 
Line a couple of plates or 1 tray that fits in your refrigerator with parchment paper or nonstick foil.

Thoroughly stir the flour, baking powder and salt together in a bowl and set aside.

In a mixing bowl, using an electric mixer, beat the softened butter and sugar until creamy. Add the eggs one at a time, beating well and scraping the sides of the bowl. Beat in the extracts and cherry juice. The batter should look very curdled at this point.

By hand, stir in the flour mixture to make a soft dough. Stir in the cherries. It should be sticky rather than dry. The cherry extract, cherry juice and whatever juice that falls of the broken up cherries should make the dough nice and pink.

Using a slightly rounded tablespoon, drop 22 rounds of dough onto your parchment lined plates or tray. Chill the dough for about an hour or until it is a bit firmer.

Preheat oven to 350 degrees F. Line two baking sheets with parchment paper.

Shape the now-firm dough rounds into neat balls and arrange the pink balls of dough about 2 inches apart on baking sheets. Bake one sheet at a time for 12 to 15 minutes or until cookies are brown around the edges. They shouldn't spread too much.

Let the cookies cool for 3-5 minutes on the baking sheet, then roll the warm cookies in powdered sugar and place on a wire rack to cool completely.

Make icing. Mix the powdered sugar and melted butter together until mixture is paste-y. Add 1 ½ tablespoon of the milk and stir until smooth. Stir in the extracts. Thin with a little cherry juice. Continue adding milk and cherry juice as desired, stirring constantly, until you get a smooth icing.

Place a piece of paper towel or parchment under your cooling rack so that the glaze can drip through, then spoon it gently over the cookies.
Let me know what you think of the Meatball Cookies!