Speaking of S'mores Bars, this is my all-time favorite version of the  recipe — almost as good as real S'mores and much easier to cut and share.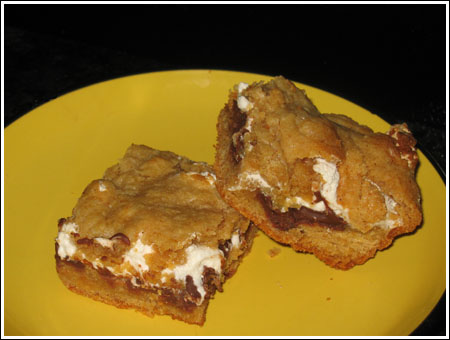 S'mores Bars — Adapted from Hershey's Chocolate
1/2 cup (1 stick) butter or margarine, softened
3/4 cup sugar
1 large egg
1 teaspoon vanilla extract
1-1/3 cups all-purpose flour
3/4 cup graham cracker crumbs
1 teaspoon baking powder
1/4 teaspoon salt
4 (1.55 oz. each) HERSHEY'S Milk Chocolate Bars
1 cup marshmallow creme
Heat oven to 350°F. Grease 8-inch square baking pan or line the pan with foil and spray foil with cooking spray (makes cutting easier).
Beat butter and sugar in large bowl until light and fluffy. Add egg and vanilla; beat well. Stir together flour, graham cracker crumbs, baking powder and salt; add to butter mixture, beating until blended. Press half of dough into prepared pan.
Arrange chocolate bars over dough, breaking as needed to fit. Spread with marshmallow creme. Scatter bits of remaining dough over marshmallow; carefully press to form a layer.
Bake 30 to 35 minutes or until lightly browned. Cool completely in pan on wire rack. Cut into bars. 16 bars.
Related posts: