S'mores taste best when cooked and assembled among friends and open flames, but today I wanted them in bar cookie form.  Rather than search my cookbooks for a recipe, I searched the Internet and came upon this one from Hershey's. I could tell by looking at Hershey's picture that it would fit the bill, so I made it exactly as instructed but lined the pan with non-stick foil so I could lift the bars out and cut them neatly.
Here's a picture of the base dough. Pretty sturdy looking, eh? Just what I was looking for.
And here's a cross section after the cookies were baked. This is right out of the oven, so I suspect they'll be less gooey later and will post another photo when they set.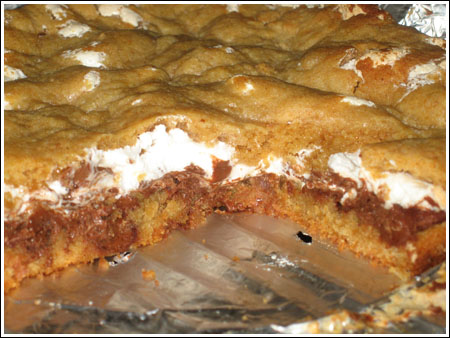 All in all, this a very good bar cookie. Just watch out because if you go with the milk chocolate (in true S'mores fashion), the bars will be very sweet…sweet as in "Dang Y'all this is sweet!" Then again, we all have different tolerances for sugar. In fact, I think it varies among individuals in accordance with the moon and tides, but that's neither here nor there…I liked these with the milk chocolate, but next time I'm going to try them with dark chocolate.
The recipe is on Hershey's site. If they change the link or if it goes away, let me know.