I haven't been motivated to make pie lately, but I saw this pie at Lou's in Hanover and that kind of changed things. I've never made an apple pie with such a big top. Goals!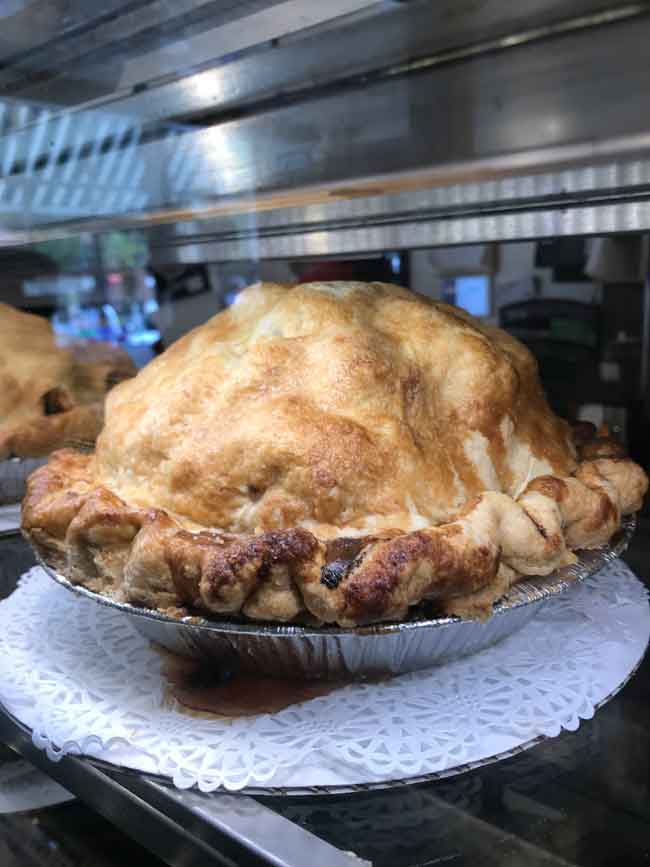 Anyhow, now I'm going through my old recipes looking for tried and true all-time favorite pies and trying to get in a pie baking mood.  Here's the rundown.
Without a doubt, this is our family's favorite pumpkin pie. None of us really love pumpkin pie so much as we love the idea of it at Thanksgiving, but this one always satisfies and is easy to throw together.
Eagle Brand Condensed Milk Pumpkin Pie
Originally from Luby's, this Butternut Brownie Pie is light, sweet and fun to put together. I was never quite sure how they got the name considering it has nothing to to with chocolate brownies, but I think original brownies may have been more like brown sugar so maybe this pie's name is connected with the original non-chocolate brownies???  All I know is Luby's served it and my mother loves it.
I never thought Buttermilk Pie would show up on a Favorites list, but over the years we've come to appreciate this pie. I have two versions which are both awesome.  If you don't think so, let me know and then send a better one.
Powdered Buttermilk Pie (made with Saco)
Buttermilk Pie
When it comes to Chocolate Cream Pies, this is the recipe I tend to go back to over and over.
I also like Earl's Chocolate Pie which is simple, inexpensive and more satisfying than you'd think considering it only has 3 T. cocoa powder. Once you add all the whipped cream and toppings, it's a very good pie. That being said, the pie people really seem to like from this blog is one I call Chocolate Cream Pie with a No-Bake Crust which is made with condensed milk (so foolproof).
Is there such thing as a bad Key Lime Pie? Probably, but most all Key Lime Pie is pretty good, and these are my top two recipes. The first is what I make for weeknight desserts and the second one is for company or parties.  The Ritz crust takes it to the next level.
Key Lime Pie Without Eggs
Atlantic Beach Pie with a Ritz Crust
Apple Pie. Sigh. It's so hard to pick a favorite, but over the years people have really enjoyed Apple Pie with Broiled Apples. Personally, I like Stella Parks' version with macerated apples, but I also really just love this Basic Apple Pie. When I don't feel like making a top crust, I make Cindy's Mom's Apple Pie which is Dutch apple with a crumb crust.
For a great cherry pie in November, I recommend using Trader Joe's Morello Cherries and making this cherry pie filling.  You can use it in a free form tart or you can make a basic cherry pie like this Cherry Crumb Pie. The crumb pie is the one I make most often.
Oh man, I'm so glad it's November because it's truly the season for pecan pie because we just love this Bourbon Chocolate Pecan Pie. It only has a tiny bit of bourbon, but you can really taste it. As far as traditional pecan pie goes, these are still probably my two favorite pecan pies.
I could go on all day with this list, but I'm only going to add one more. This Pick Your Flavor Pudding Pie is really fun to make and difficult to mess up. Plus you can change up the flavor by using different pudding.