Here are some more favorites! This is a list of my most tried and-true chocolate chip cookie recipes.  It doesn't mean the other ones aren't good, but these are the chocolate chip cookie recipes I use the most.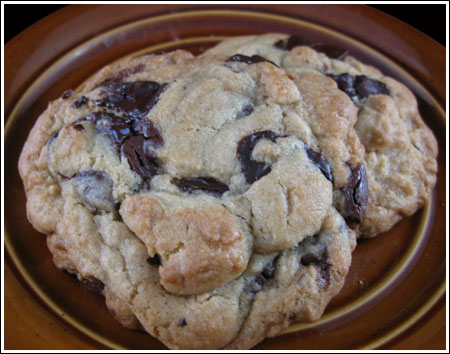 Bon Appetit Chocolate Chip -- I've been making these over and over lately because the dough can be stirred together in one saucepan, and the cookies are really good.  They're chewy and pretty soft.  I use light brown sugar rather than dark.
Thomas Keller's Chocolate Chip Cookies from Ad Hoc at Home.  Dense, with lots of dark brown sugar.
Big, Flat, Chocolate Chunk Cookies -- If for some reason you want to make chocolate chip cookies with cake flour, this is good recipe.
All Butter Crunchy Chocolate Chip Cookies -- People seem to like this recipe.  For some reason it's popular in Europe.
Crispy Mini Chip Cookies -- These are tiny, crispy chocolate chip cookies.  They're kind of tedious to shape, but worth it.
Chocolate Chip Cookies with Oil -- Good for when you are out of butter.  I like to experiment with different types of oil.
Vanilla-Rich Chocolate Chip Cookies -- A basic recipe that's very good.
New York Times Chocolate Chip -- The NYT has an intriguing new(ish) vegan version I want to try, but this is the old standby.  I usually cut the brown sugar by about two tablespoons.
Giant Chocolate Chip Cookie Cake -- Perfect for if you want to bake and decorate a giant chocolate chip cookie cake.
Extraordinary Chocolate Chip -- A favorite basic chocolate chip cookie recipe. Land o' Lakes has a similar one that calls for baking powder instead of baking soda. Betty Crocker Cookies from 1969 -- Another old favorite with slightly different ratios than the Toll House recipe.
Toasted Pecan Coconut Chocolate Chip -- Good recipe for people who like a little coconut in their chocolate chip cookies.
Bran Flakes Buffalo Chip Cookies -- Technically these are more of an oatmeal cookie, but I'm including them on this list anyway.
Tahini Chocolate Chip Cookies -- I really love this recipe. Also, if you can't find Soom or want to save some money, there's another good brand of Tahini on Amazon called Baron's Kosher. You probably can't get it now, but keep it in mind for the future.
Jumbo 3 Chip Cookies -- Recipe I always forget about and regret forgetting about.
Bisquick Chocolate Chip Cookies -- Low on ingredients but have some Bisquick? These aren't terrible.
Jumbo Wheat Germ Chocolate Chip Cookies -- Do you like wheat germ? Here's a way to use it in chocolate chip cookies.
And one more. This will be the last one since I'm moving out of normal chocolate chip cookie territory into cereal cookie land. However, These Raisin Bran Chocolate Chip Cookies are ones I make fairly often. They are also great made with Bran Flakes.
Update: Adding Malted Milk Chocolate Chunk Cookies. I usually like semisweet or bittersweet chips in cookies, but the malted milk powder in this recipe goes really well with the milk chocolate.
Here's a link to ALL the chocolate chip cookies.