The Tried and True Sugar Cookies list is going to be a short one.  I like sugar cookies, but don't make them often because I'd rather have chocolate chip....or oatmeal...or just about any other cookie.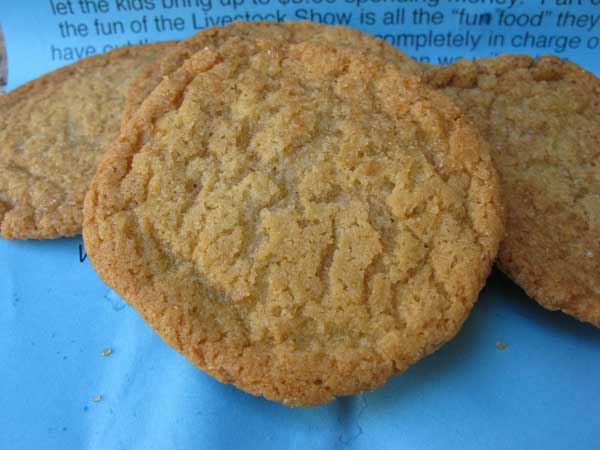 First, Chicago Public School Butter Cookies. This is probably the most popular recipe on Cookie Madness (or at least up until this week, when Self-rising Flour Banana Bread took first place). These are really butter cookies and not sugar cookies, but I'm including them anyway.
The Secret Ingredient Sugar Cookies are also get good feedback.  I don't make them very often, but people seem intrigued by the pudding mix.
Some friends from Chicago say these taste like sugar cookies from Potbelly. A mixture of cream cheese, oil and butter gives them an interesting texture. I've always added a dash of McCormick Butter & Nut Extract, though they've changed the name to Imitation Cake Batter Flavor.
For cut-out cookies this old recipe called Cookies on a Stick is good. I never put them on a stick. The cookies are thick, not too sweet, and meant to be iced. Some people say that leaving out the baking powder improves the shape, but I like the cookies best with the baking powder.  Here's another version of the sugar cookies.
The Betty Crocker recipe is one of the best tasting, but the dough cut-outs don't always hold their shape as well.
If you want to make crunchy sugar cookies with shortening, this vintage recipe gives you a firm, crunchy cookies that hold their shape and do not taste terrible.
Brown Sugar Cracked Top Sugar Cookies are pretty basic but have a lot of flavor. You'd think they'd be boring, but they're not.
My family really likes Chocolate Sugar Cookies. I'd rather just have a double chocolate cookie, but if you want a chocolate sugar cookie this is a solid recipe.
The Honey Cookies recipe has been popular through the years. Most of the reviews are good, with a few negative here and there. I've personally never had a problem with the recipe.
Here's a link to all the rest of the sugar cookies. There are ALL KINDS :).