Fuzz had a happy birthday, but her cake wasn't the hit I'd hoped it would be. Fuzz ate two bites, while her friend took one bite and said she didn't like it. Next time, I'm buying bakery cupcakes! Or maybe that's the problem. Maybe kids are so used to packaged bakery items that they don't appreciate homemade. The adults loved the cake. I used a recipe recommended by Katy which I've pasted it below. It was tender, rich, and dense and pretty much everything I like in a chocolate cake.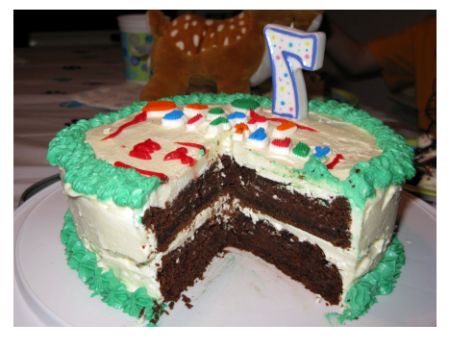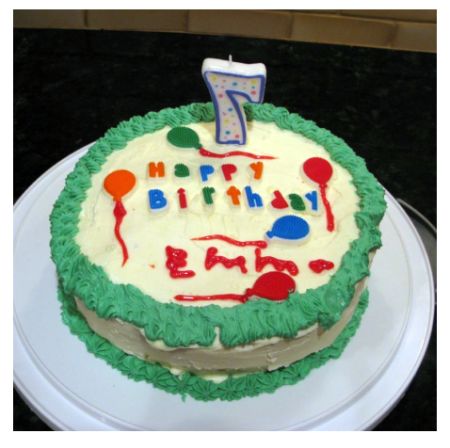 The icing, however, was a Swiss Meringue Buttercream and I'm not sure I'd use it on a chocolate layer cake again because while it was smooth, creamy, and light, it had a rich and slick buttery mouth-feel to it that I didn't like. It was delicious, but too buttery and rich to be spread 1/2 inch thick over and in between layers of a cake. I think it would be great on cupcakes or used in small amounts, but the joke I had in my mind when I cut this cake was the one about having a cardiologist on speed dial.
But I learned something new. I've been resistant to making a true buttercream, but now I can say I've done it at least once. I think I'm going to devotes some time to learning how to make really good vanilla/butter icing.
Here are some notes from my personal home schooling on the subject.
American Buttercream – Usually made with butter and/or shortening, powdered sugar, vanilla and a little milk. I don't like it because it tastes too starchy, but I do use it for decorating. The green icing on my cake is American Buttercream.
Swiss Meringue Buttercream – Egg whites and sugar are whisked over a bowl of water until sugar is dissolved (140-160). Mixture is beaten until it holds its shape, then butter and flavorings are slowly added and mixture is beaten until creamy and smooth.
Italian Meringue – Hot sugar syrup is slowly added to beaten egg whites. If you add butter, it becomes Italian Meringue Buttercream.
French Buttercream – Hot sugar syrup is slowly added to beaten whole eggs.
Seven Minute Icing – Egg whites and sugar beaten with a hand mixer in a bowl set over simmering water; slightly less dangerous to make in terms of syrup burns and very reliable. My grandmother's favorite!
Boiled Icing – aka "Depression Icing". Flour and milk are whisked together in a saucepan to make a thick paste. Paste is cooled, then whipped with shortening, granulated sugar and flavors. Must be beaten for a long time to dissolve sugar granules. This icing sounds gross, but it's actually pretty good. It tastes like the inside of a Hostess cupcake. A mixture of butter and shortening can be used in place of all shortening.
UPDATE: I'm feeling a little better about the fact I don't love Swiss Buttercream. I just checked Chery's blog (Cupcake Bakeshop — About Frosting) and under the section on Buttercream, she mentions she doesn't care for Swiss or Italian Buttercream because of the filmy quailty. I'm glad it's not just me.
Very Good Chocolate Cake
1 cup boiling hot water
3/4 cup (75g) natural cocoa (Scharffen Berger)
2 cups (260g) all-purpose flour
1 1/2 teaspoons baking soda
3/4 teaspoon sea salt
1 cup (200g) superfine sugar**
1 cup (240g) golden brown sugar
1 cup (2 sticks) unsalted butter, cool room temp cool room temp
4 wholes eggs (large), cool room temp, lightly beaten cool room temp
3/4 cup (6 1/4oz) buttermilk, cool room temp cool room temp
2 teaspoons fancy vanilla extract
1 teaspoon chocolate extract (optional) optional
Preheat oven to 350 degrees F. Line 2 9" pans with parchment.
Combine water and cocoa in a bowl and stir until smooth. Reserve. Sift together dry ingredients. Reserve. In large bowl of an electric mixer, cream butter and sugars. Beat in eggs and vanilla. Stir buttermilk into cocoa mixture. Add alternately with dry ingredients in 3 additions. Pour into pans. Bake about 25 minutes, until toothpick comes out barely clean.
**Grind granulated sugar in food processor to make superfine