This recipe by Julia Hasson is from an old issue of Bon Appetit. On a scale of 1-10, these bars are a 15. I've pasted the recipe below, but you can see the original recipe plus reviews on Epicurious.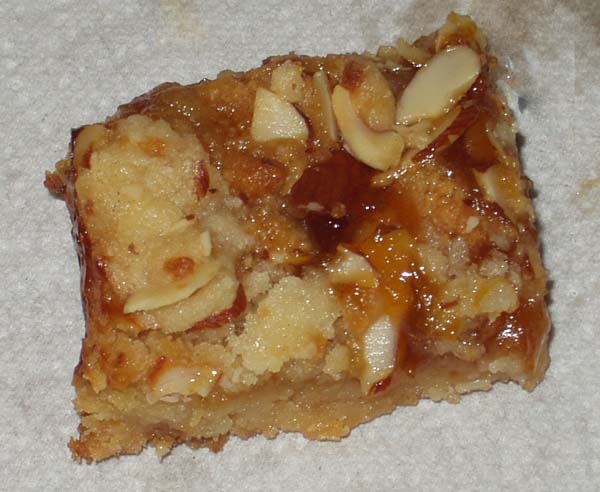 Apricot-Orange Shortbread Bars
(Adapted from Julia Hasson's recipe in Bon Appetit)
1 cup (240 ml) apricot preserves
3 tablespoons (45 ml) orange liqueur (such as Grand Marnier)
1 cup (230 grams) unsalted butter, room temperature
3/4 cup (145 grams) sugar
1 teaspoon (5 ml) almond extract
2 cups (250 grams) all purpose flour
1/4 teaspoon (1 ml) salt
1/4 cup (50 grams) almond paste (from 7-ounce roll), crumbled
1/2 cup (40 grams) sliced almonds, divided
Preheat oven to 325 degrees. F (165 C) Line a 9×9 inch pan with parchment. If making half batch, use a 9×5 inch loaf pan.
Combine preserves and orange juice; Set aside.
In a small mixing bowl, crumble up almond paste and set that aside as well.
In a large mixing bowl, beat together butter, sugar and almond extract. By hand, stir in flour and salt.
Scoop out 1 cup of the flour mixture and add to the bowl with almond paste. Mix this together to form topping. Add the sliced almonds.
Press remaining flour mixture into bottom of lined pan. Spread apricot/orange mixture over top. Crumble flour/almond paste/almond mixture over filling.
Bake for about 1 hour at 325 degrees F. Cut into 32 bars
Related posts: