I'm not sure what I'm going to make today, but it won't be cookies. Thanks to my friend Alexandra, I am at maximum cookie capacity.
Alexandra, who recently opened her on-line store (Hooray!) has been testing various shipping methods. Yesterday, she shipped me a box of cookies wrapped in a cold pack. While the cookies were good prior to the cold pack, the cold pack made a huge difference and I can safely say that the cookies are out of this world. Plus, I get a free cold pack to use in Fuzz's lunch box.
The last time I tried Alexandra's cookies, I picked White Chocolate Cranberry Walnut Wish as my favorite; but now I think my new favorite is New York Cowgirl, which is a fat, dense, fudgy, chocolate cookie with pretzels and chili. As far as size goes, Gael Greene described Alexandra's cookies as "human size" which made me laugh because of course that means human size as opposed to Big Foot size like other gourmet cookies. Not that I have a problem with that.
Human Size Cookie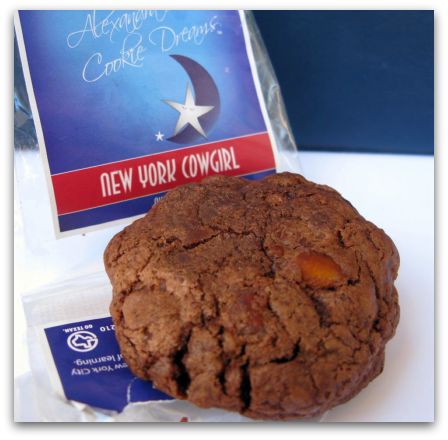 Super Fudgy Center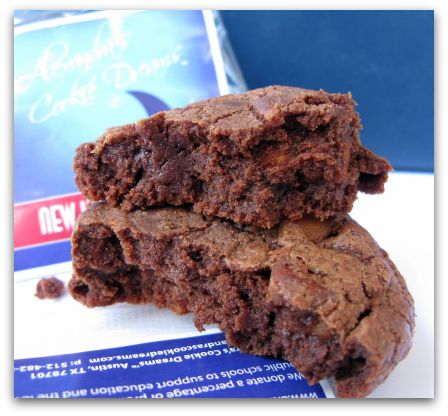 Cranberry Cookie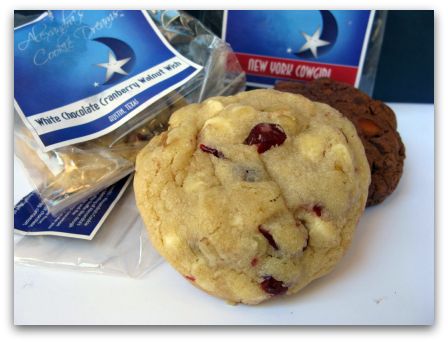 Split!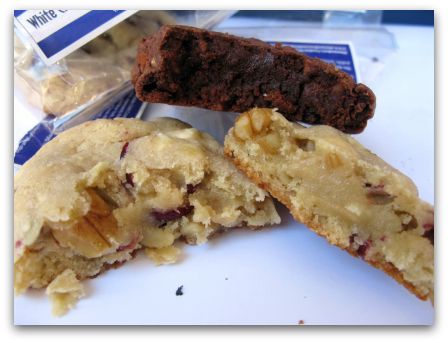 Alexandra's cookie are fairly prices as far as mail order cookies go. And in this case, you get really fresh, delicious cookies! But if you live in Texas, you are in luck. Alexandra is offering FREE 1 DAY UPS shipping! Take advantage of it while you can.
I hope Alexandra does well because I really like her cookies and I appreciate that she donates part of her profits to public schools (Donorschoose.org). She is open to wholesale, so if you work for a company that needs corporate gifts, you might want to give the cookies a try. Or hey, you could make all your company's cookies yourself? What? No?
Alexandra's cookies are the closest I've come to homemade in a mail order cookie. And I hate saying this, but I think her New York Cowgirl is better than my Tex Mex Chocolate cookie.
Related posts: