Fuzz learned to ride a bike yesterday. We'd been trying to teach for the past 3 years, but she just couldn't pull together the balance, coordination and attitude needed to learn. We almost resigned to the belief that bike riding just wasn't for her, but then yesterday I tripped over the bike in the garage. We were bored, so I asked Fuzz if she wanted to meet up with a friend and do a quick bike riding lesson. Expecting her plead no, she surprised me by saying "okay", so we stuffed the bike in the car and headed over to our friend's Catie's cul-de-sac.
Catie took one look at Fuzz's bike and said we should try a different one. She pulled a slightly larger bike out of her bike collection (she has 4 kids) and guess what? Fuzz climbed on the bike and with a little push, started riding. She was a little wobbly at first, but in a matter of minutes she was going up driveways and curbs and riding in circles.
If I were a better writer, I could apply this to some life lesson. For now, all I have to say is if your child is having trouble riding a bike, don't give up and maybe try a different bike! And congratulations Fuzz for learning.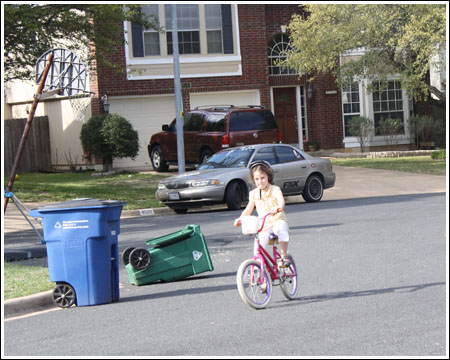 Related posts: