Hi Cookie Madness Readers!
This is Katrina from Baking and Boys!  Anna is on vacation.  Many of you know she and her family went to Seattle.  They are also surprising their daughter, Emma, and going on an Alaskan cruise!  How fun!
Anna and I were talking (emailing) and I offered to do a guest post for her while she's away bundled in her parka making snowballs and enjoying the cool Alaskan air.  What?  No snowballs–okay, maybe not this time of year and probably not on a ship, but I just know she's probably loving getting away from that Texas summer heat wave!
Knowing she would be in Alaska, I couldn't help but think about Baked Alaska.  I have never made Baked Alaska before, I don't recall actually ever eating it before, but I've always thought it sounds really good and I love how it looks.  So I decided in honor of the Ginsberg's Alaskan vacation, I'd give it a try.
Traditionally, Baked Alaska has a sponge cake on the bottom, but if you know me from my blog, you'll know that my family (husband) doesn't like cake.  So I started thinking of what else I could use and well, again, if you know me, chocolate chip cookies came to my mind.  So the Chocolate Chip Cookie with Chocolate Ice Cream Baked Alaska was born.  We like ice cream at our house and chocolate is the usual go-to flavor.  But I must say, Baked Alaska would sure be something fun to play around with endless flavors!
I wanted to use a softer chocolate chip cookie, so I made the ever popular chocolate chip cookie with instant vanilla pudding mix in it.  I didn't do enough research about Baked Alaska, so I always thought the rounded scoop of ice cream was set on top of the cake (cookie in my case) and frozen.  I just happened to see a show on the Food Network yesterday that showed how a restaurant made Baked Alaska and they just took perfectly rounded scoops of ice cream that were already frozen into balls and set them on top of the cake, added the meringue and toasted it with a kitchen torch.  That is good to know for the next time I make these, since we had frozen chocolate chip cookies.  Though I must say, they were not too hard to cut into each bite.  I had taken scoops of ice cream and placed them right onto each cookie and then froze it.  Really, the star of this Baked Alaska show is the meringue!
I don't have a kitchen torch–but want one now.  I stuck the individual meringue desserts under the broiler in the oven.  The first night I tried it, I probably had them in the oven for 4-5 minutes and while they browned up nicely, that melted the ice cream inside considerably.  The next night I made a few more and only broiled them for 1-2 minutes.  Perfect!  These were really good.  I liked the lightly toasted meringue more than I thought I liked meringue.  It tasted just like toasted marshmallow.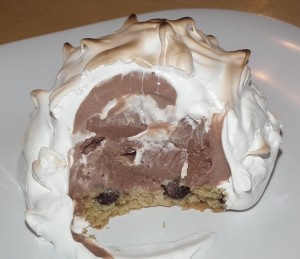 Chocolate Chip Cookie with Chocolate Ice Cream Baked Alaska, by Katrina, Baking and Boys!
Your favorite chocolate chip cookies 2-6 cookies depending on size
Chocolate Ice Cream, 1/2 gallon (you won't need all of it)
Meringue Recipe, adapted from Food Network
2 large egg whites
1/2 cup granulated sugar
pinch of cream of tartar
1/4 teaspoon vanilla extract
1/4 teaspoon almond extract
Fill a medium-sized saucepan with an inch or two of water.   Bring to a simmer over medium heat.   Combine the egg whites, sugar and cream of tartar in the heatproof bowl of an electric mixer and place over the saucepan.  Whisk constantly until the sugar is dissolved and the mixture is warm to the touch, about 3 minutes.  Transfer the bowl to the electric mixer fitted with the whisk attachment and, starting on low speed and gradually increasing the speed every minute or two until the mixer is on high speed for the last few minutes.  This should take about 10 minutes.  Whip until stiff, glossy peaks form.  Add the vanilla and almond extracts and fold together until combined.  Fill a pastry bag with the meringue, fitted with a #5 star tip.  
To assemble the Baked Alaska–scoop nice big scoops of ice cream onto a baking sheet lined with parchment paper and freeze for a couple hours.  Preheat oven to 500 degrees/broil setting with the rack in the middle of the oven.  Make the meringue.  Lay two large (4 or 5 inch cookies) on a baking sheet, set a scoop of ice cream on each cookie (I made 5 smaller ones (about 2 inch cookies) one time and 2 large ones another time).  Immediately pipe the meringue all over the ice cream and cookie.  Once they are completely covered, broil for 1-2 minutes until lightly browned, leaving the oven door open slightly.  Using a spatula/pancake turner, lift each carefully off the baking sheet and put them on serving dishes.   Serve immediately.
Thank you, Anna, for giving me the pleasure of guest posting on your blog!  I hope you're having a wonderful vacation!
Related posts: