Anna: Nanaimo Bars, where have you been all my life?
Nanaimo Bar: Gosh, I'm in just about every single cookbook you own.
Anna: But why didn't I notice you? How could I have looked you over like that?
Nanaimo: Anna, sometimes seeing "custard powder" or "pudding mix" in the filling puts people off, but I can't help it. It's what makes me, me. I can't let it go.
Anna: But Nanaimo, I love pudding. That's no excuse. How can I ever forgive myself for the way I've treated you?
Nanaimo: I don't know, Anna. I don't know (Nanaimo pauses to think).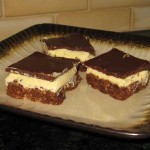 Print Recipe
Nanaimo Bars
A delicious bar cookie with a graham cracker base, creamy pudding filling and chocolate fudge topping.
Ingredients
Crust:
1/2

cup

butter

melted

1/4

cup

sugar

1/3

cup

unsweetened cocoa powder

1

large egg

1

teaspoon

vanilla

1

cup

shredded sweetened coconut

1/2

cup

walnuts or pecans

chopped (2 oz)

2

cups

graham cracker crumbs

10 oz
Filling:
1/2

cup

butter

2

cups

confectioner's sugar

1/2

teaspoon

vanilla

2

tablespoons

instant pudding mix

2

tablespoons

milk
Chocolate Topping:
6

oz

semisweet or dark chocolate

2

tablespoons

butter

cream or shortening
Instructions
Preheat oven to 350 degrees F. Line a 9 inch square metal pan with nonstick foil or parchment paper.

Stir together melted butter, sugar and cocoa powder. Stir in egg and vanilla, followed by coconut, nuts and graham cracker crumbs. Press crumb mixture tightly into pan and bake for 10 minutes. Let cool completely.

Cream butter and 1 cup of the confectioners sugar with an electric mixer. Beat in vanilla and pudding mix. Stir in remaining confectioner's sugar and milk. Beat until fluffy. Spread over cooled bars and chill.

Melt chocolate with butter (or whatever you are using). Pour over chilled bars. Return to refrigerator to set chocolate.